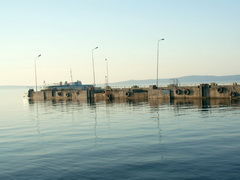 Tour itinerary:
The guide and driver will pick you up at your hotel and bring you back.
You will go sightseeing around Petrozavodsk, the legendry town, founded by Peter the Great in 1703. The city is located on the shore of the Onezhskoye Lake. You will walk along the embankment, decorated with the unique collection of modern open-air sculptures (gifts of the cities, Petrazovodsk twinned with) and visit "The museum of wood shipbuilding on the water" and the nearby Park of Culture and Leisure (the former garden of Peter the Great, founded in 1703, the oldest public garden in Russia). Here one can see a monument to the Peter's Factory.
On the Onezhsky embankment you will see the monument to the Liberators of Petrozavodsk and monument to the city's founder, Peter the Great.
See the architectural complex of old town hall buildings (1775) at the Kruglaya square.
Visit the Besov-nos (e.i. "demon's nose") cape.
Visit a large petroglyph gathering on the Eastern shore of the Onezhskoye lake. It was discovered in 1848 and represents one of the world's priceless heritages from the late Stone Age. These unique rock paintings are notable for fantastic nature, due to the influence of myths and tradition of ancient tribes. The images are spread along 20 km. Totally there are 800 figures and signs.
Visit Solomennoye village, which is famous for its grin-gray breccia sedimentary rocks. Deep mining of the rocks was conducted since 18th century. These minerals were used for inner decoration of St Isaac's Cathedral in St. Petersburg.
Visit the Sretenie Church, built in the late 18th century.
Transfer back.