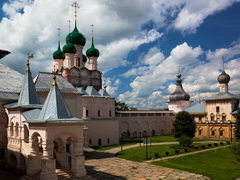 Tour itinerary:
The guide and driver will pick you up at your hotel and bring you back.
You will visit the main landmark of the town, the Rostov Kremlin with its Churches and the complex of housing developments, enclosed in the strong walls.
In the bailey of the Kremlin fortress there are the Holy Dormition Cathedral (1512), the St. John the Theologian Church (1683), the St Gregory the Theologian Church (1680's), the Odigitria Church (1693), the Holy Resurrection Church (1670), the Mandylion Church (1675), the Spas-na-Torgu Church (1654-1690), the Red Palace (1680's), the White Palace, the Metropolitan Palace (1660's), the Court Office (1660's), the "House on the cellars" (17th century), the Zvonitsa bell tower (1682), the Market complex (1830) and the "St Gates" as well. The wall of the fortress, almost 1 km long, has eleven towers.
Sail the Nero Lake by motorboat. The Lake is unique due to the presence of natural antibiotics, biostimulants and vitamins (D, B1 and B2). These items have been actively used in agriculture. Visit souvenir shops.