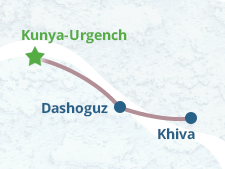 From history, we know that once the capital of the Khorezmshakh State was Kunya-Urgench, but due to the change of the Amu Darya River streambed, the city was abandoned and the country's new capital was announced Khiva. One-day trip to Khiva from Kunya-Urgench is the best opportunity to make journey through the history of Khorezm. Since old Khiva is concentrated within a massive Itchan-Kala Fortress, one day will be enough to see the main sights of the city.
Tour itinerary:
Day 1: Kunya-Urgench – Khiva – Kunya-Urgench
In the morning drive to Turkmenistan-Uzbekistan border point Dashoguz-Shavat (60 km, 1 h.). Go through border formalities on both checkpoints. Cross 1.5 km neutral zone (transportation may not be available). Meet your Uzbekistan guide and drive to Khiva (60 km, 1 h.).
Visit Itchan-Kala Fortress which is a UNESCO World Heritage site. The tour features visits to Mukhammad Aminkhan Madrasah, Mukhammad Rahimkhan Madrasah, Kalta-Minor, Juma Mosque, Tash-Khovli Palace, Pakhlavan Makhmud Mausoleum. Try yourself at climbing Islam-Khoja minaret, the highest minaret in Uzbekistan. Enjoy breathtaking panoramic views of Old Khiva in Kunya-Ark. Lunch. In the afternoon return to border point Shavat-Dashoguz.
Prices include:
All transfers in Uzbekistan;
Guided sightseeing tour program in Khiva;
Entrance fees to the sights, museums, mausoleums;
Prices do not include:
Tour leader to accompany travellers for the whole period of the tour;
Consular fees for Uzbekistan tourist visa;
Visa support letter for Uzbekistan tourist visa;
Insurance policy;
Lunch in Uzbekistan.