Radisson Blu Hotel
Radisson Blu Hotel, Tashkent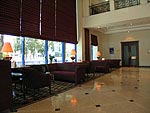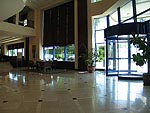 Radisson Blu hotel is located just a few minutes drive from the center of the city and 20 minutes drive from the airport. Near the hotel there are International Business Center, Uzbek Exhibition Center, Japanese Garden, Tashkent Amusement park and "Bodomzor" subway station.

The hotel offers 110 guest-rooms, 2 restaurants, 2 bars, 3 conference halls appropriate for any corporate event. Near conference halls there is the well equipped business center.

The hotel Radisson Blu offers its guests to have a rest and relax in the open-door pool and fitness center including sauna, massage room and gym.

The lobby is a good place to rest and to work at the laptop, using free Wi-Fi. Also in the lobby there is the bar Piano operating 24 hour a day and offering International, European and Asian cuisine. The last feature of the lobby is the exchange office, cash machine and Uzbek souvenirs shop.

Various conference halls of the hotel with the capacity of 20-300 seats, perfect service, and necessary equipment will allow you to conduct any business meeting or a conference up to the mark.

Radisson Blu Hotel
Guest rooms: 110
Conference-halls and meeting rooms: 3
Restaurants: 2
Bars: 2
Business center 24 hour
Fitness center: 10 a.m – 10 p.m
Parking: 1
Medical Service:
Laundry : 24 hour
Security: 24 hour