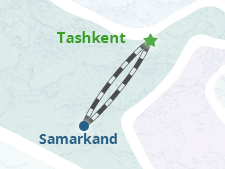 Take a magic journey to explore the stars in the motherland of the famous astronaut Mirzo Ulugbek. Uzbekistan astronomical tour will open up the Institute of the Sun, the facility that has an analogy only in France. You will also study movement of the sky objects at Tashkent Planetarium. We have spiced up the tour with Samarkand city tour and a visit to the Ulugbek's Observatory. The Observatory is one of the most significant entities of the Middle Ages, where many inventions and scientific works were presented to the world by the great scientist.
In the morning meet your guide and driver at your hotel lobby to take a head to the Institute of Material science "Physics-Sun" in Parkent village (45 km, 30 min). The Institute has a unique scientific object of a Large Solar Furnace with the capacity of 1000 kW. Return to Tashkent.
After you will visit Planetarium to watch the sky and the planets, the meteors, black holes, comets of various sizes, the stars and twelve signs of the zodiac. In the afternoon continue sightseeing. Visit to Museum of Astronomy at Astronomical Institute. There are telescopes, octant, reflector and marine chronometer at the museum. You will have a chance to watch the sun at the Observatory. After dinner, drive back to the Observatory to enjoy the stars at night. Overnight at the hotel.
At 07:00 transfer from your hotel to the railway station. Fast-speed train "Afrosiyob" departs from Tashkent at 08:00 and arrives in Samarkand at 10:10 (300 km). Your guide and driver will meet you at the train station. Samarkand city tour includes visits to a spectacular Registan Square, Bibi Khanum Mosque and Suzani shop to talk about the patterns intertwined with the space and galaxy. Further, you will visit Gur-Emir Mausoleum, Ulugbek observatory that was considered as one of the most important observatories of the Middle Ages. The next stop will be Memorial Museum of Mirzo Ulugbek. The museum exhibits some pieces from Ulugbek's heritage.
Back to the railway station at 16:30. The train departs from Samarkand at 17:00 and arrives in Tashkent at 19:10. Transfer to the hotel. End of the tour.
Train station transfers 1-3 pax by sedan type car; other transfers 3-7 pax by van type car;
Sightseeing tour program in each city with local guides;
Transport to/from the train station and throughout the tour;
Economy-class tickets for train Tashkent-Samarkand-Tashkent.
Tour leader to accompany the travellers for the whole period of the tour;
Accommodation in Tashkent;
Visa support for Uzbekistan tourist visa;
Full board (lunches and dinners);
Travel insurance.