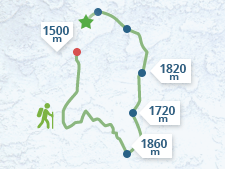 Tour is available from mid-April until mid-October.
Walking distance: ~10 km
This one-day mountain tour to Beldersay Ring is a short but charming hike, with a wide variety of landscapes in a small area. From narrow, rocky canyons to waterfalls to broad alpine meadows, Beldersay is a great introduction to one of Uzbekistan's most beautiful natural sites. Beldersay is just 75 km (46 miles) from Tashkent, and is popular among the city's residents as a picnic place and ski resort, and you'll be able to see why - Beldersay is a great place to relax and recharge in nature. Though the total length of the hike is only 8 km (5 miles), it usually takes the whole day, though there are no particularly difficult ascents. Beldersay makes for a great trip out of the cities and back to nature, so upgrade your trip with a best tour out into Uzbekistan's nature.
Due to a lack of water in the river, this tour will not be available until September when the water level is expected to return to normal.
Tour itinerary:
9:00-11:00 Transfer to the Beldersay valley to the merge of Beldersay and Mramornaya rivers (75 km, 2 h). This is the start point of our hiking (1550 m above the sea level). Having said goodbye to our driver and left for a back attributes of a civilization we will start to walk up along the left bank of the Mramornaya River. After 1,5 hour of quite pleasant walking we will reach a small birch grove, pictorially located on the bank of the mountain river. Short rest and we start 45 minutes long ascent to Urta-Kumbel Pass (1820 m above sea level). Ascent usually takes 45 minutes and we find ourselves in the saddle of the pass. What a great view! We can see the valley of Beldersay River, Chet-Kumbel Pass and the way, which leads to it. Flat descent will lead us to the small grove, located on the bank of Beldersay, where we will have lunch.
After lunch we will continue our walking and go up to the saddle of the Chet-Kumbel Pass (1850 m). The panoramic view from the pass allows us to see the Valley of Nurekata River and the top of Big Chimgan (3309 m). Having admired by the view we will start to go down to the Beldesay cable car station and the road where our minibus will be waiting for us (1550 m).
16:30 - 18:00 Return to Tashkent.
Note: If adverse weather conditions occur, guides reserve the right to adjust the route in order to ensure the safety of tourists.
NB: this trip does not require any special gear, but during the tour you will have steep ascents and descents. If you have had any operations in the past or have life supporting devices/implants (like prosthetic cardiac valve) or have any health conditions (like asthma, high pressure), any special dietary requests or restrictions including vegetarian/vegan diet, please let us know.
Price includes:
Transport to/from the mountains (1-2 pax – sedan; 3-6 pax – van);
Service of English speaking mountain guides;
Picnic lunch.