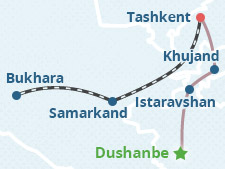 Group size: 1 - 14 persons
Please note that itinerary and price on 2019 tour are subject to change due to airline and train schedule changes, currency fluctuations and other unforeseeable events.
Navruz is celebrated on March 21st, the vernal equinox, and symbolizes the beginning of a new year, the rebirth of nature, and the start of a new planting season. The Navruz Group Tour will bring you into the festive atmosphere in cities, where you can enjoy small improvised street shows and traditional songs and dances. Make sure to try sumalak, a dish cooked from wheat sprouts that's only made on Navruz, or sit down for a meal at a dastarkhan, a table richly laid with foods (tradition says that the coming year will be as rich as your dastarkhan on Navruz). We cordially invite you to spend the festive days of Navruz with us and the welcoming people of Uzbekistan as you visit the most beautiful and oldest cities of our wonderful country.
Transportation throughout the tour, including all airports/train stations pick up and drop offs (1-2 pax by sedan, 3-8 pax by van, 9-14 pax minibus);
Accommodation based on double room sharing, breakfasts included;
Sightseeing tour program in each city with local guides;
Entrance tickets to the sights, museums, mausoleums;
Economy class tickets for trains Tashkent – Bukhara and Samarkand – Tashkent (on rare occasions when the high-speed train is unavailable, we will replace this with the most-comfortable class of regular train);
Dinner in a national guest-house (Bukhara);
Pottery master class and lunch at the workshop;
Visa support letter for Uzbekistan visa;
English-speaking tour leader to accompany group of 6 travellers and more.
Tour leader to accompany the travellers for the whole period of the tour (less than 6 persons);
Full board (lunches and dinners);
Hotel charges for additional services;
Consular fees for Uzbekistan tourist visa;
Travel insurance.
Accommodation: