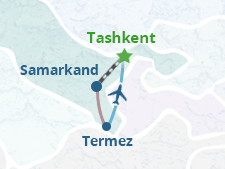 To get a full view of Uzbekistan, book this Samarkand and Termez Tour. This is the best Uzbekistan tour to see two different sides of the country, from the grandeur of Samarkand to the simplicity of Termez. Samarkand is an ancient city with a rich past, which is reflected in the city is many monuments. UNESCO has rightfully included Samarkand in its World Heritage Sites list, since Samarkand is home to so many awe-inspiring buildings and monuments with intricate designs and tilework. Termez is one of the most important monuments to Buddhism in Uzbekistan, from the time before Islam became the main religion of the region. Karatepa and Fayaz Tepa are two of the best examples of Buddhist monasteries in Uzbekistan, complete with rooms, paintings, and statues. You will also get to explore the rest of Old Termez, including the Zurmala Tower (all that remains of a Buddhist stupa), the mausoleums at the Sultan Saodat Ensemble, and the summer palaces of those who used to rule Termez. For those who want to see some of the main sights of Uzbekistan and also some of the lesser-known places, this Two-Day Samarkand & Termez Tour is the best tour.
Transfer to the Tashkent railway station at 06:00. The high-speed train,
Afrosiyob
, leaves for Samarkand at 07:00 and arrives in Samarkand at 09:10. A guide and driver will meet you at the station, which is a starting point of the
Samarkand
tour. In the morning start sightseeing. The tour program includes visits to
Gur-Emir Mausoleum
,
Registan Square
,
Bibi-Khanum mosque
,
Shakhi-Zinda necropolis
,
Ulugbek observatory
and
Afrasiab Museum & archaeological site
– a hilly area of 212 hectares surrounded by a moat. Archaeologists presently conduct excavations on the site. The Afrasiab Museum displays the model of ancient city and fortress walls, pottery, weaponry, coinage, altars and most of all the mural painting of the 7th century. Transfer to train station. Take the night train to Termez at 22:20. Arrival in Termez the next day morning.
Duration of sightseeing tour: 6-7 hours
Arrive in
Termez
at 09:30. Upon arrival you will be met by driver and guide. Start sightseeing in ancient Buddhist center and one of the oldest cities in Central Asia – Termez. Continue sightseeing and explore
Zurmala Tower
– Buddha's stupa,
Mausoleum of Al-Hakim at-Termezi
, Buddhist archaeological site of
Kara-Tepe
,
Fayaz-Tepe
,
Kampir-Tepe
– Greco-Bactrian Kingdom fortress. Return to Termez for a city tour in Old Termez: visit
Kirk Kiz Fortress
,
Kokildor-Ota Khanaka
, and
Sultan Saodat Ensemble
– a summer residence of Samani rulers. Visit Archaeology Museum to explore exhibits discovered on the territory of Termez and its surroundings. In the evening transfer to the airport for flight to Tashkent. Upon arrival transfer to hotel/private residence. End of the tour.
Duration of sightseeing tour: 6-7 hours
All transfers: 1-2 pax by 1 sedan type car; 3pax by sedan/van;
Economy class ticket for train Tashkent – Samarkand (on rare occasions when the high-speed train is unavailable, we will replace this with the most-comfortable class of regular train); SV (Luxe) class ticket for train Samarkand – Termez;
Economy class ticket for flight Termez – Tashkent;
Sightseeing tour program with local guides;
Entrance fees to sights as per itinerary.
Tour leader to accompany the travellers for the whole period of the tour;
Full board (lunch and dinner);
Accommodation at hotel;
Hotel charges for additional services;
Tips are not included, but would be appreciated;
Personal travel insurance.