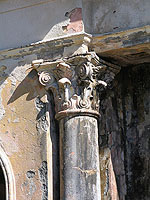 The traditional Georgian applied art is mainly represented by high art items from ceramics, metal, wood, and bones. Georgia is famous for its fine jewelry, engraving on metal, armory.
The first samples of ceramic ware appeared in the territory of Georgia in the 7th millennium BC. Later, in the 4th-3rd millennia BC along with ceramics there emerged first metal items. The first silver objects found in the territory of Georgia are dated back the 3rd millennium BC. The quantity of jewelry increased in the next millennium. At that time the jewelry business reached its blooming. The jewelers mastered the art of filigree, stamping, and molding to perfection.
But the art's apogee came in the 11th-13th centuries. The period of numerous conquests affected Georgian applied arts. It was under the influence of European, Persian, and Asian art but managed to preserve the traditional techniques and deep national content.
In the 19th century the art of goldsmiths of Georgia reached its highest stage of development. The best samples of golden tableware (cups, bowls, jugs, and kantsi-horns) and ornaments were created in Tbilisi, Akhaltsikhi, Gori, Kutaisi, Zugdidi and Telavi. All of them were richly decorated by stamping, filigree, and niello.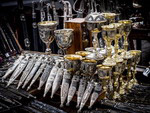 From ancient times Georgian craftsmen used enamels when processing precious metals. This art was greatly developed in the 9th-12th centuries. Enamel, especially of plaque-a-jour type, was used for decoration of both religious and secular purpose: church utensils, tableware, belts, rings, and necklaces. Even now this art has not lost its power; Georgian masters continue applying the enameling techniques.
In the 18th-20th centuries there were several ceramic centers where ceramic ware and building materials (bricks, tiles) were produced.
In Eastern Georgia they were in Tbilisi, Mtskheta, Telavi, Ninotsminda, Gori, Tskhvati. In the Western Georgia — Shrosha, Kutaisi, Atsana, Namikovou and so on.
The big role in the life of Georgian people played glazed ceramics. The craftsmen always tried to give their products a beautiful look and refined shapes.
Georgian national art of beadwork is centuries-old. It is still used by Georgian highlanders. From the 18th century beadwork was the most popular in Tbilisi, Gori, Kutaisi, Akhalsikhi. The Georgian national arts and crafts are attractive in their simplicity, plasticity and unique traditional forms.