Kyrgyzstan Travel Guide

Country of Mountains, Meadows, and Lakes
Kyrgyzstan is situated in Central Asia, its neighbouring countries are Kazakhstan to the north, Uzbekistan to the west, Tadjikistan to the south and China to its East and South-East. The former Republic of the Soviet Union became independent in the year 1991 and since then is a democratic Presidential Republic. Bishkek, formerly called Frunze, is the capital with about 1 million inhabitants, the country as a whole has about 5 million inhabitants and an area of 198.500 km².
As a result of its varied and turbulent history, the country throughout the centuries became a real melting pot of nationalities: The ethnic group of the Kyrgyz, traditionally nomads that still nowadays often live as half-nomads (see also "Kyrgyz people and their traditions"), makes up only a bit more than 50% of the population. The two other important ethnic groups are Russians and Uzbeks, both with about 15 % of the population. The Russians came into the region during the 19 th century, and especially the capital Bishkek, only 125 years old, is heavily influenced by the Russian way of life and Soviet architecture. Because of this people, also the second-biggest religious group in the mostly muslim country (83%) are Russian-orthodox.
The Uzbek people lives to its biggest part in the south of the country, close to the border to Uzbekistan. This part of the country is also much more influenced by muslim traditions than the rest. Other people out of those more than 80 nationalities and ethnic groups living in Kyrgyzstan are European ones like Germans or Ukrains, muslim chinese people like Dungans, as well as Tatars and Uighurs.
Although there are so many different people living in the region, whose lifestyle and traditions sometimes differ a lot, they all have one thing in common: The typical Central Asian hospitality, that can in no way be compared with the way guests are greeted in the western world: Never you will come across a yurt without being invited for a cup of the national drink Kymyz and a snack, never you will be invited into the house of locals without facing a table, completely full of delicacies already before the main dish is served.
Nontheless, gastronomy is only one way where hospitality is shown: The warmth and openness of the people can be felt already when you first get acquainted, and at the second meeting you're very often already considered as a family member!
10 Great Things to Do and See in Kyrgyzstan
Cities of Kyrgyzstan
Bishkek, Kyrgyzstan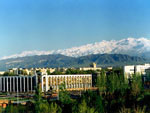 Bishkek, the capital of the Republic of Kyrgyzstan, with a population of about 1 million, is situated in the north part of the country (Chui-Region). Especially the centre is heavily influenced by the Soviets, and you can enjoy quite a number of typical soviet-style architecture (Philharmonia – concert hall, government building, Historic Museum, Monument for the Great War of the Native Country) but also modern monuments pointing out the traditional Kyrgyz culture (Monument of Manas, Monument of Independence, as well as many statues of Akyns, Manas'chi and local governors of different periods).
More on Bishkek, Kyrgyzstan
Issyk-Kul, Kyrgyzstan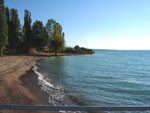 Issyk-Kul is Kyrgyzstan's largest lake and at about 180 km long by 70 km wide and 668 meters deep at the deepest point, (the average depth is about 300 meters), it is the world's second largest mountain lake – and the fifth deepest lake in the world. The lake has been held in high regard by the Kyrgyz – it is known as the "pearl of the Tien Shan " – and in 2004, the government declared the lake as the "property of the nation". One source even suggests that, at one time, it was even forbidden to swim in the lake.
More on Issyk-Kul, Kyrgyzstan
Kyrgyzstan Travel Attractions
Burana Tower
Tash-Rabat
Arslanbob
Gumbez of Manas
Ala Archa
Cholpon-Ata - Petroglyphs
Altyn Arashan
Jailoo
Advantour Kyrgyzstan
Kievskaya 131/2, Bishkek 720001, Kyrgyzstan
Tel: +996 312 900592, +996 772 152139 Fax: +996 312 311170