Azerbaijan Travel Guide

Azerbaijan travel can be planned for any time of the year – just note, that it is worth traveling in winter for mountains resorts, in summer for a rest in the mountains and on the shores of the Caspian Sea and in spring and autumn – to enjoy numerous sights of the Land of Fire. There are also lots of international exhibitions, and other interesting cultural and religious holidays held annually in Azerbaijan.
Citizens of Belarus, Georgia, Kazakhstan, Kyrgyzstan, Moldova, Russia, Uzbekistan, Ukraine and Tajikistan have visa-free entry to Azerbaijan. Visa upon arrival is open for citizens of few Asian countries. Citizens of other countries of the world can also easily apply for an electronic visa. Learn more about the visa support and visa application requirements to Azerbaijan.
Temperature & Precipitation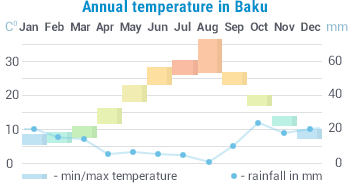 You should fill out the customs declaration form in two copies upon arrival to Azerbaijan, and note the amount of the importing currency as well as valuable things, photo- and video items. Export of antiques and carpets is possible only in the presence of the certificate from the Ministry of culture given in official stores and salons.
The most comfortable way to travel to Azerbaijan is taking a flight to Baku, the capital of the country. There are daily flights from many countries of CIS and Europe. You can also arrive in Azerbaijan by train from neighboring Georgia, or travel via land borders with Russia, Georgia and Iran.
There is a great number of hotels of different levels in Azerbaijan complying any requirements. Most of the hotels are in Baku, including both budget options as well as luxurious ones. Our Azerbaijan guide will assist you in finding the option that best suits your needs and make reservation.