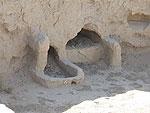 The cave city of Ekedeshik located in Tagta area has the status of the State historical and architectural reserve. The word "ekedeshik" in Turkmen language means "one hole". Indeed, the huge cave complex has a single entrance which made the city impregnable.
The origin of the complex is mysterious. According to one of the legends the cave was dug by the people of Alexander the Great, the other one gives this credit to jinns . Be that as it may be excavation s confirmed that people started living in caves from the first century B.C. T he cave itself consists of two levels.
The ground level was intended for collecting underground waters and the upper one contained living rooms, kitchens, halls and even an altar -like structure (all in all there are 44 rooms). Some scientists believe that Ekedeshik used to be a monastery. It is confirmed by th e fact that all more or less spacious cave complexes are used as monasteries in Central Asia - normally Buddhist, sometimes Christian. Now the archeological excavations are in progress there.