Ararat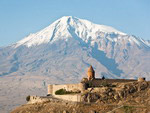 In fact, the most legendary mountain in the world and a major sight of Ararat area – the holy Mount Ararat is located on the territory of Turkey now. Since it is in the western part of Armenia it was left within Ottoman state – only the eastern Armenia was annexed to Russian Empire in the early 20 th century. However, Armenians consider Ararat the symbol of their state no matter what as well as the holy land where Noah moored his Ark. So it would not be a sin to tell a story about Ararat during our trip around the marz named after the holy Mountain.
Well, the ancient Ararat stands on the right bank of the Araks near the border with Turkey.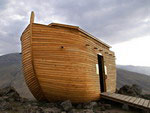 It consists of two cones with a common base – the Western or Big Ararat (5,165 m) and the Eastern or Little Ararat (3,925 m). The geological age of the Big Ararat is about 3.5 million years, the Little - about 150 thousand years. Armenians lovingly call these tops "two brothers" - Sis and Masis. The tops of these mountains – the former extinct volcanoes - are visible practically from everywhere. The Big Ararat, around which the events described in the Bible developed, is covered by the permanent snow cap under which, probably, the remains of the Noah's Ark rest. There are about 30 small glaciers the largest of which - St. Jacob - stretches for over two kilometers.