Armenian Visa
General Requirements for Armenian Visa
Visa to Armenia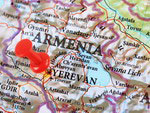 Full list of the visa free countries to enter the Republic of Armenia.
From 1 January 2013, a visa-free regime to enter to and to stay in the Armenian territory up to 180 days within a year is also applied to the European Union's member counties as well as to the countries under the Schengen agreement:
Austria, Belgium, Bulgaria, Germany, Dania, Estonia, Ireland, Iceland, Spain, Italy, Latvia, Poland, Lichtenstein, Lithuania, Luxemburg, Cyprus, Greece, Hungary, Malta, Great Britain, Netherlands, Norway, Sweden, Switzerland, Czechia, Portugal, Romania, Slovakia, Slovenia, Finland, France.
Citizens of other states should obtain Armenia visa from diplomatic missions and consular institutions of Armenia on the basis of invitation letter***.
Citizens of China, Egypt, India and Syria may obtain an entry visa to Armenia in diplomatic missions and consular institutions of Armenia without invitation.
Foreign citizens of Armenian origin may obtain visa without invitation at the border check points*.
Armenian visa categories
Guest visa is issued to the aliens coming to Armenia for tourism, business, visiting relatives etc. The guest visa may be issued for single or multiple entries with the validity of one year.
Official visa is issued to the holders of official and special passports.
Diplomatic visa is issued to the holders of diplomatic passports or to the those who hold diplomatic status.
Transit visa is a one-year single or multiple visa allowing staying in Armenia within 3 days and possibility to extend it maximum for 4 days.
The MFA of Armenia also issues electronic visas.
Official and diplomatic visas are issued by the MFA of Armenia, while transit ones - by Passport and Visa Department of the Armenian Police. Visa processing takes up to 5 working days.
Invitations
An invitation to be considered in the MFA of Armenia may be issued by the legal entity registered in Armenia, Armenian authorities, diplomatic missions and international organizations or their representatives. Natural persons shall submit invitations to the police administration.
The invitation shall be executed on a standard form stamped by the inviting organization and signed by its director. The text of the invitation shall include the data as follows:
• Organization's registration code;
• Date, number of visits (single/multiple), arrival and departure and also visa's issuing place;
• Personal data of the invited person:
1. Passport type
2. Passport serial number
3. Issuing authority
4. Passport's issue and expiration date
5. Citizenship
6. Telephone
7. Occupation
8. Sex
9. Full name
10. Date of birth (date, month, year)
11. Place of birth (Country, region, city)
12. Address (Country, region,city)
13. Nationality.
Documents required for visa obtaining
• Passport valid at least 3 months after the expected return from the country;
• 1 filled-up standard questionnaire;
• Two 3х4 cm photos;
• Official invitation from the receiving organization;
• Those, who came from an affected area, on expiration of at least 5 days after the arrival, shall produce an international certificate of yellow fever vaccination.
Transit through Armenia
In case of transit through Armenian territory, a foreign citizen shall have the tickets to the third country or third country's visa and may stay in the territory of Armenia within 72 hours. The foreign citizens, travelling through the territory of Armenia by above-ground transport, may obtain transit visas without tickets and visas to the third countries. In this case, they may stay in the transit zone within 48 hours.
Visa fee**
Guest, single visa ( for 21 days) - $8,
Guest, single visa (for 120 days) – $40,
Guest, multiple visa (for 60 days, with validity up to 6 months) - $54,
Guest, multiple visa (for 120 days, with validity up to one year) - $107,
Transit, single visa - $27,
Transit, multiple visa - $48,
Children under 18 years old (all visa categories) – free.
Notes:
*Frontier control posts may only issue 3-day Transit visas and 21/120-day Guest visas.
**Visa fee amount may be changed without notice.
***The foreign citizens allowed only to enter Armenia by invitation cannot obtain Armenia visas upon arrival.
Useful links: