Culture of Azerbaijan
Culture of Azerbaijan — Great Heritage of the Past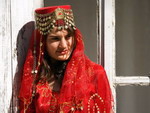 The cultural heritage of Azerbaijan is grand and distinctive. Since Azerbaijan used to be a part of Persian and Turkic states its cultural development was greatly influenced by those. It is particularly noticeable in literature and music.
Culture of Azerbaijan is known for such bright representatives as Nizami Ganjevi (XII century), poet-panegyrist Qatran Tabrizi (XI century), classic of Azerbaijani poetry Fizuli (XVI century), who wrote a legendary lyric-epic poem "Layla and Majnun". Creation of Nizami influenced not only Azerbaijani literature but also many other medieval Oriental countries' literatures. The most influential piece of Nizami was "Pentateuch" ("Khamse") - five poems which differ in plot and composition but united by the author's common idea.

The cultural life was bubbling in such cities as Ganja, Shamakhi, Tabriz. The feudal rulers' courts boasted their communities of poets, thinkers, philosophers, musicians. Such lyric genres of poetry as rubai, kasyds, gazelles – works of poetry – were under development. The largest monument of medieval Azerbaijani literature is "Kitabi Dede Korkuhd" ancient heroic epos where traditions and culture are described and various musical instruments and whole fragments connected with music which witnesses the ancient history of Azerbaijani music are mentioned.
Azerbaijani national musical art takes special pride in such original genres as folk songs, dances and Ashug s. Ashug repertoire consists of folk songs, dastans, "deiishme" songs-dialogues which in fact are musical-poetic contests among ashugs.
Azerbaijani mugam lays in the base of folklore music. That's why mugams were included in the UNESCO Intangible Cultural Heritage List in 2003.
Azerbaijani Culture — Folklore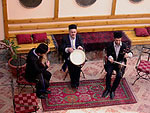 Azerbaijani folklore is extensive and diverse in terms of genres. The heroic epos is represented by poems called dastans among which the most known and significant "Kyor-Ogly" ( Kyuroglu) epos is widespread in some nations of the Middle East and Central Asia. The image of Kyoroglu symbolizes the national ideal of a just ruler, a fearless warrior tyrant-fighter.
Especially beautiful are romantic dastans "Asli and Kehrem", "Ashig-Gahrib". Besides distants Azerbaijani folklore is rich in such genres as songs (sung during work, ceremonies, and house chores doing), legends, fairy tales, jokes ( lyatifa), proverbs, by-words, riddles.
All these pieces of folk art were created by ashug singers — wandering poets-storytellers, folk singers. They wandered from town to town performing on main squares. They played string instruments and sang folk songs, or told eposes, poems, stories. Ashugs were a popular kind of entertainment for both commons and aristocrats. Ashug poetry is a specific form of Azerbaijani national art.