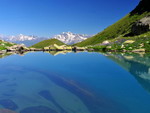 Georgia is a trans-Caucasian republic. It is situated on a flat land along the Black Sea coast between the ridges of the Major Caucasus in the north and the Minor Caucasus in the south. In the north it borders on Russia, in the east – on Azerbaijan, in the south - on Armenia and Turkey. It is washed by the Black Sea from the west. The total area of the country is 69.7 thousand sq.km, including Abkhazia (with the area of 8.6 thousand sq.km.) and South Ossetia (3.9 thousand sq.km).
Landscape
The mountains occupy thirds of Georgia . In the south there are the mountains of the Minor Caucasus (2,000–3,000 m above the sea level). In the north – the ridges of the Major Caucasus (up to 5,000 m above the sea level). The highest peak of Georgia is Mount Shakhra (5,068).The southern slopes of the Major Caucasus are crisscrossed by deep river valleys. There is also well developed system of karstic caves (over 470) with the largest of them, Novoafon (3.3 km long, 50,000 sq. km). Read more...
Climate
Georgia is famous for its favorable mild climate attracting tourists there practically all year long. The mildness and humidity of subtropics reins in the western part closer to the Black Sea . The summers are humid and warm with average temperatures in July +22+ 24C . The winters there are mild too with average temperatures in January -4- 7C . In the west there is considerable quantity of precipitations (maximum in Adzharia ), most of them in the spring. Read more...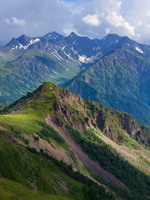 Water Resources
The river system of Georgia comprises nearly 25 thousand rivers. They are fed mainly by thawed snow and glacial waters, underground waters and atmospheric precipitations. Read more...
Flora
The flora of Georgia is rather varied. Nearly third of the area of the country is occupied with woods. They are concentrated mainly in the mountains. In the west of Georgia they go down to the sea and in the east grow in the foothills. The woods of the Black Sea coast are especially rich and varied. There you can see subalpine and Alpine meadows, magnificent variety of herbs. Read more...
Fauna
The fauna of Georgia is represented by more than 100 species of mammals, 330 kinds of birds and 160 varieties of fishes. For the purpose of protection of natural complexes and biodiversity the Tbilisi National Park , 17 natural reserves and 6 wildlife preserves were created. Read more...
Natural Resources
The territory of Georgia is rich in natural resources. On the southern slope of the Big Caucasus there are huge deposits of manganese, silver-lead and zinc ores, barite, coal, and marble. Oil was found within the confines of the Kahetia plain, and in the Colchis lowland – oil and peat deposits were discovered.
Read more...