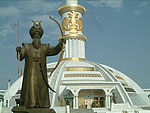 Turkmenistan is the center of magnificent unique architectural masterpieces of the past. The mausoleums erected above the tombs of the most outstanding people, so widespread on the territories of our country, became traditional in Islamic world starting from the 9th -10th centuries. The indisputable jewel among them is the mausoleum of Sultan Sandzhar in the old site of ancient settlement Merv. The 15th century Merv architecture complex - the mausoleum of askhabs who were the associates of Prophet Mohammed is rather interesting. No less admirable is the mysterious mausoleum of Astana-baba which is frequently visited by pilgrims.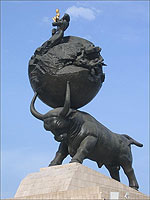 On the territory of modern Turkmenistan there is a lot of big architectural monuments:
Old Nissa - a palace-temple complex of Parthian state times, the 1st -the3rd centuries B.C.
New Nissa - an ancient settlement with dwellings of slaveholders and a large natural area the 1stI - the 18th centuries A.D.
Geok-tepe fortress (the 19 century)
Parau - a medieval settlement with Parau-bibi and Parau-ata, the 12th century
Dekhistan - a historical area in the west of Turkmenistan consisting of the big Mashat cemetery with Shir-Kabir mausoleum (the 10th century) and the ruins of Missirian city dated the 10th -15th centuries
Abiverd - a medieval city with the ruins of a fortress remains, a mosque, buildings of the 10th - the 18th centuries
Abu-Said Mitkhene Mausoleum (the 11th - the 15th centuries)
Sarakhs - an ancient settlement with a fortification and mausoleums of Abul-Fazl (Sarakhs-baba) and Yarty-Gummez.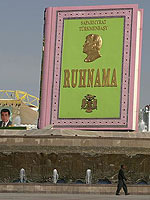 Talkhatan-baba - the 12th century mausoleum (30 km to the west of Mary)
Merv - one of big gest archeological complexes in Central Asia and one of the most significant historical-architectural reserves of Turkmenistan .
Ekedeshik - a cave settlement of the early Middle Ages near Tagtabazar , the right bank of the Murghab river .
Astana-baba - a country estate of Omar-Kali, the mausolean complex consisting of a mosque and a tomb ( 15 km from Mount Atamurat ), the 12th century
Dayakhaty - a caravan serai of the 11th c entury (nearby Turkmenabad) .
Darganata - a medieval city and mausoleum of the11th - 15th centuries
Izmukshir - an ancient city near Takhta with a fortification (1.5 km) .
Kunya-Urgench - the remains of Horezmsha h state capital with magnificent architectural monuments.
Shakhsenem - a medieval settlement with the rem ains of a mosque.
Devkesengala - a medieval city (to the northwest from Kunya-Urgench). It c onsists of the remains of a magnificent fortress and mausoleums.
Tasharvat - a caravan serai ( 38 km from Balkanabat) . It is a rectangular fortress with a stone wall with a dwelling house ruins behind it .
Seyitdzhemaledin Mosque - a masterpiece of Muslim architecture of the15th century.
And now more detail s about the most outstanding monuments of Turkmen epoch …
Turkmenistan Travel - Cities and Landmarks