Zenkov Cathedral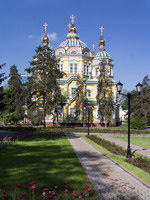 Zenkov Cathedral is surrounded by Panfilov Park, a pleasant rectangle of greenery.
The Park was named after the heroes of World War II. The Cathedral is one of the few tzarist-era buildings to survive the 1911 earthquake, despite the fact it was built entirely of wood and constructed without nails.
It is also one of the eight most unique wooden buildings in the world. After the revolution it was used as historical museum, cultural center, and just in 1990 again it was given a status of a Russian Orthodox cathedral.