Besh Tash, Kyrgyzstan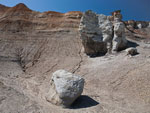 In Kyrgyzstan, great attention is paid to preserve the unique flora and fauna of the country, as well as natural landscapes: steppes, mountains and alpine valleys. For this purpose, the government had formed national reserves. To date, there are about 10 national reserves with total area of 600.400 hectares. All reserves are protected by the state.
The national park Besh-Tash in Talas region is one of such state reserves. It was established to preserve the unique natural forests and alpine meadows. Unique and rare species of animals and birds: snow leopard, golden eagle, Eurasian lynx, Himalayan vulture, bearded vulture and Balaban live in the territory of the reserve.
Besh-Tash reserve is at an altitude of 1100-3600 meters above sea level. From three sides it is surrounded by mountain ranges that form Talas Ala-Too. From the mountains, fed by eternal glaciers, runs Besh-Tash River, crossing the whole reserve territory. Beautiful landspace, unique rare animals - all this makes the Besh-Tash one of the most visited tourist sites in Kyrgyzstan, which annually turns into a place of pilgrimage for thousands of travelers and extreme sports fans from around the world.
Special attention should be given to flora and fauna of the national reserve. Here grow 800 types of flora: 20 types of rare trees and over 40 types of shrubs. Mainly in the reserve grow spruce, pine, fir, uncharacteristic for Central Asia birch, elm, aspen, poplar, willow, and other rare types of trees. Over 11 types of plants are listed in the Red Book, the Persian mountain ash and Semenov fir are among them.
The fauna of the park is also diverse. It should be noted that the reserve has over 2,000 species of insects, some aquatic wildlife species, among which are the most unique fish species are the Ottomans, marinka and trout. The gross animals living in the Besh-Tash, listed in the Red Book, are Tien Shan mountain bear, Tien Shan mountain sheep, snow leopard, Turkestan lynx, and argali.
Another pearl of the Besh-Tash national park is located at an altitude of 2997 meters above sea level. It is Besh-Tash Lake with depth of 28 meters. The lake water is amazing turquoise.
The reserve has everythin necessary for extreme tourism. There is a special camp where you can stop and take a rest with all conditions for comfortable rest.