Kyrgyzstan Holidays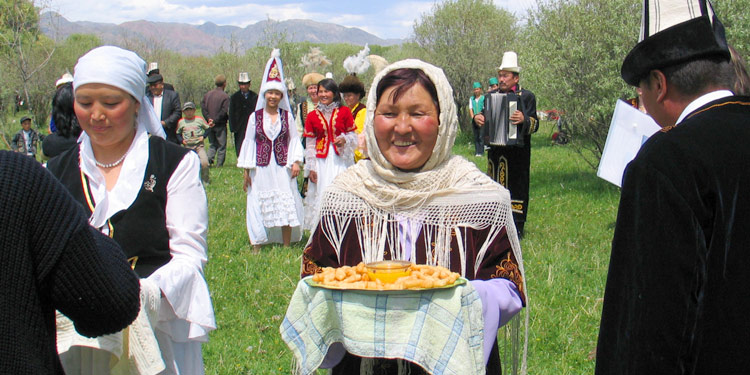 Official and National Holidays of Kyrgyzstan
January 1 - New Year
January 7 - Orthodox Christmas
February 23 - Day of Fatherland Defenders
March 8 - International Women's Day
March 21 - Nooruz National Holiday
May 1 - Labour Day
May 5 - Constitution Day
May 9 - Victory Day
August 31 - Independence Day
November 7 - Day of the Great October Socialist Revolution
Kyrgyzstan holidays encounter two more Muslim celebrations: Orozo Ait, the end of Ramadan, and Kurman Ait, the feast of Sacrifice. The dates are determined according to the lunar calendar. If a holiday falls on a weekend then government often shifts it to Friday or Monday. This information is important for those who are planning to cross the Irkeshtam or Torugart on these dates, as these border posts are closed on weekends.
Orozo Ait, also known as the Feast of the end of Ramadan and Id al-Fitr, is the Islamic holiday celebrated in honor of the fasting month of Ramadan. The holiday lasts three days, Muslims wear their best clothes, visit each other with gifts, try to have fun, cook traditional cuisines that are exchanged with neighbors.
Kurban Ait, or Feast of Sacrifice, the Islamic feast of the end of the Haj, is celebrated in the tenth day of the twelfth month of the Islamic lunar calendar (Dhu al-Hijjah) to commemorate the sacrifice of the prophet Abraham, and 70 days after Ramadan. The holiday symbolizes mercy, majesty of God and that faith is the best sacrifice.
Nooruz – a holiday of spring and the beginning of the new year for Iranians, Caucasians and the Turkic peoples. The name of Nooruz means "new day" in Persian language. In the year 2009, Nooruz holiday (Navruz) was included in the UNESCO Representative List of Intangible Cultural Heritage of Humanity. On February 23, 2010, on the initiative of Azerbaijan, Afghanistan, Albania, the former Yugoslav Republic of Macedonia, India, Iran (Islamic Republic of), Kazakhstan, Kyrgyzstan, Tajikistan, Turkmenistan and Turkey, the General Assembly recognized March 21 as the International Day of Navruz.