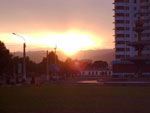 Khujand is the capital of northern Tajikistan and the second largest city in the country. The city's history dates back to ancient times. In the opinion of historians legendary city of Alexander-Eskhata (Alexandria Extreme) was constructed by Alexander the Great on the place of the present Khujand (the 5th century BC) and become the city of highly developed culture, important commercial and crafts center.
It in many respects speaks it can be explained by its favorable position. Khujand stands at the entrance to the fertile Fergana Valley. Owing to this it was one of the main centers of the Great Silk way and enjoyed prosperity and richness. One of the ancient cities of the Central Asia Khujand has been known since the 7th century. In the 19thcentury after the Russian intrusion Khujand became the center of district of rapid industrial development. The railway was built there which allowed the city to become the center of cultural life. From there came many known representatives of Tajik intelligentsia. The city has 20 large enterprises, universities, cultural establishments.
Khujand Sights: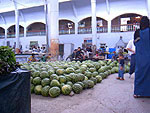 Khujand is attractive to tourists due to its numerous ancient monuments. There have survived medieval citadels and mosques. The most known are the mosque and the mausoleum of sheikh Muslekheddin (17th-18th centuries).
The city's past is eloquently told in the History and Local Lore Archeological Museum. Close to the city is located the well-known Kairakum man-made lake. This is the most visited place thanks to its very beautiful scenery, mild climate and picturesque landscape. Pure transparent waters of the lake are great for fishing, boating and swimming.
Khujand is one of the centers of mountaineering. Climbers prefer Ak-Su area located in one of the most picturesque corners of Kyrgyzstan near Khujand. This massif is distinguished by the beauty of wild nature and very tall rocks. Their height often exceeds 5.000 meters (Ak-Su - 5,355 m, Block - 5,239).