Lake Iskanderkul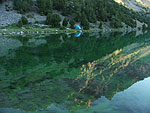 The biggest lake of Pamir-Alay and the most beautiful in Tajikistan. Local residents call it "the emerald framed by gray-haired mountain tops". Lake Iskanderkul lies in the cradle of delightful Fan Mountains. The lake has acquired numerous histories, legends and myths. Local Pamir residents pass them by word of mouth. They say, Alexander the Great was enchanted by the beauty of this miracle of the nature during his military campaign in Central Asia. The rough river Iskanderdarya flows out of the lake and forms unusually beautiful and majestic waterfall named "Fan Niagara" falling from 38-meter height.
Other lakes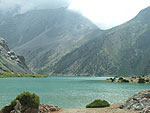 If you cross Alaudin pass you can get to the beautiful Kulikalon Lakes above which steep Kulikalon wall consisting of Mirali (5,120), Maria (4,970), Adamtash (4,700) tops. The Kulikalon lakes are famous for their ability to shimmer with all colors of a rainbow. This is a breathtaking sight! They say that the waters of these lakes are sacred. Below the lakes the climbers camp "Artuch" is located. Right across Chimtarga pass, in the Fan mountains are Lake Greater Allo and Lake Smaller Allo. Alaudin lakes are distinguished by their crystal-clear cold as ice waters. The excursion to the most beautiful Marguzor lakes will be unforgettable. They are all unique. Their beauty reminds of a jewel in a necklace of a beauty. Besides, all seven lakes have different coloring.
Kairakum Water Basin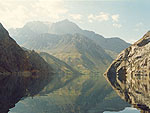 The man-made pearl of Tajikistan (so it is called there) resulted from the construction of hydroelectric power station on the river Syr-Darya. Its length is 75 km. The area of the basin surface is more than 4 million square meters. Location - the north of Republic of Tajikistan near Khujand. The water basin is well-known all over the world as the most beautiful artificial lake in Tajikistan. It is bordered by blossoming mountain landscape. Numerous comfortable hotels have been built there. This speaks about the developed tourist infrastructure. The greatest landmark of Kairakum water basin is the sand beaches which stretch along entire coast. The tourists can visit beach cafes, rent chaise lounges, book boat trips. For those who wish the guides will take them on excursions to the ancient monuments and Oriental markets. Kairakum water basin is a home for dozens kinds of fishes. Fishermen come there from all corners of the republic.
Guzgarf Waterfall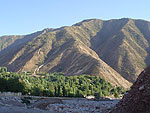 Near Dushanbe, in the right lateral gorge of the river Varzob there is a 30-meter Guzgarf waterfall, the most beautiful one in the Hissar Mountains.