Pamir Highway
Pamir Highway – road on the roof of the world
Pamir Highway or the M41 is a road that connects Pamir with civilization. Over 700 km long road takes its start in Tajik Khorugh (Khorog) passing the borders of China and Afghanistan and ends in Osh, Kyrgyzstan. It is an interesting fact that drivers used to receive award medals for driving the highway three times in the past century. It was a dangerous unpaved road with passes over 4500 m above sea level. Since then the Pamir highway has been improved and many parts of the road are paved. Adventure hunters flock there from different corners of the world to see the beauty and exotics the road offers in abundance. Every turn conceals new scenery: valleys, lakes, passes, wild nature.
Pamir Highway appeared as a result of the "Big Game", when in the 18-20th centuries British and Russian empires fought for the influence in the Central Asian region. Russian Empire was concerned with the British activities in the strategical Pamir, and planned construction of the military road (M41) keeping it under high confidentiality.
Pamir Highway Route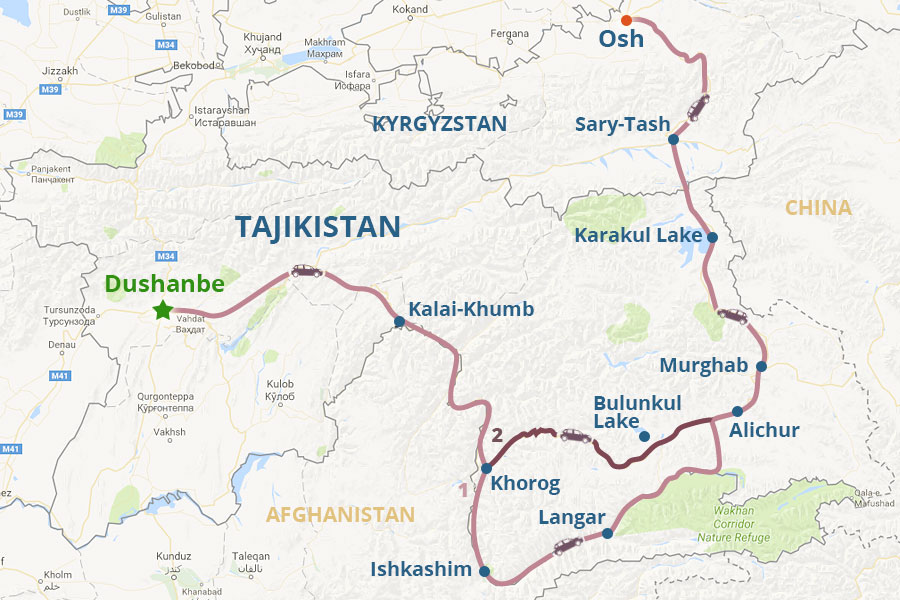 Dushanbe. Usually, Pamir Highway adventures start from Dushanbe, the capital city. 8 hour drive that covers 370 km and passes through the Khaburabad pass will take you to the Qal'ai-Khumb village. After an overnight in the guesthouse in Qal'ai-Khumb, the next day you will head to Khorugh. The 260 km road from Qal'ai-Khumb to Khorugh will take around 6-7 hours.
Khorugh. In Khorugh, where the Pamir highway actually begins, you won't feel alienated from the civilized world with restaurants, hotels and even a Botanical garden. On the way from Khorugh, you will see ruins of the ancient fortresses and hot springs with mineral waters. The deserted land comes after the village of Langar, that's where alpinists usually reach the peaks of Marx and Engels. The road hereafter is rather comfortable and paved. In the settlement of Bulunkul, at the height of 3700m, you will see guesthouses ready to host the travelers.
Murghab. Road from Bulunkul to Murghab is 130km and will take around 2.5-3 hours. Murghab is famous for severe climate and hard conditions, thus locals breed yaks. These big cattle survive cold winters thanks to the heavy wool on their skin, they don't need special care, produce milk and meat, and their wool is widely used in the household. In Murghab, you can see beautiful, breathtaking night sky and doubt for a moment that you are not dreaming. You are so high in the mountains that the stars are clearly visible without any telescope.
Lake Karakul. The road from Murghab to the lake is contoured with salt-marsh and mountain chain. The 150 km road takes around 4-5 hours. Water in the lake is cold and salty. There are remnants of the Solar Clock not far from the lake, built by Scythian tribes in the 5th century A.D.
Osh. 40 km further down from Karakul, the road will lead to the city Osh, the final destination of the Pamir Highway. It is to remember, on the border with Kyrgyzstan you will experience the worst part of the road that is hard to drive in winter due to slush and precipitation.
Pamir Highway Travel Tips
the best time for the Pamir highway trip is from July to September, when precipitation has not yet made the roads difficult to pass;
road to Pamir Highway lies exclusively via mountain roads at the height of 1200 up to 4655 m above sea level; those roads were paved during the Soviet times, apart from the drive-ins to the passes where pavement was not done to increase roughness of the road;
there is no public transport along the Pamir highway. The only reliable way of transportation is a rented Jeep or own vehicle, as there are very few passing by cars; even less cars on the part of Murghab-Sary-Tash (Kyrgyzstan) where you will see hardly a single car all day;
the road from Qal'ai-Khumb to Khorugh will take 6 hours in SUV*; the 240 km road lies along the river Panj; travel from Qal'ai-Khumb to Ishkashim will last around 4-5 hours (120km);
the road then lies to Bulunkul via Ishkashim, 270km road takes rather long time, that's why our tours offer an overnight in Ishkashim;
Pamir highway trip takes up to 8-10 days depending on the chosen route;
essential part of the Pamir Highway travel guide is food: in such a high mountain regions as Alichur and Karakul, it is impossible to buy anything except basic food of long storage, thus it is better to stock up in advance.
*it is also possible to reach Khorugh on a 14-seat local plane. However, flight operation heavily depends on the weather conditions; a part of the route is often impossible to pass due to heavy cloudiness. Moreover, flights are run depending on the number of passengers. Thus, there is no fixed timetable for flights Dushanbe-Khorugh-Dushanbe.
What to eat?
From familiar foods are rice, eggs, lamb, beef and fresh bread. Yak meat, milk and its butter are also popular there. Tea and coffee are to be found among beverages too.
Pamir dwellers are accustomed to eat such meals as shurpa - slow cooked soup with meat and seasonal vegetables, plov – a.k.a pilaf (main ingredients – rice, meat and carrot) , lyulya kebab – bbq from minced/ground meat, rice porridge, lagman – handmade noodles in beef soup with vegetables, manti – steamed meat dumplings. In Murghab, where breeding yak cattle is well spread, mainly yak meat is used. Locals also like warming and nutritious tea Shir-Chay, green tea with milk, butter, salt and walnuts. This drink is rather specific and is not everyone's cup of tea.
Accommodation
During the entire trip, you will be stopping at guest houses where they live themselves, who are trained on tourist service. This is one of the advantages of your trip: you will have an opportunity to live in a real Tajik house, see the local life and experience famous Tajik hospitality. The food will be standard everywhere: simple, but tasty. Breakfast includes manna croup or rice porridges, scrambled or boiled eggs with sausages, butter, jam, tea and coffee. Dinner consists of salads, two main dishes and dessert. For the first course, you may be offered shurpa – slow cooked meat and vegetable soup, rassolnik – Russian soup with meat, pickles and barley, lentil or pea soup, lagman – handmade noodles topped up with meat and vegetables, borsch – beetroot soup. For the second course, you may have plov – pilaf (fried, boiled, after, steamed meat, carrot and rice), fried meat, chicken with vegetables, manti – meat stuffed dumplings, spaghetti, beefsteak and other dishes. Usually fruits are offered as a dessert.
What to expect from the Pamir Highway tour?
Travelers who have visited Pamir Highway highlight interesting culture and lifestyle of Tajik people, their hospitality. The trip will fascinate you with mountain sceneries and sky seems so low above you that feels like you can touch it. Pamir Highway is a road connecting all villages with the civilization, some sort of artery bringing a life stream.
In our Pamir Highway travel guide we must highlight that these adventures are for brave ones, as the road is unpredictable and abandoned; it is hard to find auto service or gas stop. Thus, if you suddenly run out of oil or car breaks down, it may be hard. There are no comfortable hotels around but you can still find an accommodation in small but cozy guesthouses owned by locals. However, all these hardships and inconveniences will pay off with impressions that you collect during your travel on the Pamir Highway – the highest mountain road on the territory of the former USSR and the second in the world.