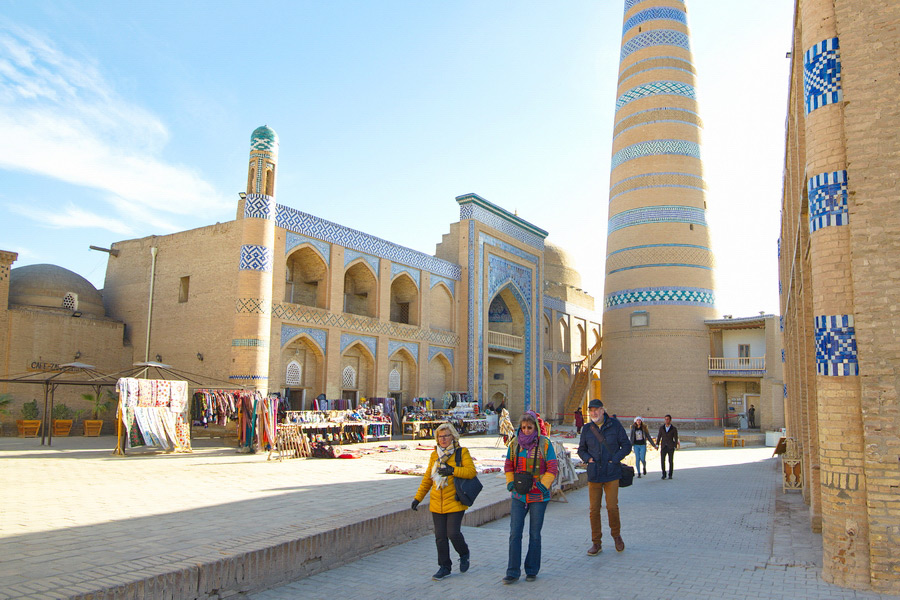 Uzbekistan Tourism: ancient cities, sights and unique nature
Tourism in Uzbekistan is not only unique sightseeing tours to architectural monuments and places of interest, but also ample opportunities for adventure tourism so popular today: trekking, jeep-safari, alpine skiing and fishing. Uzbekistan is noted for ecotourism, sport, historical, religious, archeological, ethnic and other types of cultural tourism.
Worldwide famous ancient cities Samarkand, Bukhara and Khiva, located on the territory of Uzbekistan, are of the same age with Rome Empire and Babylon. These cities remember invasions of Alexander the Great, Genghis Khan and Tamerlane. They were the cultural centers of ancient civilizations millenniums ago. Splendor of palaces, mausoleums, minarets did not shrink with the lapse of time and so far amazes contemporaries. Being located along the Great Silk Road these cities attracted invaders, architects, poets, historians, scientists from around the world. Samarkand was the heart of the Silk Road and has linked East and West for centuries. Poets called it the Pearl of the East.
In addition to famous architectural monuments of these cities there are over 7 thousand sites of cultural heritage, which make Uzbekistan the leader of cultural tourism in Central Asia.
Ethnic tourism in Uzbekistan offers tourists to get acquainted with original centuries-old culture of Uzbek people, their interesting and various customs and traditions, numerous rites and rituals that are alive even today.
In addition, Uzbekistan is developing the infrastructure of active tourism and ecotourism. Diverse nature from mountains and fir forests to vast deserts and rivers attract those who seek outdoor activities. Chimgan and Beldersay ski area is popular with heli-boarding, heli-skiing and snowboarding in winters. West Tien-Shan and Pamir-Alay ridges are perfect places for hiking, speleotourism, climbing, hang-gliding. Fervent deserts attract with camel riding and stay in national yurts with campfire.
In the mountains there are a lot of resorts and rest houses that suits those who choose the health tourism in Uzbekistan. Travelers and guests will find here fishing grounds, horseback ridings across the valleys and trips to sand beaches of the Charvak Reservoir. In hot deserts tours on camels and stay in yurts are organized.
Modern rhythm and style of life leave their traces on business events. Today Uzbekistan is developing the MICE industry (abbr. MICE: Meeting, Incentive, Conference, Events), which includes the main sectors of business tourism. MICE industry is an integral part of professional and casual life of workers and business partners. Many companies tend to use these services for any corporate events. These may be incentive tours, corporate holiday, business meeting, conference, business dinner, unforgettable excursions and entertaining evening programs in the beautiful parts of Uzbekistan!

Tourism in Uzbekistan: Must See Destinations
Don't miss the opportunity to visit Uzbekistan tourism destinations if you are in Uzbekistan and have time to explore the country. You can take short weekend tours to visit these popular destinations.
Uzbekistan Tours - private tours in Uzbekistan, exclusive custom made itineraries.
Nukus - Emerging as a popular tourism destination in Uzbekistan
One of the main places of interest in Nukus is the Museum of Art named after I.V. Savitsky, which contains more than 50 000 paintings and other works of art, banned during the Soviet period. Thanks to the efforts of Moscow artist Igor Vitalievich Savitsky the Russian Avant-garde and Post Avant-garde heritage was saved from total destruction by the Soviet power. Only in 1991, when Uzbekistan obtained its independence, the Nukus Museum of Art named after I.V. Savitsky gained its real recognition and popularity. And today everyone who wishes can get acquainted with the unknown art of the 20th century.
"The Desert of Forbidden Art," an American-made documentary, is drawing international attention to Mr. Savitsky's life's work and making it as a polular Uzbekistan tourism destination.