The Miri-Arab Madrasah: construction of the building of the madrasah during the Sheibanids epoch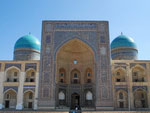 It is one of the best Bukhara architectual school monuments of 16 century. Architecture and décor of Miri-Arab distinguish by highest culture and taste. At present in this monument, which underwent catastrophical detruction, portal and whole northern wing of main fasadewere restored up, cupola and yard-arcades construction were strengthen.
Near Miri-Arab Madrasah is Amir-Alimkhan Madrasah. It was built in the end of 19 – beginning of 20 centuries, with using of unusual shape – in look of common living and economic yards in one together. From 1924, the monument served as urban library, what is quite in order: «Noble Bukhara», as it was called in the East, always was one of the scientific and the knowledge center and had large book-depository.
Bukhara