Uzbek Handicrafts and Applied Art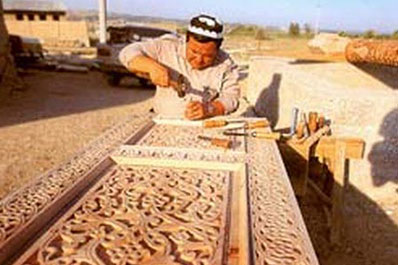 The applied art of Uzbekistan is original and exclusive creative work of national craftsmen and masters. Putting their hearts and souls into works, for many centuries, they have created unique pieces and articles: housewares, house adornment, inimitable fabrics for dressy dresses, etc…
Samarkand, Bukhara, Khiva and others craftsmen were well-known all over Central Asia and are popular even today.
Hand-made works are real cultural and historical phenomenon. For centuries various centers of national fine and applied arts have been formed on the territory of Uzbekistan. Each region is well-known for own crafts. Chust is renowned for tubeteika (national cap) and knives, Rishtan for blue ceramics, Margilan for iridescent atlas fabric, Bukhara for goldworks.
The Applied art has developed through centuries, leaving the heritage of unique pieces of unknown masters, which amaze with wealth of fantasy and perfection of forms.
Types of Uzbek Handicrafts and Applied Art: