Rishtan: Glazed Ceramics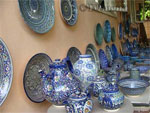 At 50 km west of Fergana, there is a village of Rishtan, whose residents are known for their pottery. From historical sources we know that even 800 years ago talented craftsmen produced pottery in Rishtan. Rishtan pottery differs with richness of decor, which is dominated by blue.
This unique blue glaze "ishkor" is produced by hand from natural mineral pigments and ash mountain plants. The products are made from red clay that is mined only here. From generation to generation craftsmen pass the secrets of their skillful mastery. Big dishes - "lagans", deep bowl "kosa", spit water-jugs, vessels for milk, ornamented with glaze "ishkor" unforgettable turquoise and ultramarine colors, made Rishtan and its masters famous on numerous international exhibitions. They decorate exposure of many museums in the world and private collections.