Kaffal-Shashi, saint patron of Tashkent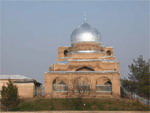 Kaffal Shashi was born in Shash region (Tashkent today). He was an Islamic scholar, poet and mystic. His tomb, rebuilt in the XVI century, has become a popular place of pilgrimage for Muslims. It is the main shrine complex.
The height of its entrance is 12 meters. The entrance is decorated with a decorative lattice and with a quotation from the Koran that is laid out in a special way: "Pray for me anyone who will read this inscription." The stones that are placed right at the entrance are the grave of Kaffal Shashi's students and followers. The structure also provides for khanaka, a room for dervishes (corners on the left and right).
Tashkent