Former Residence of Prince Romanov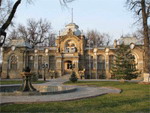 In Tashkent Romanov's residence was built in 1891 by projects of. V.C. Geyncelman and A.L. Benua. It was built for Grand Prince Nikolay Konstantinovich Romanov (1850-1917), first cousin of Tsar Nikolay II, who was deported here in 1881 to mine precious stones.
This one-storey fine building of brick is located in the center of Tashkent, close to Amir Temur Square. The Romanov's Residence is corresponded to the number of monuments of XIX-XX centuries.
Tashkent