Departure dates
Dates
Deadline
May 14, 2017
March 14, 2017
Request
August 20, 2017
June 20, 2017
September 17, 2017
July 17, 2017
April 10, 2018
February 10, 2018
May 15, 2018
March 15, 2018
August 21, 2018
June 21, 2018
September 18, 2018
July 18, 2018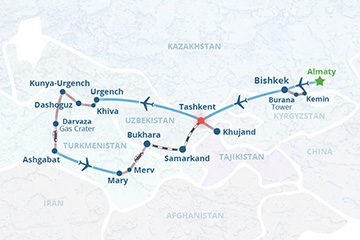 Group size: Max - 14 persons. Min - 3 persons
Single supplement: $440
Central Asia is so jam-packed with historical and nature sights, it would literally take years to explore the all, even the half. We guess you are rather tight in time, but still want to see as much as possible. That is why we have put together in 14 day itinerary the best that this part of the world offers to tourists. Central Asia Group Tour 2017 with fixed dates will open up the most interesting in Turkmenistan, Uzbekistan, Tajikistan, Kyrgyzstan and Kazakhstan. In addition, we are excited to offer to prolong your Silk Road adventures with a Small Group Tour to South Caucasus.
Tour itinerary:
Day 1, Sunday: Almaty – arrival
Arrive in Almaty. You will be met by our driver and transferred to the hotel. Check in to the hotel at 14:00. Free time. Overnight at the hotel.
Day 2, Monday: Almaty – Bishkek
Breakfast. At 09:00 your guide and driver will meet you at hotel lobby to start the sightseeing tour in Almaty: visit Panfilov Park, Zenkov Cathedral, Republic Square. Enjoy panoramic view at Kok-Tobe Hill, visit Medeo Gorge.
At 15:30 transfer to the Airport to get the flight KC109 to Bishkek at 18:00. Arrival at Bishkek at 18:55. Transfer to the hotel. Free time. Overnight at the hotel.
Duration of sightseeing tour: 5-6 hours
Day 3, Tuesday: Bishkek – Burana – Bishkek
After breakfast transfer to Burana Tower dated to X-XII cc. Burana Tower is a historical complex, which marks the original site of the Karakhanid town, Balasagun.
In the afternoon return to Bishkek for city tour. Visit Oak Park, Ala-Too Square, Statue of Manas. See Philharmonic Hall and Victory Monument – bright examples of Soviet architecture. Overnight at the hotel.
Duration of sightseeing tour: 4-5 hours
Meals: Breakfast
Day 4, Wednesday: Bishkek – Tashkent
Breakfast. At 04:00 transfer to Bishkek International Airport for flight HY778 to Tashkent at 06:45 (580 km, 1 h. 20 min.). Arrival at Tashkent at 07:05. Transfer for breakfast and check in hotel. At 11:00 start sightseeing Tashkent. Visit Old City part of Tashkent with Khast-Imam Complex and Chorsu bazar, continue to center of Tashkent with Amir Timur Square, Independence Square and Applied Arts Museum. Overnight at the hotel.
Duration of sightseeing tour: 4-5 hours
Day 5, Thursday: Tashkent – Khudjand – Tashkent (170 +170 km, 2.5 +2.5 hrs)
Breakfast. At 08:00 drive to Uzbekistan-Tajikistan border point Oybek (100 km, 1 h. 30 min.). After completing customs and passport control on both sides, tajik local guide and driver will meet you on the tajik side and take you to Khujand (70 km, 1 h.). Start sightseeing Khujand. You will explore the Sughd Historical Museum, Timur-Malik Fortress, Mosque and Madrasah of Shaikh Muslihiddin, Payshanba Bazaar. You will try delicious Tajik cuisine at the local restaurant. Drive back to Tajikistan-Uzbekistan border point Oybek. After passing the border Oybek, the driver will meet you on Uzbekistan side and transfer to your hotel in Tashkent.
Duration of sightseeing tour: 3-4 hours
Day 6, Friday: Tashkent – Samarkand
Early breakfast. At 07:00 transfer from your hotel to railway station. Fast-speed train "Afrosiyob" departs Tashkent at 08:00 and arrives in Samarkand at 10:10 (300 km). Your guide and driver will meet you at train station to begin the city tour in Samarkand. Visit spectacular Registan Square, remains of Bibi-Khahum mosque, Ulugbek observatory, Shakhi-Zinda Necropolis, central Samarkand bazaar and Gur-Emir Mausoleum, authentic shrine of Tamerlane. Free time in the afternoon. Overnight at the hotel.
Duration of sightseeing tour: 6-7 hours
Day 7, Saturday: Samarkand
After breakfast continue sightseeing Samarkand: visit Afrosiyob Museum and the Tomb of Saint Daniel. Then drive to Koni Ghil village to explore traditional way of making Samarkand paper from mulberry. Free time. Overnight at the hotel.
Duration of sightseeing tour: 3-4 hours
Day 8, Sunday: Samarkand– Bukhara (265 km, 4 hrs)
In the morning depart Samarkand and drive to Bukhara (280 km, 4-5 h.). Stop on the way at Rabati-Malik Caravanserai. Continue driving to Bukhara. Arrive in Bukhara, check in to the hotel.
Spend your afternoon in fascinating Old Bukhara which is listed by UNESCO as a World Heritage Site. Explore Kalyan Minaret, Kalyan Mosque and Miri-Arab Madrasah, Magoki-Attori Mosque, madrasahs of Ulugbek and Abdulazizkhan, trade domes, Lyabi Hauz Ensemble, Chor-Minor Madrasah. Overnight at the hotel.
Duration of sightseeing tour: 3-4 hours
Day 9, Monday: Bukhara
Start the second day in Bukhara discovering Ark Fortress, Bolo-Khauz Mosque, Samani dynasty and Chashma-Ayub mausoleums. Then visit Sitorai-Mokhikhosa – summer residence of Bukhara's last emir, unique site combining Oriental and Russian architecture. Continue to Mausoleum of Bakhoutdin Naqshbandi. Enjoy free time in the afternoon. In the evening enjoy dinner and folklore show program at Nodir Divan-begi Madrasah. Overnight at the hotel.
Duration of sightseeing tour: 5-6 hours
Day 10, Tuesday: Bukhara – Khiva
In the morning depart Bukhara and drive to Khiva (480 km, 7-8 h.*). The Great Silk Road once routed through Bukhara and Khiva ran through the Kyzylkum Desert, as the present road does nowadays**. Stop en-route to enjoy views of the desert and Amudarya River.
Arrive in Khiva late in the afternoon, check in to the hotel. Time for rest. Overnight at the hotel.
*we advise preparing lunch-boxes for this trip.
**some parts of the road are presently being renovated.
Day 11, Wednesday: Khiva
Today you will visit Ichan-Kala Fortress which is a UNESCO World Heritage site. The tour features visits to Mukhammad Amin Khan Madrasah, Mukhammad Rahimkhan Madrasah, Kalta Minor, Juma Mosque, Toshkhovli Palace, Pakhlavan Makhmud Mausoleum. Try yourself at climbing Islom Khodja Minaret, the highest minaret in Uzbekistan. Enjoy breathtaking panoramic views of Old Khiva in Kunya-Ark.
Free time in the afternoon. Overnight at the hotel.
Duration of sightseeing tour: 5 hours
Day 12, Thursday: Khiva – Kunya-Urgench – Dashoguz – Ashgabat
In the morning drive to Turkmenistan border point Shavat-Dashoguz (60 km, 1 h.). Go through border formalities on both checkpoints. Cross 1.5 km neutral zone (transportation may not be available). Meet your Turkmenistan guide and drive to Kunya Urgench (100 km, 1 h. 30 min.). Visit mausoleums of Turebek-Khanym, Sultan Tekesh, Sultan Il Arslan, Najmad-din-Kubra, Sultan Ali. Discover the Kutlug Timur Minaret and Kyrk Molla Hill.
In the afternoon drive to Dashoguz airport (120 km, 1 h. 30 min.), take an evening flight to Ashgabat (580 km, 50 min.). Upon arrival transfer to the hotel. Overnight at the hotel.
Duration of sightseeing tour: 2 hours
Day 13, Friday: Ashgabat
Breakfast. Sightseeing tour in Ashgabat – capital of Turkmenistan, which has experienced boom of "Marble Architecture" for the past 15 years. Explore archeological site of Old Nissa (included in UNESCO World Heritage list) and Spiritual Mosque, one of the biggest mosques in Central Asia. Visit the National Museum of History, and continue to Arch of Neutrality. In the afternoon drive to "Bedev" hippodrome stables to see Akhalteke horses – pride of Turkmen nation. Continue the tour with visits to Presidential Square, Ertugrul Gazy Mosque, and the newly built Independence Park. During the sightseeing you will have a chance to take a picture of the Monument of Lenin. Free time in the afternoon. Overnight at the hotel.
Duration of sightseeing tour: 6 hours
Day 14, Saturday: Ashgabat – departure
Check out from the hotel till noon. Free time till transfer to Ashgabat International Airport. End of the tour.
Extend your Silk Road travel experience with Azerbaijan, Georgia, and Armenia tour with guaranteed departure dates.
Accommodation:
Price includes:
All transfers: 3-7 pax on minivan/van, 8-13 pax by 20 seat bus;
Accommodation based on double/twin room sharing, breakfasts included;
Sightseeing tour program in each country with a local guide (NB in Uzbekistan there will be different guides in each city);
Entrance fees to sights as per itinerary;
Economy class tickets for flights Almaty-Bishkek-Tashkent, Dashoguz -Ashgabat;
Economy-class ticket for train Tashkent - Samarkand;
Visa support for Uzbekistan, Turkmenistan tourist visas;
National folklore show with dinner on Day 9.
Price does not include:
Tour leader to accompany the travelers for the whole period of the tour;
Full board (lunches and dinners);
Hotel charges for additional services;
Consular fees for tourist visas and Turkmenistan migration tax ($12);
Visa support for Kyrgyzstan and Kazakhstan tourist visas;
Personal travel insurance.