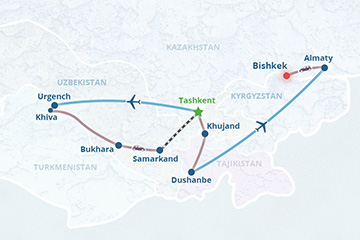 This is involving and full of impressions 15-day tour to Kazakhstan, Kyrgyzstan, Uzbekistan and Tajikistan. Trip to four countries of the region which have common culture and history will give you lots of positive energy.
In Uzbekistan you will discover a unique brick laid mausoleum of the Samanids and unusual domes of Chashma-Ayub Mausoleum in Bukhara. You will be amazed by skillful art of ancient architects who constructed the Ulugbek Observatory and put patterns on the walls of necropolis of Shakhi-Zinda in Samarkand. You will take a walk along the religious part of Tashkent – Khast-Imam complex where you will find the oldest copy of the holy book Kuran of the Khalif Osman (7th century ) and visit Chorsu, the most ancient markets of the city.
In Tajikistan you will have an excursion to Khujand, visit to the fortress of Timur-Malik that was considered as one of the unassailable fortresses in Central Asia but was assaulted by Genghis Khan army; and you will also stopover the mosque and madrasah of Shaikh Muslihiddin, the ruler of Khujand and a poet living in the 12th century. The road to Dushanbe will go along the mountain route through a picturesque pass Anzob (3300 meters above the sea level). There is a very interesting Gurminj Museum of the National Musical Instruments in the capital of Tajikistan and Hissar fortress full of many legends.

In Almaty you will visit a park named after 28 guardsmen of Panfilov, Zenkov Cathedral and Kazakh National Musical Instruments Museum. You will have great opportunity to enjoy the panoramic view from the Kok-Tobe Mountain and visit the Medeo mountain ice rink.
The Kyrgyz Land is full of various historical, cultural and indigenous sighs, among which there are primitive man sites, rock paintings, medieval fortresses, and Alpine lakes. There, you will visit modern Bishkek. You will also see the tower of Burana – a minaret of the 11th century, one of the first constructions of this type in Central Asia.
Thousand years of history, beautiful oriental medieval architecture, unique culture, interesting customs and the most delicious cuisine won't let you to get bored even for a while.
Tour itinerary:
Day 1: Arrival in Tashkent
Arrive in Tashkent. You will be met by Advantour driver and transferred to the hotel. Check in to the hotel at noon. Meet your guide to start sightseeing in the capital of Uzbekistan, the biggest city in Central Asia.
Visit Old City part of Tashkent with Khast-Imam Complex where the world famous holy book Quran of Caliph Uthman has been preserved. In Khast-Imam visit Madrasah of Barak-Khan, Tillya Sheykh Mosque, Mausoleum of the Saint Abu Bakr Kaffal Shashi and the Islamic Institute of Imam al-Bukhari. Explore Choru Bazaar. Then take a ride on Tashkent Metro to city center to explore Amir Timur Square, Independence Square and Applied Arts Museum. Overnight at the hotel.
Duration of sightseeing tour: 4-5 hours
Day 2: Tashkent – Urgench – Khiva
Early morning transfer to the local airport for flight to Urgench (1093 km, 1 h. 40 min.). Arrival in Urgench, transfer to the hotel in Khiva (30 km, 35 min.). Later proceed for guided walking sightseeing tour. Spend a day in UNESCO World Heritage site Itchan-Kala Fortress. Visit Mukhammad Aminkhan Madrasah, Mukhammad Rahimkhan Madrasah, Kalta-Minor, Kunya-Ark, Juma Mosque, Tash-Khovli Palace, Pakhlavan Makhmud Mausoleum, Minaret of Islam-Khoja. Free time in the afternoon. Overnight at the hotel.
Duration of sightseeing tour: 5 hours
Day 3: Khiva – Bukhara
In the morning depart Khiva and drive to Bukhara (480 km, 7-8 h.*). The Great Silk Road once routed through Bukhara and Khiva ran through the Kyzylkum Desert, today you will pass the same route**. Stop en-route to enjoy views of Amudarya River and the desert.
Arrive in Bukhara late in the afternoon, check in to the hotel. Time for rest and overnight at the hotel.
*we advise preparing lunch-boxes for this trip.
**some parts of the road are presently being renovated.
Day 4: Bukhara
Enjoy a walking sightseeing tour with a guide in Old City. Visit Lyabi-Khauz Ensemble, Magoki-Attori Mosque, Chor-Minor Madrasah, trade domes, Kalyan Minaret, Kalyan Mosque and Miri-Arab Madrasah, Ulugbek and Abdulazizkhan madrasahs, Ark Fortress, Bolo-Khauz Mosque, Ismail Samani and Chashma-Ayub mausoleums. Overnight at the hotel.
Duration of sightseeing tour: 6-7 hours
Day 5: Bukhara – Samarkand
Continue sightseeing tour with a guide. Drive out of the city to Sitorai Mokhi-Khosa – summer residence of Bukhara's last emir. Head to Mausoleum of Bakhouddin Naqshbandi and Chor-Bakr Necropolis. In the afternoon depart to Samarkand (280 km, 4 h.). Stop on the way at Caravanserai Rabat-i-Malik dating back to the 11th century. Arrive in Samarkand late in the afternoon, check in to your hotel. Overnight at the hotel.
Duration of sightseeing tour: 2-3 hours
Day 6: Samarkand
Meet your guide and driver at the hotel lobby to start city tour. Visit spectacular Registan Square, remains of Bibi-Khanum Mosque, Siyob Bazaar, Ulugbek Observatory, Shakhi-Zinda Necropolis and Gur-Emir Mausoleum – authentic shrine of Tamerlane. Overnight at the hotel.
Duration of sightseeing tour: 6-7 hours
Day 7: Samarkand – Tashkent
Check-out from the hotel till noon. Continue sightseeing: visit Afrosiab Museum and the Tomb of Saint Daniel. Then drive to Konigil village to explore a traditional way of making Samarkand paper from mulberry. Enjoy free time with the car and driver at your disposal after sightseeing tour. At 16:00 transfer to the railway station. Take the fast-speed Afrosiyob train departing to Tashkent at 17:00 (300 km). Scheduled arrival time is 19:10. Pick-up and transfer to the hotel. Overnight at the hotel.
Duration of sightseeing tour: 3-4 hours
Day 8: Tashkent – Khujand
Early morning transfer to Uzbekistan-Tajikistan border Oybek-Fotekhobod (100 km, 1 h. 30 min.). Go through border formalities on both checkpoints. Meet Tajik local guide and driver and drive to Khujand (70 km, 1 h.). Sightseeing in Khujand: Republican Historical-Ethnographic Museum, Timur Malik Fortress, Archeological Museum, Mosque and Madrasah of Sheikh Muslehiddin, Panjshanbe Bazaar. Overnight at the hotel.
Duration of sightseeing tour: 3 hours
Day 9: Khujand – Dushanbe
In the morning depart Khujand and drive to Dushanbe (270 km, 5 h.). The mountain road goes via picturesque Anzob pass (3300 m above sea level). Arrive in Dushanbe and start a city tour: Mosque of Hoji Yakub, National Museum of Tajikistan, Gurminj Musical Instruments Museum, Statue of Ismail Samani, and Rudaki Park. Overnight at the hotel.
Duration of sightseeing tour: 2 hours
Day 10: Dushanbe
After breakfast continue sightseeing in Dushanbe. Visit Hissar Fortress where you can see Madrasah Kuhna. Free time. Overnight at the hotel.
Day 11: Dushanbe – Almaty
Breakfast. Free time till transfer to the International Airport to get the flight to Almaty. Arrival in Almaty. Transfer to the hotel. Free time. Overnight at the hotel.
Day 12: Almaty
Your guide and driver will meet you at the hotel lobby to start the sightseeing tour in Almaty: visit Panfilov Park, Zenkov Cathedral, Central State Museum and Republic Square. Enjoy panoramic view at Kok-Tobe Hill, visit Medeo Gorge. Overnight at the hotel.
Duration of sightseeing tour: 5-6 hours
Day 13: Almaty – Bishkek
After breakfast depart Almaty and drive to Bishkek via a newly built highway, enjoy nature landscapes on the way (250 km, 4 h.). Cross Kazakhstan-Kyrgyzstan border. Arrive in Bishkek, check in to the hotel.
In the afternoon start sightseeing tour: Oak Park, Ala-Too Square, Statue of Manas; National Museum of Fine Arts*, Philharmonic Hall and Victory Monument – bright examples of Soviet architecture. Overnight at the hotel.
Duration of sightseeing tour: 3-4 hours
*Museum is closed on Mondays.
Day 14: Bishkek
After breakfast transfer to see Burana tower, the remnants of the ancient city of Balasagyn (11-13th century). Return to Bishkek, free time. Overnight at the hotel or in the guest house.
Day 15: Bishkek – departure
Check-out from the hotel at noon. Free time until transfer to Bishkek International Airport. End of the tour.
Accommodation:
City

OPTION 1

Comfort

OPTION 2
Economy

Number of nights

Tashkent

2

Khiva

1

Bukhara

2

Samarkand

2

Khudjand

Khujand Grand Hotel, Khujand Delux

Vatan & Khujand Delux (mansard room)

1

Dushanbe

Sheraton Dushanbe

Lotus

2

Almaty

Iris

2

Bishkek

2
Price includes:
All transfers: 1-2 pax on sedan type car, 3-6 pax on minivan/van, 8-13 pax by 20 seat bus;
Accommodation based on double/twin room sharing, breakfasts included;
Sightseeing tour program in each country with local guides (in Uzbekistan, different guides in each city);
Entrance fees to sights as per itinerary;
Economy class tickets for flights Tashkent-Urgench and Dushanbe-Almaty;
Business/Economy-class ticket for train Samarkand-Tashkent as per option;
Visa support for Uzbekistan tourist visas.
Price does not include:
Tour leader to accompany the travellers for the whole period of the tour;
Full board (lunches and dinners);
Hotel charges for additional services;
Visa support for Kyrgyzstan and Kazakhstan tourist visas;
Personal travel insurance.