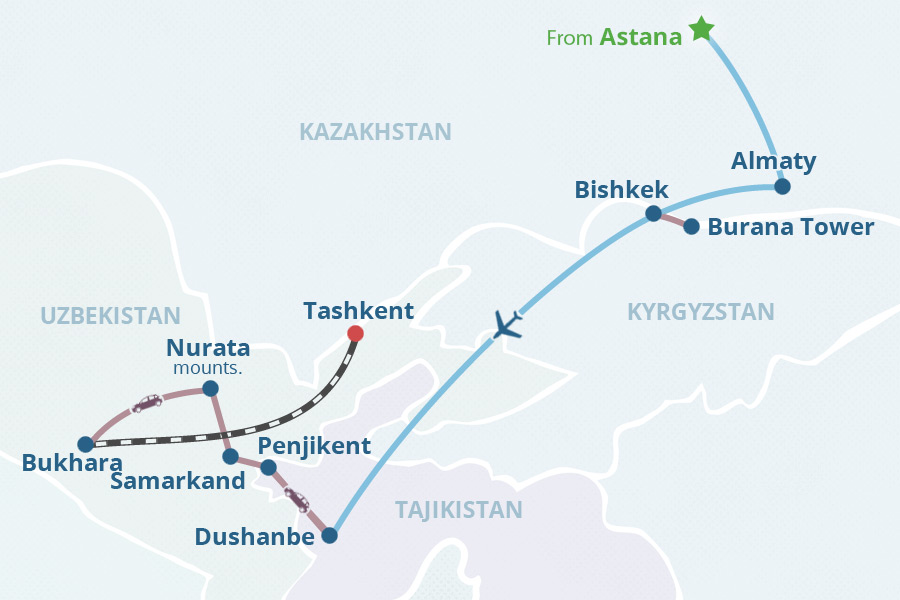 Marriage is one of the brightest and most memorable steps in life of each couple. It is important that this event leaves warm impressions for entire life. Why not to go for a trip of a lifetime - honeymoon in one of the magic corners of the world?
Central Asia honeymoon package is a travel full of colors, emotions and adventures. You will visit five countries: Kazakhstan, Kyrgyzstan, Tajikistan, Uzbekistan and Turkmenistan. Each of these states is unique with own history, traditions and culture.
Share this Central Asia honeymoon tour with your second half. Feel like heroes of legends from 1001 nights, dive into the fascinating beauty of the high-mountain Medeo, and take a walk along the narrow streets of Samarkand.
We recommend arriving in Astana on TUESDAY in order to match regional flights in the itinerary.
From June 10 till Sep 10 2017 the Central Asia tour will start in Almaty, bypassing Astana. Consequently, the duration will be 12 days.
Tour itinerary:
Day 1: Arrival in Astana, TUE
Arrive in Astana. Transfer to the hotel. Time for rest. Overnight at the hotel.
Day 2: Astana – Almaty, WED
Meet your guide at the hotel lobby to start sightseeing in the capital of Kazakhstan. Visit "Old center", town of merchants in the past. Visit Millennium Axis line named by Kisho Kurokawa, chief architect and creator of Astana general layout. Visit Astana Opera building, the Round Square with numerous fountains. Continue to Nurzhol and Green Water boulevards with skyscrapers of exceptional architectural forms. You will go up the Bayterek monument* and enjoy a breathtaking panoramic view at the top of the monument and observation tower. The city tour will be rounded up with a visit to Khan-Shatyr, shopping and entertainment center. Transfer to the train station, take an evening train to Almaty (965 km). Overnight in the train.
Duration of sightseeing tour: 4-5 hours
*Bayterek Tower is closed for reconstruction until June 2017. We gladly replace it with a visit to the Museum of First President (closed on Mondays).
Day 3: Almaty, THU
Early morning arrival in Almaty. Your guide and driver will meet you at the train station to start sightseeing tour in Almaty. Visit Panfilov Park, Zenkov Cathedral, Central State Museum and Republic Square. Enjoy panoramic view at Kok-Tobe Hill, visit Medeo Gorge. Check in to the hotel. Free time. Overnight at the hotel.
Duration of sightseeing tour: 5-6 hours
Day 4: Almaty – Bishkek, FRI
After breakfast depart Almaty and drive to Bishkek via a newly built highway, enjoy nature landscapes on the way (250 km, 4 h.). Cross Kazakhstan-Kyrgyzstan border. Arrive in Bishkek, check in to the hotel. In the afternoon start sightseeing tour: visit Oak Park, Ala-Too Square, Statue of Manas. See Philharmonic Hall and Victory Monument – bright examples of Soviet architecture.
In the evening, transfer to the Ethno Complex Supara for a Kyrgyz wedding party. You will be dressed in Kyrgyz national costumes and have a small, improvised Kyrgyz wedding in the yurt. During the feast an old Kyrgyz woman will tell you about culture and traditions, you will taste Kyrgyz national dishes, listen to the folk music and songs, watch national dances and take part in games. After dinner transfer to the hotel.
Duration of sightseeing tour: 3-4 hours
Day 5: Bishkek – Ala-Archa – Burana Tower – Bishkek, SAT
After breakfast transfer to the Ala-Archa National Park (40 km). You will enjoy an alpine gorge through which the fast flowing Ala-Archa River runs. The gorge is flanked by tall, snow-covered, peaks with steep-sided, forested, mountain slopes. Easy hike in the gorge. After, trip to Burana Tower, 11th century minaret located in 85 km from Bishkek. Visit the tower and nearby field of balbals, stone figures.
Day 6: Bishkek – Dushanbe, SUN
Transfer to Manas International Airport for morning flight to Dushanbe. Our guide and driver will meet you at Dushanbe airport upon arrival. Start guided city tour with the visit to the Tajikistan National Museum of Antiquities (closed on Mondays) that includes the exhibits on history, natural history and art; Buddha in Nirvana is one of the valuable exhibits of the museum. Continue to Gurminj Musical Instruments Museum, Statue of Ismail Somoni and Rudaki Park. Overnight at the hotel.
Duration of sightseeing tour: 4-5 hours
Day 7: Dushanbe – Khujand, MON
In the morning, depart Dushanbe and drive to Khujand (250 km, 5-6 h.). Drive through Anzob tunnel. Lunch at a local Chaihana (tea house). In the afternoon drive through Shakhristan tunnel with a stop in Istaravshan. Visit a local bazaar; Hazrat Shah architectural complex, which consists of Hazrat Shah Mausoleum, the grave of brother of Kusamibn Abbas, Khudayar Valami Mausoleum, and Namazgah Mosque dating back to the19th century. Continue to Mug Teppe, one of the ancient settlements located in Ura-Tube. The city is believed to be founded by King Cyrus in the North-East boundary of his empire. Arrival in Khujand. Free time. Overnight at the hotel.
Duration of sightseeing tour: 1.5-2 hours
Day 8: Khujand – Oybek Border Crossing Point – Tashkent, TUE
In the morning sightseeing tour in Khujand. Visit the Archeology and Fortification Museum, Sheikh Muslihiddin Mosque, and the Payshanba Bazaar, the biggest bazaar in Tajikistan, Arbob Palace named after S. Urunhodlaev (20th century), "Tajik Sea" Kayraccum HPS (Hydro Power Station), the symbol of People's Friendship, built in 1968.
In the afternoon transfer to Tajikistan-Uzbekistan border point "Oybek". As you pass the borders, driver will meet you Uzbekistan part and transfer to Tashkent (80 km, 1 h 30 min). Check in to the hotel. Free time. Overnight at the hotel.
Duration of sightseeing tour: 6 hours
Day 9: Tashkent, WED
In the morning photo session in national costumes.
After photo session, you will explore Tashkent, the biggest city in Central Asia. Old City part of Tashkent with Khast-Imam Complex where the world famous holy book Quran of Caliph Uthman has been preserved. In Khast-Imam visit Madrasah of Barak-Khan, Tillya Sheykh Mosque, Mausoleum of the Saint Abu Bakr Kaffal Shashi and the Islamic Institute of Imam al-Bukhari. Explore Choru Bazaar. Then take a ride on Tashkent Metro to city center to explore Amir Timur Square, Independence Square and Applied Arts Museum. In the evening visit a local Spa salon. Overnight at the hotel.
Duration of sightseeing tour: 4-5 hours
Day 10: Tashkent – Samarkand, THU
At 07:00 transfer from your hotel to the railway station. High-speed train "Afrosiyob" departs Tashkent at 08:00 and arrives in Samarkand at 10:10 (300 km). Your guide and driver will meet you at the train station to begin sightseeing in Samarkand. Visit spectacular Registan Square, remains of Bibi Khanum Mosque, Siyob Bazaar, Ulugbek Observatory, Shakhi-Zinda Necropolis and Gur Emir Mausoleum, authentic shrine of Tamerlane. Overnight at the hotel.
Duration of sightseeing tour: 6-7 hours
Day 11: Samarkand – Bukhara, FRI
In the morning depart Samarkand and drive to Bukhara (280 km, 4 h.*). Stop on the way at Caravanserai Rabat Malik. Continue driving to Bukhara. Arrive in Bukhara, check in to the hotel.
In the afternoon discover fascinating Old Bukhara listed in UNESCO as the World Heritage Site. Explore Lyabi-Khauz Ensemble, Magoki-Attori Mosque, Chor-Minor Madrasah, trade domes, Kalyan Minaret, Kalyan Mosque and Miri-Arab Madrasah, Ulugbek and Abdulazizkhan madrasahs, . Overnight at the hotel.
Duration of sightseeing tour: 3-4 hours
Day 12: Bukhara – Tashkent, SAT
Start the second day in Bukhara discovering Ark Fortress, Bolo-Khauz Mosque, Ismail Samani and Chashma-Ayub mausoleums. Then visit Sitorai Mokhi-Khosa, summer residence of Bukhara's last emir, unique site combining Oriental and Russian architecture. Continue to Mausoleum of Bakhouddin Naqshbandi. Enjoy free time in the afternoon. In the evening take a flight to Tashkent. Arrival in Tashkent, transfer to the hotel for overnight.
Duration of sightseeing tour: 5-6 hours
Day 13: Tashkent – departure, SUN
Check-out from the hotel till noon. Transfer to Tashkent International Airport. End of the tour.
Accommodation:
| | | | |
| --- | --- | --- | --- |
| City | Comfort Option | Economy Option | Number of nights |
| Astana | Kazzhol | Ibis | 1 |
| Almaty | | Iris | 1 |
| Bishkek | | Asia Mountains, Shah Palace, Futuro | 2 |
| Dushanbe | Sheraton Dushanbe | Lotus | 1 |
| Khudjand | Khujand Grand Hotel, Khujand Delux | Vatan, Khujand Delux | 1 |
| Tashkent | | | 3 |
| Samarkand | Grand Samarkand Superior, Grand Samarkand, Malika Prime, Platan, Asia Samarkand | Malika Classic, Caravan Serail, Bibikhanum, Billuri Sitora, Shaxzoda Lux | 1 |
| Bukhara | | | 1 |
Price includes:
All transfers: 1-2 pax on sedan type car, 3-8 pax on minivan/van;
Accommodation based on double/twin room sharing, breakfasts included;
Sightseeing tour program in each country with local guides (in Uzbekistan, different guides in each city);
Entrance fees to sights as per itinerary;
Morning photo session in national costumes in Tashkent;
Economy class tickets for flights: Bishkek–Dushanbe, Bukhara-Tashkent;
Ticket for sleeping compartment for two on overnight train Astana-Almaty;
Business/Economy class ticket for train Tashkent-Samarkand as per option;
Visa support letters for Uzbekistan tourist visa.
Visit to Supara Ethno Complex, photo session and visit to Spa salon in Tashkent.
Price does not include:
Tour leader to accompany the travellers for the whole period of the tour;
Full board (lunches and dinners);
Hotel charges for additional services;
Consular fees for tourist visas and;
Visa support for Tajikistan, Kyrgyzstan and Kazakhstan tourist visas;
Personal travel insurance.