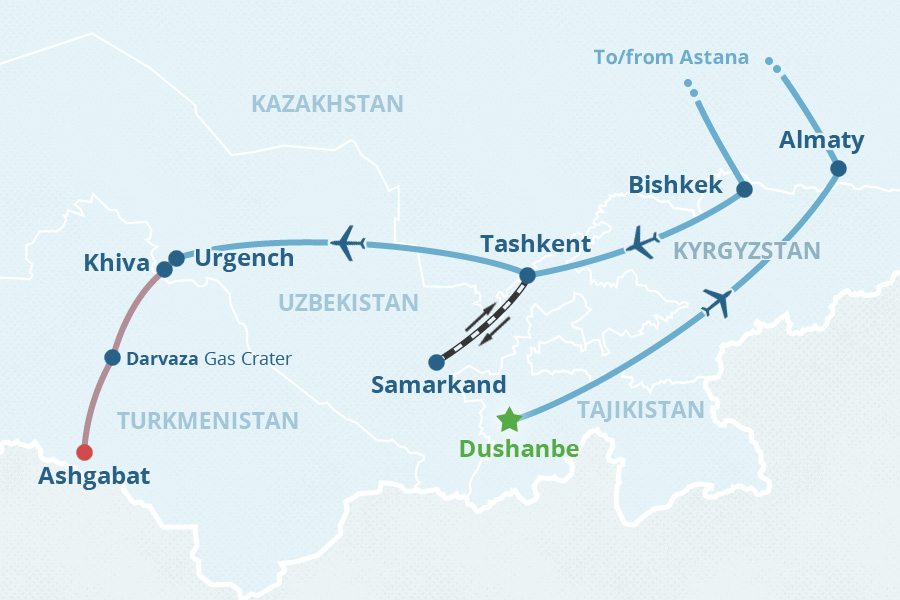 Capital city of any country is a scientific, cultural industrial centre where you find the best. During this 12-day tour you will have a unique chance to visit 5 capital cities of Central Asian countries as well as seeing two former capitals such as Almaty and Samarkand. Some of the cities are already thousand years old and have absorbed the legacy of many generations of rulers, architects, artists, writers and poets. Others have grown out of smaller settlements into big cities with modern architecture within the last century.
You will visit one of the youngest capital cities of the planet is Astana on the shores of the river Ishim will fascinate you with architect built buildings of the third generation by Norman Foster.
In Almaty, the 'Southern Capital' of Kazakhstan, you will see a panoramic view of the city from the Kok-Tobe mountain and picturesque Medeo gorge.
You will remember the tour in Dushanbe, trip to the Hissar fortess and visiting the Gurminj Museum of the National Musical Instruments.
Mixture of old and new, ancient and modern are waiting for you in Tashkent, a capital city of Uzbekistan, the major megapolis of Central Asia.
You will enjoy the bright colors of the Siab Market in Samarkand where you can buy oriental sweets, fresh fruit and national souvenirs.
You will visit Ashgabat, capital of Turkmenistan that has been recognized by the World Guinness Records for the highest density of white marble buildings in the city.
Within this tour, you will see the past, the present and the future of Central Asia.

We recommend arriving in Astana on Saturday in order to match regional flights in the itinerary.
From June 10 till Sep 10 2017 the Central Asia tour will start in Almaty, bypassing Astana. Consequently, the duration will be 11 days.

Arrival in
Astana
. Transfer to the hotel. Time for rest. Overnight at the hotel.
Meet your guide at the hotel lobby to start sightseeing in the capital of Kazakhstan. Visit "Old center", town of merchants in the past. Visit Millennium Axis line named by Kisho Kurokawa, chief architect and creator of Astana general layout. Visit Astana Opera building, the Round Square with numerous fountains. Continue to Nurzhol and Green Water boulevards with skyscrapers of exceptional architectural forms. You will go up the
Bayterek monument
* and enjoy a breathtaking panoramic view at the top of the monument and observation tower. The city tour will be rounded up with a visit to
Khan-Shatyr
, shopping and entertainment center. Transfer to the train station, take an evening train to Almaty (965 km). Overnight in the train.
Duration of sightseeing tour: 4-5 hours
*Bayterek Tower is closed for reconstruction until June 2017. We gladly replace it with a visit to the Museum of First President (closed on Mondays).
Transfer to Almaty International Airport for morning flight to
Dushanbe
. Upon arrival our guide and driver will meet you at Dushanbe airport. Start guided city tour to the National Museum of Antiquities of Tajikistan (closed on Mondays) that includes the exhibits on history, nature and art; Buddha in Nirvana is one of the valuable exhibits of the museum. Continue to Gurminj Musical Instruments Museum, Statue of Ismail Somoni and Rudaki Park. Overnight at the hotel.
Duration of sightseeing tour: 4-5 hours
Transfer to Dushanbe International Airport. Check-in for the flight to
Bishkek
. Upon arrival in Bishkek you will be met by driver and transferred to the hotel for check-in. Free time in Bishkek. Overnight at the hotel.
Meet your guide and driver at the hotel. Drive to
Ala-Archa National Park
(40 km, 50 min.) which attracts visitors with its beautiful mountain scenery and hiking trails. Fast flowing Ala-Archa River runs through the alpine gorge surrounded by snowy peaks with steep forested slopes. Enjoy free time or a hike in the park. In the afternoon, return to Bishkek for a sightseeing tour that includes visits to
Fine Arts Museum
,
Oak Park
, Central Square,
Philharmonic Hall
.
Transfer to Bishkek International Airport. Take an evening flight to Tashkent. Transfer to the hotel for overnight.
Duration of sightseeing tour: 4-5 hours.
Early morning transfer to the local airport for flight to Urgench (1093 km, 1 h. 40 min.). Arrival in Urgench, transfer to the hotel in
Khiva
(30 km, 35 min.). Later proceed to guided walking sightseeing tour. Spend a day in UNESCO World Heritage site
Itchan-Kala Fortress
. Visit
Mukhammad Aminkhan Madrasah
,
Mukhammad Rahimkhan Madrasah
,
Kalta-Minor
,
Kunya-Ark
,
Juma Mosque
,
Tash-Khovli Palace
,
Pakhlavan Makhmud Mausoleum
,
Minaret of Islam-Khoja
. Free time in the afternoon. Overnight at the hotel.
Duration of sightseeing tour: 5 hours
In the afternoon check out from the hotel and drive to Turkmenistan border point Shavat-Dashoguz (60 km, 1 h.). Go through border formalities on both checkpoints. Cross 1.5 km neutral zone (transportation may not be available). Meet your Turkmenistan guide and transfer to Dashoguz airport. Take the late afternoon flight to Ashgabat (580 km, 50 min.). Upon arrival transfer to the hotel in Ashgabat for overnight.
Sightseeing tour in
Ashgabat
, the capital of Turkmenistan that has recently been noted by the Guinness Book of World Records as having the most white marble-clad buildings in the world. During the city tour you will explore an archeological site of
Old Nisa
(included in UNESCO World Heritage list) and
Spiritual Mosque
, one of the biggest mosques in Central Asia. You will visit the
National Museum of History
, the
Monument of Neutrality
, Presidential Square,
Ertugrul Gazi Mosque
and newly built
Independence Park
. Intense and interesting excursion also includes a stopover at the
Akhalteke horse
stables and Lenin Monument. Overnight at the hotel.
Duration of sightseeing tour: 6 hours
Accommodation:
| | | | |
| --- | --- | --- | --- |
| City | Comfort Option | Economy Option | Number of nights |
| Astana | Kazzhol | Ibis | 1 |
| Almaty | | Iris | 1 |
| Dushanbe | Sheraton Dushanbe | Lotus | 1 |
| Bishkek | | Asia Mountains, Shah Palace, Futuro | 1 |
| Tashkent | | | 3 |
| Khiva | | | 1 |
| Ashgabat | | | 2 |
All transfers: 1-2 pax on sedan type car, 3-8 pax on minivan/van;
Accommodation based on double/twin room sharing, breakfasts included;
Sightseeing tour program in each country with local guides(in Uzbekistan, different guides in each city);
Entrance fees to sights as per itinerary;
Economy class tickets for flights: Almaty-Dushanbe, Dushanbe-Bishkek, Bishkek-Tashkent, Tashkent-Urgench, Dashoguz-Ashgabat;
Ticket for sleeping compartment for two on overnight train Astana-Almaty;
Business/Economy class ticket for train Tashkent-Samarkand-Tashkent as per option;
Visa support letters for Uzbekistan and Turkmenistan tourist visas.
Tour leader to accompany the travellers for the whole period of the tour;
Full board (lunch and dinner);
Hotel charges for additional services;
Consular fees for tourist visas and Turkmenistan migration tax ($12);
Visa support for Tajikistan, Kyrgyzstan and Kazakhstan tourist visas;
Personal travel insurance.