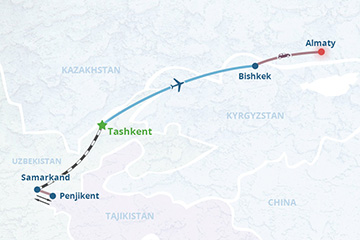 8 day Central Asian tour is an express-tour to four countries where you will see 6 cities and discover the culture and history of this region.
In a week's time, you will see cities with the thousand-year history: some changing with time and erecting buildings from glittering glass and concrete and others preserving its colorful quarters where life flows as it used to hundred years ago.
In Uzbekistan, you will visit the capital Tashkent and the monumental Samarkand. In Tajikistan, you will enjoy the ancient Khujand. Kyrgyzstan will introduce you to the legendary Osh and modern Bishkek. Visit to Almaty, the former capital of Kazakhstan, will conclude your tour. Apart from that, you will enjoy the views of valley landscapes and the snow-capped mountains of Tyan-Shan between your rides to the cities.
Tour itinerary:
Day 1: Tashkent – arrival
Arrive in Tashkent. You will be met by Advantour driver and transferred to the hotel. Check in to the hotel at noon. Meet your guide to start sightseeing in the capital of Uzbekistan, the biggest city in Central Asia. Visit Old City part of Tashkent with Khast-Imom Complex where the world famous holy book Quran of Caliph Uthman has been preserved. In Khast-Imom visit Madrasah of Barak-Khan, Tilla Sheikh Mosque, Mausoleum of the Saint Abu Bakr Kaffal Shashi and the Islamic Institute of Imam al-Bukhari. Explore Chor-Su Bazaar. Then take a ride on Tashkent Metro to city center to explore Amir Temur Square, Independence Square and Applied Arts Museum. Overnight at the hotel.
Duration of sightseeing tour: 4-5 hours
Day 2: Tashkent – Samarkand
At 07:00 transfer from your hotel to the railway station. High-speed train "Afrosiyob" departs Tashkent at 08:00 and arrives in Samarkand at 10:10 (300 km). Your guide and driver will meet you at the train station to begin the city tour in Samarkand. Visit spectacular Registan Square, remains of Bibi Khanum Mosque, old oriental Siyob Bazaar, Ulugbek Observatory, Shakhi-Zinda Necropolis and Gur Emir Mausoleum – authentic shrine of Tamerlane. Overnight at the hotel.
Duration of sightseeing tour: 6-7 hours
Day 3: Samarkand – Tashkent
Check-out from the hotel till noon. Continue sightseeing: visit Afrasiab Museum and the Tomb of Saint Daniel. Then drive to Koni Ghil village to explore traditional way of making Samarkand paper from mulberry. Enjoy free time with car and driver at your disposal after sightseeing tour. At 16:00 transfer to the railway station. Take the high-speed Afrosiyob train departing to Tashkent at 17:00 (300 km). Scheduled arrival time is 19:10. Pick-up and transfer to the hotel for overnight.
Duration of sightseeing tour: 3-4 hours
Day 4: Tashkent – Khujand
Early morning transfer to Uzbekistan-Tajikistan border Oybek-Fotekhobod (100 km, 1 h. 30 min.). Go through border formalities on both checkpoints. Meet Tajik local guide and driver to head to Khujand (70 km, 1 h.). Sightseeing in Khujand: Republican Historical-Ethnographic Museum, Timur Malik Fortress, Archeological Museum, Mosque and Madrasah of Sheikh Muslehiddin, Panjshanbe Bazaar. Overnight at the hotel.
Duration of sightseeing tour: 3 hours
Day 5: Khujand – Osh
In the morning depart Khujand and drive to border point Kyzyl-Bel (120 km, 2 h.). Cross the border on both check points, meet your Kyrgyz guide and continue to Osh (260 km, 5-6 h.). Arrive in Osh. Overnight at the hotel.
Day 6: Osh – Bishkek
In the morning, have a short city tour in Osh founded by King Solomon 3000 years ago as legends say. Visit Suleiman-Too (Solomon's Mountain), National Museum of History and Archaeology and Osh bazaar still located at that same place when Osh was an important trading center on the Great Silk Road. In the afternoon transfer to the local airport for flight to Bishkek. Upon arrival you will be transferred to the hotel for overnight.
Duration of sightseeing tour: 2 hours
Day 7: Bishkek – Almaty
After breakfast check out from the hotel and drive to National Park Ala-Archa (40 km, 50 min.) which attracts visitors with its beautiful mountain scenery and hiking trails. Fast flowing Ala-Archa River runs through the alpine gorge surrounded by snowy peaks with steep forested slopes. Enjoy free time or have a hike/trek in the park. Return to Bishkek in the afternoon for a short sightseeing tour: visit Oak Park, Ala-Too Square, Statue of Manas. See Philharmonic Hall and Victory Monument – bright examples of Soviet architecture. At 17:30, transfer to the airport for evening flight to Almaty (19:55 – 20:45, KC 110). Transfer to the hotel on arrival for overnight.
Day 8: Almaty – departure
Check-out from the hotel till noon. Your guide and driver will meet you at the hotel lobby to start the sightseeing tour in Almaty: visit Panfilov Park, Zenkov Cathedral, Central State Museum and Republic Square. Enjoy panoramic view at Kok-Tobe Hill, visit Medeo Gorge.
Transfer to Almaty International Airport. End of the tour.
Duration of sightseeing tour: 5-6 hours
Accommodation:
City

OPTION 1

Comfort

OPTION 2
Economy

Number of nights

Tashkent

2

Samarkand

1

Khujand

Khujand Grand Hotel, Khujand Delux

Khujand Grand Hotel, Khujand Delux

1

Osh

1

Bishkek

1

Almaty

Iris

1
Price includes:
All transfers: 1-2 pax on sedan type car, 3-8 pax on minivan/van;
Accommodation based on double/twin room sharing, breakfasts included;
Sightseeing tour program with English speaking guides in each country (NB: in Uzbekistan there will be different guides in each city);
Entrance fees to sights as per itinerary;
Economy/Business class ticket on train Tashkent-Samarkand-Tashkent;
Economy class tickets for flights Osh-Bishkek, Bishkek-Almaty;
Visa support for Uzbekistan tourist visa.

Price does not include:
Tour leader to accompany the travellers for the whole period of the tour;
Full board (lunches and dinners);
Hotel charges for additional services;
Consular fees for tourist visas;
Visa support for Tajikistan, Kyrgyzstan and Kazakhstan tourist visas;
Personal travel insurance.