Azerbaijani Beverages
Sherbet - popular beverage of Azerbaijan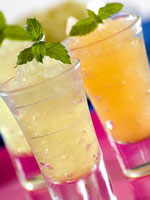 The most widespread drink in Azerbaijan is sherbet. To make it they use sugar, lemon, saffron, seeds of mint and basil as well as different fruits.
Milk Sherbet
Water is boiled; sugar is dissolved in it, cooled down. Milk is separately boiled and add in sherbet when cold.
Fruit Sherbet
Sugar is dissolved in boiled water; various fruits, berries, mint are added. Served with ice cubes.