Kazakhstan Travel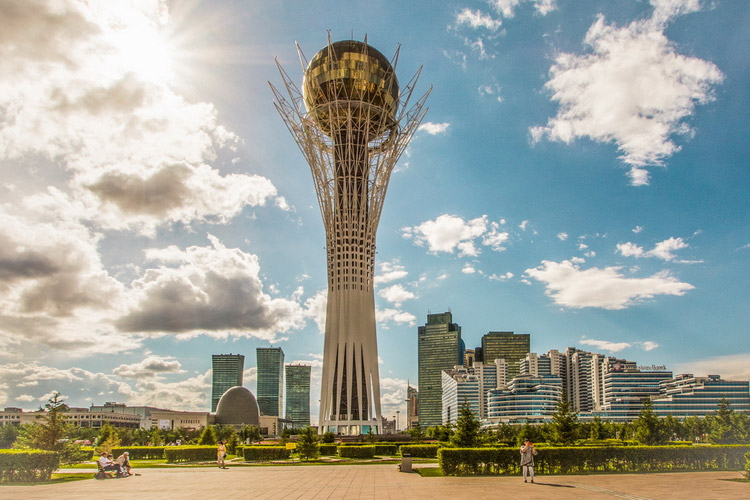 Kazakhstan Travel brings you to the heart of Eurasia, a clash of time and cultures at the confluence of nomadic, Soviet and 21st-century history. Stand on the brink of the world's largest steppe, an endless ocean of pasturelands marked by ripples of mountains, wildflowers and sleepy towns. Travel cross-country on the modern-day Orient Express, passing the fields where freedom-loving tribes once tamed the wild horse.
Straddling this vast expanse, stretching from the Caspian Sea to China, are cities layered with remnants of the past and bold displays of innovative architecture, while national parks the size of countries are cloaked in a myriad of natural colors which mirror each season.
Kazakhstan's tenacious people, eager that their country and national values be known by the world, welcome visitors with open arms and traditional hospitality. This is a journey well worth taking!
Your Guide to Kazakhstan by a Local Travel Expert
Is Kazakhstan Worth Visiting?
Central Asia's largest and most influential nation has garnered worldwide recognition for its oil industry and progressive aspirations, and its tourist attractions deserve equal recognition. Just a few reasons to consider Kazakhstan for your next vacation:
Almaty Region alone provides so much cultural and natural entertainment that many visitors never make it past this point. Former capital Almaty is filled with fun parks, bazaars, malls and museums, while surrounding mountains offer seasonal sports, cable car rides and endless hiking opportunities.
Current capital Astana defies stereotypes right and left. Tour Hazrat Sultan, the largest mosque in Central Asia, before wiling away the time in Khan-Shatyr, the world's most stylish tent. Take a boat tour and a national cooking class before heading out to popular nature reserves.
Southern Kazakhstan is the destination of choice for history lovers. Ancient Turkestan, Otrar, Sayram and Arslanbob are replete with traces of

Silk Road mystery

, while local hub Shymkent impressively fuses traditional Central Asian culture with modernity.
Your Dream Vacation
Kazakhstan is brimming with both traditional and out-of-the-ordinary travel experiences. Wander the remains of Tamerlane-era towns, view cosmopolitan cities from the vantage of a cable car or leave your troubles behind amid the finely crafted peaks and canyons that dot the wild landscape.
Float down a river through the gleaming capital city or learn the local art of falcon hunting. Stand at one of the lowest points on the planet in an arid depression or do figure 8s on the highest ice rink in the world. Taste Kazakh, Russian, Uzbek and Uyghur cuisine as you bargain for authentic souvenirs and enjoy endless photo ops along the way.
Top Outdoor Experiences:
Top Historical Experiences:
Top Cultural Experiences:
Visa Matters
Kazakhstan's 30-day, visa-free entry policy extends to multiple nations, including Canada, the US and many Asian, European and CIS countries. If you don't qualify for the visa-free option, there's a good chance that you're eligible for a simple e-visa, while anyone in need of a formal invitation can receive one through a number of agencies, including Advantour.
Is Kazakhstan Safe for Travel?
Kazakhstan remains a safe destination for visitors, and as of mid-2020, it maintained its Level 1 Category in the US Department of State's travel advisory system, i.e. among the safer nations in the world to visit. Tourists from a variety of countries, including solo and female travelers, have reported a positive reception and an overall feeling of safety while in country. Additionally, tourism bureaus have opened in the larger cities and an increasing number of locals are able to communicate in English.
Choose Your Transport
Kazakhstan's traditionally nomadic population has retained its love for mobility, and the country remains the most accessible destination in Central Asia today. Regular flights connect capital city Astana and Almaty, Kazakhstan's largest city, with Istanbul, Frankfurt, London, Seoul, Dubai, Bangkok and other major hubs. Horses have been replaced by the capable Air Astana, which also provides onward connections to other Central Asian capitals.
Given its size, travel within Kazakhstan requires some time, yet by and large is reliable, comfortable and even fun. Options include in-country flights, overnight trains, private vehicles, shared taxis or, if you're patient and really on a budget, the bus.
Kazakhstan Travel Seasons
Kazakhstan is at its most temperate in spring and autumn, yet thanks to its massive size, some corner of the country can be enjoyed year-round. Know what to expect in each of its distinct seasons:
Winter: The perfect time to go skiing, snowboarding and ice skating at Almaty's Medeu and Shymbulak Ski Resort or to enjoy the museums, steamy bath houses and holiday decorations in Kazakhstan's larger cities.
Autumn: There are ample things to do in Kazakhstan in autumn, as much of the country is cloaked in autumnal beauty and weather conditions are well-suited for hiking and city tours.
Spring: The season for canyon hikes, petroglyph discoveries, tours to southern Turkestan and Shymkent and cross-country train travel, where you'll enjoy landscapes of snow-capped mountains and flowering meadows.
Summer: Hot in the south and moderate in the north, summer is the ideal season to visit the capital and Burabai National Park or head west to see Baikonur and the Caspian Sea near Aktau.
Kazakhstan Travel Map
Use the Kazakhstan map to locate the country's major destinations and find out what each one has to offer: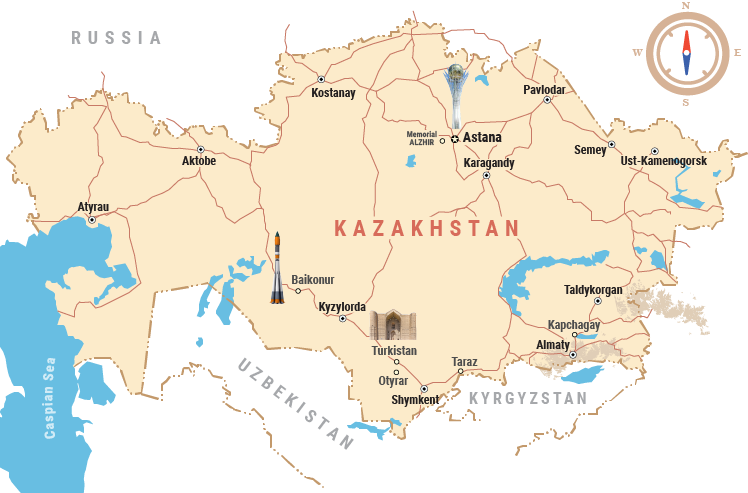 How Many Days Do You Need in Kazakhstan?
Major city hubs Almaty and Astana receive the bulk of Kazakhstan's tourists, and while each provides plenty of worthy attractions, it's a shame that the many national parks and historical outposts are all too easily bypassed by hurried travelers. If you're looking to break the mold and step beyond city limits, use this guide to help you plan a more detailed travel route:
Astana – Kazakhstan's trendy and windy capital city defined by futuristic architecture.
How long should I stay? 1-2 days
Major Sites: Bayterek Tower, Khan-Shatyr Shopping Mall, Palace of Peace and Reconciliation
How to get off the beaten path: Take a day trip to Burabai National Park or Korgalzhyn Nature Reserve.

Almaty – Former capital and largest city by far, likeable Almaty impressively blends Soviet and modern styles.
How long should I stay? 1-2 days
Major Sites: Panfilov Park, Green Bazaar, Almaty Cable Car ride to Kok-Tobe
How to get off the beaten path: Step back in time at Huns Ethno Village or enjoy the views at Medeo.

Almaty Region – So many day trip destinations are within reach of Almaty that they deserve special attention.
How long should I stay? 2 days (camping out along the way or taking day trips from Almaty)
Major Sites: Charyn Canyon, Big Almaty Lake, Turgen Gorge and Waterfall
How to get off the beaten path: Marvel at the Tamgaly Petroglyphs or camp out in Altyn-Emel Nature Reserve.

Shymkent – Large southern city which has managed to retain a distinctly Central Asian atmosphere.
How long should I stay? 1-2 days
Major Sites: Kyluet Ethnography Museum, Memory Alley in Abay Park, Arbat Street
How to get off the beaten path: Explore mausoleums and the produce bazaar in Sayram Village or go horseback riding in Aksu-Zhabagly Nature Reserve.

Turkestan – Capital of South Kazakhstan, a small but ancient city and holy pilgrimage site.
How long should I stay? 1 day
Major Sites: Khoja Ahmed Yasawi Complex, with an underground mosque, museum, mausoleums and city wall
How to get off the beaten path: Join religious pilgrims at Arystan Bab Mausoleum or wander the ruins of Otrar.

Aktau – Far western town known for its oil, Caspian Sea coastline and proximity to the Caucasus.
How long should I stay? 1 day
Major Sites: Republic Square, Aktau City Quay and Seaport, Kashagan Kurzhimanuly Monument
How to get off the beaten path: Descend to Karagiye Depression or stand in awe of Mount Sherkala in Mangyshlak.

Baikonur – Inconspicuous town dwarfed by nearby Baikonur Cosmodrome, site of the Soviet space program.
How long should I stay? 1-2 days
Major Sites: Soyuz Rocket Model, Cosmodrome History Museum, Yuri Gagarin Statue
How to get off the beaten path: Spend the day at

Baikonur

Cosmodrome (advance permission needed) or take a weekend trip to the Aral Sea's Kokaral Dam and Karateren village.
At Your Service
Advantour has extensive experience with arranging tours, transportation, bookings and Invitation Letters (LOIs) as we remain up-to-date on Kazakhstan news. Check out our available services and let us know how we can best help you to plan your upcoming trip.
Kazakhstan Holidays and Festivals
Kazakhs enjoy a good celebration, as evidenced by the fact that they have a dozen public holidays and counting, several of which span multiple days. Celebrations range from the religious Orthodox New Year and Islamic Feast of Sacrifice to the political Capital Day and First President's Day, from the internationally recognized Women's Day and New Year to the Soviet Friendship and Victory Days.
If you'd like to join the party, we suggest planning your trip around one of these major holidays:
New Year Season (mid-December to early January) – New Year itself is greeted with a grand fireworks show, yet the weeks leading up to it are equally fun, with city streets elaborately decorated and holiday markets filled with New Year trees, souvenirs, tasty foods and appearances by Santa Claus and his sidekick Snow Girl.
Best place to celebrate: Almaty
International Women's Day (March 8) – Arguably this holiday may be more interesting for one gender than the other, yet it is a great day to experience the decorations, exhibitions, special concerts and gatherings of friends and families in local parks and cafes.
Best place to celebrate: Astana or Almaty
Nauryz (March 21-22) – Nowhere is traditional Kazakh culture more beautifully celebrated than at Navruz festivals, where horse races, national song and dance, festive costumes, seasonal foods and yurt displays will transport you to another world.
Best place to celebrate: Shymkent
Capital City Day (July 6) – Kazakhstan's capital city is showcased through diverse concerts, art exhibitions, circuses, festivals with activities geared for all ages and a spectacular fireworks show.
Best place to celebrate: capital city Astana, of course!
Independence Day (December 16) – Kazakhstan first experienced national sovereignty after gaining independence from the USSR, an event commemorated with parades, speeches, concerts and fireworks.
Best place to celebrate: Astana
Curious about Kazakh Cuisine?
It's said that only the wolves eat more meat than the Kazakhs, so their savory, meat-heavy cuisine should come as no surprise. That being said, vegetarians can still find some tasty options. Our pick of top local tastes:
Beshparmak – National dish of meat and thinly-rolled noodles, flavored with broth and eaten by hand
Shashlyk – Melt-in-your-mouth kebabs of beef chunks, ground beef, lamb, chicken and even liver
Laghman – Fresh noodles, meat and vegetables are fried, boiled or served in a soup in this Uyghur classic
Baursak – Homemade balls of dough, fried and often paired with jam, are a true treat
Shelpek – Delicious tortilla-like fried patties, they may be eaten as is or stuffed with meat and onions
Kazi – Slices of horsemeat sausage are a true taste of Kazakhstan
Koje – Special dish for the Navruz holiday, it consists of seven ingredients including sour milk, cereals, horsemeat and salt
Kumys – A cold bowl of fermented mare's milk in summer is just the way to cool off Kazakh-style
Shek-Shek (Chak-Chak) – Sweet and sticky Tatar dessert of fried dough balls flavored with honey, raisins or nuts
Read on for a more in-depth look into Kazakhstan cuisine.
Dos and Don'ts in Kazakhstan
Kazakhstan's Almaty and Astana, heavily influenced by Russia and the West, can leave you second-guessing if you really are in Central Asia. Smaller towns and villages, meanwhile, have retained a more traditional take on life. Our personal Kazakhstan travel advice:
DO:
Be cautious of open ditches, loose tiles and erratic drivers when walking or crossing the streets.
Travel beyond Almaty and Astana if you want to get a true feel for the country.
Barter when shopping at the bazaars, as given prices will often be inflated, especially for foreigners.
Be prepared for a cash-only system outside of Western shops and restaurants in Almaty and Astana.
Ask for people's input and stories along the way, which can give you valuable insights into the culture.
DON'T:
Underestimate the country's size and the sheer distances between many cities and sites.
Forget to check that you receive two stamps in your passport upon arrival; if you have only one, you will need to register with the local Immigration Office (OVIR).
Read strangers' stares or failure to smile back at you as a sign of hostility, as these are cultural norms. Most people are friendly and helpful once you approach them.
Snack in front of others without offering a bite to those around you.
Be surprised if people stop you to practice their

English

or ask your impressions of their country. It's a great chance to make friends along the way!
Speak the Language
Kazakh and Russian are both widely spoken, with Russian dominating in the cities, northern regions and academic realms and Kazakh more prevalent in the villages and in western Kazakhstan. Almaty and Astana are populated with many younger people who speak English, yet these phrases may come in handy as you travel:
Phrase
Kazakh
Russian
Hello
Informal: Сәлем (Salem)
Formal: Сәлеметсіз бе? (Salemetsiz be?)
Привет (Privyet)
How are you?
Қалайсыз? (Qalaisiz?)
Как дела? (Kak dela?)
Good-Bye
Сау болыңыз (Sau bolingiz)
До свидания (Do svidaniya)
Bye
Сау бол (Sau bol)
Пока (Poka)
Thank You!
Рақмет (Rakhmet)
Спасибо (Spasibo)
Yes/No
Иә/Жоқ (Eeah/Joq)
Да/Нет (Da/Nyet)
Where is the... (airport)?
Әуежай қайда? (Auejai qayda?)
Где... (аэропорт)? (Gde... (aeroport?))
How much is it?
Қанша тұрады? (Qansha turadi?)
Сколько это стоит (Skol'ko eto stoit?)
What is your name?
Сіздің атыңыз кім?
Как Вас зовут? (Kak vas zavut?)
My name is…
Менің атым... (Mening atim...)
Меня зовут... (Menya zovut...)
I don't understand
Tүсінбеймін (Tusinbeimin)
Я не понимаю (Ya ne ponimayu)
Excuse me
Кешіріңіз (Keshiringiz)
Извините (Izvinite)
Nice to meet you
Танысқанымызға қуаныштымын
(Tanysqanymyzgha kyanishtimin)
Очень

приятно

познакомиться
(Ochen priyatno poznakomit'sya)
Kazakhstan Gifts: Souvenirs From Your Journey
All good things must come to an end, but that doesn't mean you can't take a piece of Kazakhstan home with you once your holiday is concluded. Some of the country's most authentic gifts include:
Chocolates – Sweets produced by local company Rakhat (Рахат) are as colorful as they are tasty. You can even purchase chocolate bars wrapped to appear like the Kazakhstan flag.
"Kazakhstan" cognac – This high-quality brandy is produced by local company Bacchus and famous in the region.
Handmade felt items – These colorful hats, skullcaps and vests are still worn by some Kazakhs today.
Felt slippers – Comfortable and easy to transport, they are often decorated with traditional designs.
Wooden boxes – These hand-carved masterpieces can be a beautiful memento from your journey.
Small carpets –

Rugs

of every size and price can be found at most bazaars and in specialty shops.
Virtual Travel Guide to Kazakhstan: Further Reading
Did You Know That...
Kazakhstan is the ninth largest nation in the world, the largest in Central Asia and the largest landlocked nation on earth.
The first man in space, Yuri Gagarin, was launched from Baikonur in Kazakhstan.
It is believed that both apples and tulips originated in Kazakhstan.
Kazakhstan has the world's highest ice skating rink, located at Medeu Sports Complex near Almaty.
Kazakhstan and Russia share the longest continual land border in the world.