Uzbekistan Travel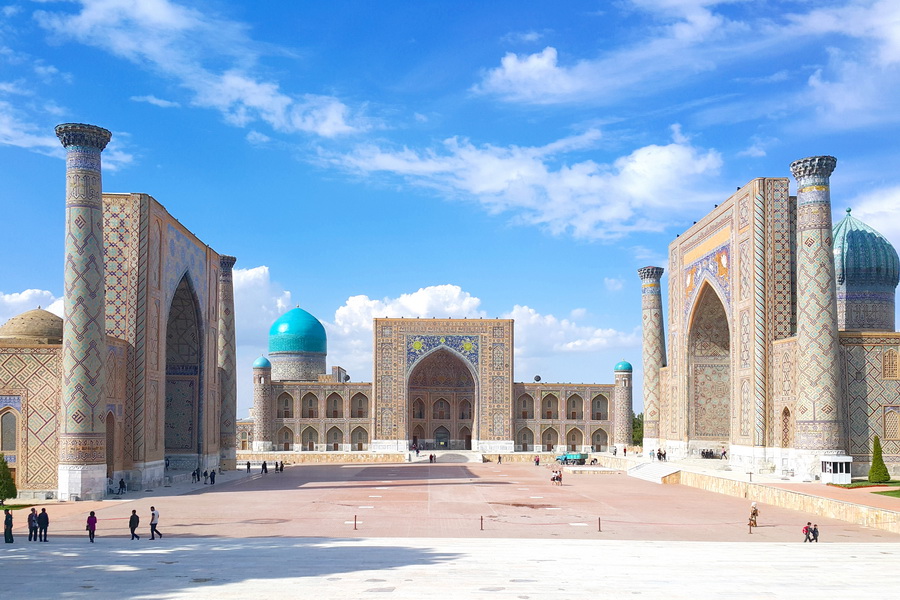 Registan Square, Samarkand
Uzbekistan travel is an exploration of dreamy medieval landscapes accentuated by minarets that pierce the desert sky. Local pilgrims arrayed in dazzling sequined robes whose kaleidoscopic colors are as vibrant as the people themselves. Aromatic scents that combine with the melodic banter of a thriving bazaar, welcoming you to a country both foreign and inviting, adventurous yet comfortable.
This Silk Road destination has been making history for thousands of years – decrepit Buddhist stupas and Zoroastrian shrines speak of its antiquity, while jaw-dropping vestiges of palaces and mosques make it easy to believe how these medieval kingdoms spawned stories of fantasy and lore.
Perhaps Uzbekistan has already captured your imagination and you're simply looking for practical details on how to prepare for your upcoming trip, in which case we encourage you to check out Uzbekistan Trip Planner.
Uzbekistan Guide by Local Travel Expert
Is Uzbekistan Worth Visiting?
With a myriad of destinations open to 21st century globetrotters, why choose Uzbekistan, a seemingly obscure country in Central Asia?
Uzbekistan is unique, offering visitors exquisite architecture that echoes from the days of Tamerlane, Alexander the Great and the land's earliest Zoroastrian inhabitants. Not to be outdone by the past, contemporary Uzbekistan is equally alluring, replete with a magnetic culture and diverse landscapes that form the perfect backdrop to endless adventures.
Uzbekistan travel is an affordable option for thrifty travelers, with all-inclusive, guided tours available for a fraction of the cost of equivalent trips in Europe or South America. Inexpensive transportation, cheap meals and an ever-growing selection of hostels have also opened the door to independent travelers.
Uzbekistan is more accessible than ever before, with citizens of almost every nation eligible for either 30-day visa-free entry or an inexpensive online visa. Once in country, all major sights are connected by a modern and reliable rail system, while each major city welcomes you with a wide array of comfortable accommodation choices. At the same time…
Uzbekistan is still off the beaten path and sure to satisfy those with a thirst to explore the world's unknown corners. You won't have to battle throngs of tourists and may well find yourself the lone visitor at some of its most ancient and mind-blowing sites.
The bottom line? There's never been a more ideal time for Uzbekistan travel – one of the world's best-kept secrets, a seat of ancient empires that's steeped in culture and host to a wealth of beauty.
Your Dream Vacation
Dive into Uzbek culture with homestays, cooking classes and yurt camping. Hop on a time machine for a cross-country tour of historic Uzbekistan. Craft your tour around Uzbekistan's fine-tuned artistic traditions with pottery lessons, silk paper production and carpet weaving.
Our Uzbekistan tourism packages are as diverse as the clients we serve. Whether you're into history, outdoor adventures or cultural immersion, wanting a quick jaunt to Uzbekistan's main sites or an extensive, multi-country expedition, chances are we have a tour that's just what you're looking for. And if not, drop us a note so that we can begin designing a personalized Uzbekistan travel itinerary that's tailored to your specific needs and interests.
Top Historical Experiences:
Top Cultural Experiences:
Top Outdoor Experiences:
Visa Matters
Thanks to relaxed Uzbekistan visa policies that made their grand debut in 2018, travel to Uzbekistan has never been easier. Citizens of nearly 80 nations, including Australia, Japan, South Korea, and many European and South American countries can now travel in Uzbekistan visa-free for up to 30 days. Passport holders of over 50 additional nations, including the US, India, Hong Kong, China and most Middle Eastern nations can apply online for a 30-day electronic tourist visa at a cost of 20 USD.
Additionally, 5-day transit visas may be obtained pending prior approval or flight tickets that confirm your departure.
Is Uzbekistan Safe for Travel?
Uzbekistan is safe, with an extremely low rate of violent crime. Law enforcement officers patrol the streets regularly and stand prepared to help and support tourists as needed. Also in Samarkand, Bukhara and Khiva you will find English speaking Tourist Police ready to assist guests of this sunny land. Travelers often remark on the kindness and helpfulness of Uzbekistan's people, who will go out of their way to assist a guest in need. The nation has become increasingly tourist-friendly in recent years and takes a genuinely welcoming stance towards foreigners and tourists.
Choose Your Transport
The Silk Road sojourners of old would doubtless be jealous of the ease with which modern explorers can reach that golden road to Samarkand described in the poem of James Elroy Flecker. Uzbekistan, located in the very heart of Central Asia, is more accessible than you may think. Direct flights currently connect capital city Tashkent with Istanbul, Bangkok, Moscow and even New York City, while most major cities in Europe and the eastern US are one layover away from this otherworldly land.
Once in Uzbekistan, each region and major city is conveniently connected by an intricate, efficient railway system. If train travel isn't your thing, short domestic flights are a quick alternative, while transport by private car allows you to soak in the scenery as you go.
Uzbekistan Travel Seasons
Being the diverse and temperate country that it is, Uzbekistan is a worthy travel destination year-round. While spring and autumn draw the most crowds with their pleasant temps and vibrant landscapes, each season has its own perks:
Winter: Perfect for ski enthusiasts, who can while away the time at Chimgan, Beldersay and Amirsoy Ski Resort, the latter of which opened in December 2019. Fewer tourists in winter also mean discounted accommodations and reduced Uzbekistan travel costs near many touristic sites.
Summer: Sultry summers bring succulent fruits and vegetables of every variety. In July and August, you won't have to battle crowds and can often find tickets and accommodation at discounted prices. It's also a great time to cool off in the mountains at Lake Charvak near Tashkent.
Spring: Uzbekistan's most gorgeous season with pleasant weather, green pastures, flowers in full bloom and several local holidays and festivals that are well worth seeing.
Autumn: Cool and sunny weather, coupled with bazaars that burst with melons and grapes, call a second wave of tourists to this Silk Road land.
Uzbekistan Travel Map
Use the Uzbekistan Map to locate the country's main cities and find out what each one has to offer: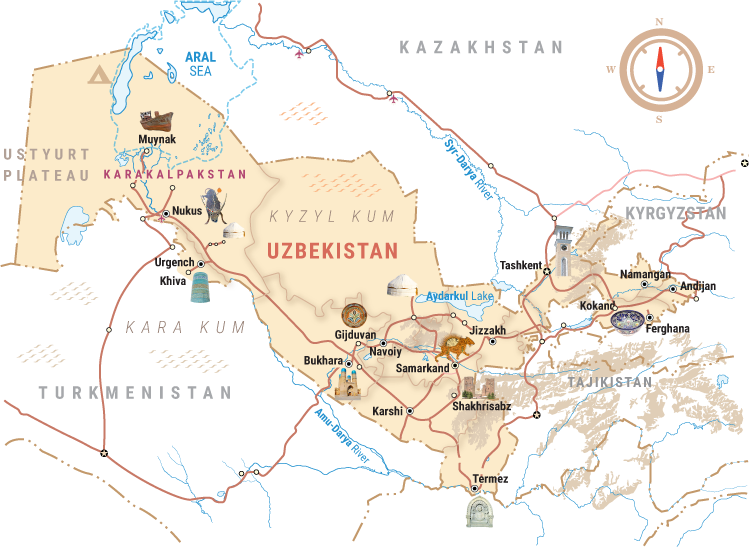 How Many Days Do You Need in Uzbekistan?
Every trip to Uzbekistan will be uniquely patterned after the interests, dreams and schedules of each individual traveler. If you're looking for a general blueprint to follow, however, these guidelines are based on the experiences of numerous tourists before you and can be a helpful starting point for planning your Uzbekistan Travels:
At Your Service
Whether you're looking to join a group tour, arrange a day trip as a supplement to independent travels or could simply use a little help with in-country transport, we would love to make your trip as smooth and memorable as possible. Our Uzbekistan Travel services include:
Holidays and Festivals
Uzbekistan's splendor is never more gloriously displayed than during local holidays and festivals. Come lose yourself in the graceful rhythm of richly ornamented dancers, the irresistible scents of freshly ground spices and home-cooked delights and the kind-hearted embrace of a people eager to welcome you into their beloved traditions.
Organize your Uzbekistan travels around one of these celebrations:
Navruz (21st March) – Uzbekistan welcomes Persian New Year in full fanfare every March 21, when the long- anticipated arrival of spring is celebrated with song, dance, games and copious amounts of food.
Best place to celebrate: Boysun, Bukhara, Fergana Valley, Samarkand
Silk and Spices Festival (late May-early June) – Bukhara's annual resurrection of its Silk Road legacy will revolutionize your idea of a party with its days-long celebration splashed with color, folk music, master classes, sporting events and a huge handicrafts fair.
Best place to celebrate: Silk and Spice Festival is only held in Bukhara
Sharq Taronalari (August) – Sharq Taronalari (Eastern Melodies) is a weeklong music festival held every two years at the famed Registan in Samarkand, attracting top-notch performers and attendees from dozens of nations.
Best place to celebrate: Sharq Taronalari is only held in Samarkand
Independence Day (1st September) – Uzbekistan's independence is duly commemorated with grandiose shows, firework displays, concerts and special programs.
Best place to celebrate: Tashkent
New Year season – Beginning in mid-December, the capital of Uzbekistan is decked out with lights and 'New Year' trees, with mini carnivals and holiday villages open daily throughout the city.
Best place to celebrate: Tashkent
Curious about Uzbek Cuisine?
Our list of Top Best Dishes to taste while in country: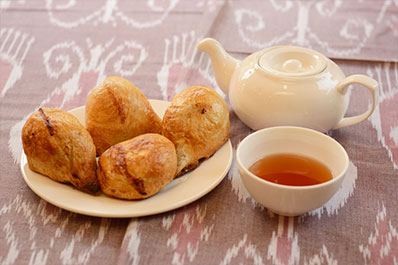 Samsa
Flaky pastries stuffed with meat, potato, chicken, pumpkin or spinach - there's a samsa out there for everyone.
Check out our Uzbekistan Travel Guidebook for Food for an in-depth look at:
Dos and Don'ts in Uzbekistan
Uzbekistan's people are a gracious and forgiving bunch, particularly towards foreigners who may not be familiar with local customs. Still, knowing a bit about the host culture can go a long way in showing respect and forging friendships as you travel:
DO:
Take off your shoes before walking into a mosque or home
Show respect for those older than you by giving them the right of way and allowing them the best seats on buses, at dinner tables and near tourist sites
Bring a gift if you'll be joining a local family for a meal or an overnight stay
Confirm prices with taxi drivers before getting into the car to avoid paying more than you bargained for
Watch your step, as roads may be uneven, with unexpected steps or inclines
DON'T:
Leave bread on the ground or place it on the table upside down, as it's considered sacred by many
Blow your nose loudly in public, which is considered rude
Talk very loudly in public, particularly near religious sites
Accept an offer to have tea in someone's home unless they insist several times – inviting someone to come in for tea is a polite gesture that's not always intended sincerely
Hesitate to ask for help or interact with local people, most of whom are more than happy to answer your questions or practice

English

with you!
Speak the Language
Knowing a few basic phrases in the local language will endear you to people and open up doors for friendship and connection during your travels in Uzbekistan. Some words and sayings that may come in handy:
Phrase
Uzbek
Russian
Hello
Assalomy alaykum (Salom for short)
Привет (Privyet)
How are you?
Yaxshimisiz?
Как дела? (Kak dela?)
Good-Bye
Hayr
До свидания (Do svidaniya)
Thank You!
Rahmat
Спасибо (Spasibo)
Yes/No
Ha/Yoq
Да/Нет (Da/Nyet)
Where is the... (airport)?
(Aeroport)... qayerda?
Где... (аэропорт)? (Gde... (aeroport?))
How much is it?
Necha pul turadi? (Qancha?)
Сколько это стоит (Skol'ko eto stoit?)
My name is…
Mening ismim...
Меня зовут... (Menya zovut...)
I don't understand
Men tushunmayman
Я не понимаю (Ya ne ponimayu)
Excuse me
Uzr/Kechirasiz
Извините (Izvinite)
Nice to meet you
Tanishganimdan xursandman
Было приятно познакомиться с вами (Bylo priyatno

poznakomitsya

s vami)
Virtual Uzbekistan Travel Guide: Further Reading
Did You Know That…
Uzbekistan may be unfamiliar to many, but its influence has already spread far and wide:
India's Taj Mahal was built by an Uzbek and inspired by Samarkand architecture.
Avicenna (Father of Modern Medicine), Al-Khorezmiy (Father of Algebra) and Tamerlane (world conqueror) were all born in the region.
Uzbekistan is one of the world's largest producers of cotton.
Along with Liechtenstein, Uzbekistan is one of only two double-landlocked nations on earth.
Formerly a part of the Soviet Union before independence in 1991, it remains Central Asia's most populous and most visited country.