Armenia Travel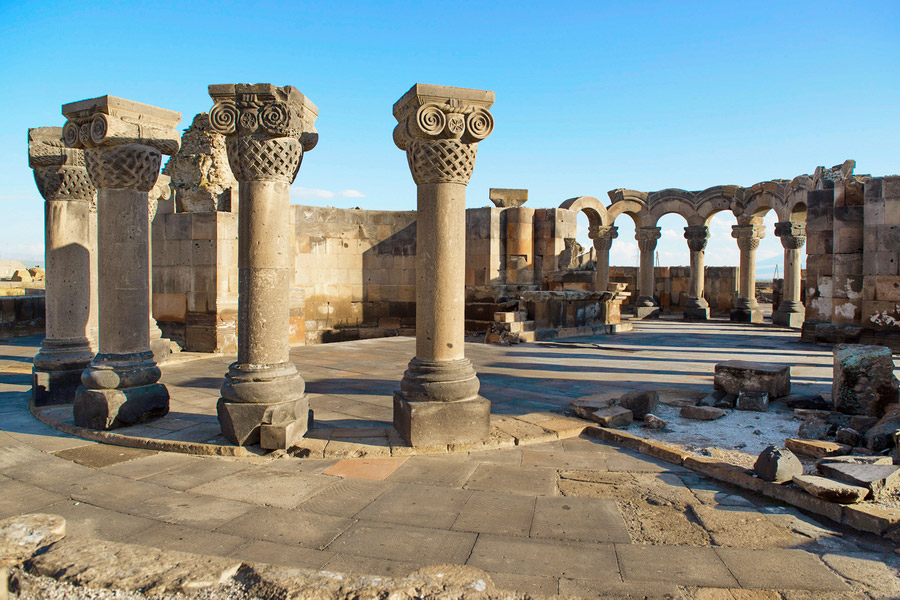 Armenia travel takes you across a small, ancient land where unmatched history blends with magnificent landscapes. Sharp mountain ridges rise over towns while steep, curvy roads lead to feudal monasteries and forgotten Silk Road caravanserais. Alluring scents of oriental spices waft over colorful bazaars, where you can catch glimpses of exquisite handmade carpets. The clinking of brandy-filled glasses is carried by the evening breeze as long, elaborate toasts continue well into the night. Come and hear the echoes of the glorious past for yourself while enjoying the charms of modernity.
We invite you to learn more about this stunning destination in the Armenia Travel Guide below. If you are looking for more detailed information, try our Armenia Travel Tips, where you will find useful details that will help you to prepare for your upcoming journey.
Your Guide to Armenia by a Local Travel Expert
Is Armenia Worth Visiting?
With hundreds of holiday destinations now available to international travelers, why should you choose Armenia, a miniscule country in the South Caucasus?
Armenia is a land of alpine landscapes and unspoiled nature. The territory of Armenia is comprised almost entirely of the Lesser Caucasus mountain range, with no less than eighty-seven percent of the country lying between 1000 and 3000 meters above sea level. These daunting cliffs and highlands create a paradise for anyone who loves sky-piercing peaks, spectral wooden valleys and icy streams.
Armenia is a country of ancient history, built upon Hellenistic temple ruins and the crumbling walls of medieval monasteries. The land's unique hue is seen in the woven fabric of Armenian carpets and savored in each flavored sip of brandy. Yet contemporary Armenia is equally alluring, and even an avid traveler will find that its vibrant culture and alpine landscapes offer the perfect backdrop for endless adventure.
Armenia is an affordable destination for thrifty travelers seeking all-inclusive guided tours. Your Armenia travel budget could be a fraction of what you would pay for a similar experience in Europe or North America. In-country transport is inexpensive and meals affordable, and the growing selection of hotels and guest houses opening their doors to independent tourists promise something for every budget.
Armenia is off the beaten track and sure to satisfy your need to explore the unknown. You will not have to battle crowds of tourists, and may even find yourself the lone visitor at some of the land's most breathtaking attractions.
In short, now is the perfect time to explore this hidden gem of a country and discover the thriving culture that is Armenia!
Your Dream Vacation
Armenian tourism means mountain hikes, mysterious thick-walled hermitages and delectable cuisine. Picture yourself strolling the wide, specious boulevards of Yerevan or diving into the cold waters of Lake Sevan. Each of our private tours can be crafted around your tastes, be it history, outdoor adventure or cultural immersion.
Our Armenia tourism packages are diverse, offering everything from quick jaunts to the country's major attractions to extensive multi-country expeditions. Chances are we have a tour just for you. And if not, drop us an e-mail and we will immediately begin working with you on an Armenia travel itinerary tailored to your needs and interests.
Top Historical Experiences:
Top Cultural Experiences:
Top Outdoor Experiences:
Do You Need a Visa to Visit Armenia?
Armenia's visa policy is very straightforward and allows citizens of over 60 nations to enter the country visa-free for up to 6 months. Passport holders of another 60 plus countries are eligible to apply for a visa-on-arrival which allows them to stay in the country between 21 days and 4 months, depending on their country of origin. Armenia also offers e-visa services and visas for pick-up at Armenian embassies around the world.
Is Armenia Safe for Travel?
Armenians are a hospitable people who welcome travelers to their country with enthusiasm. Yet like anywhere, scam and petty theft do occasionally occur. Thus, travelers should remember to maintain basic precautions. Do not flash large amounts of cash in public and leave passports and valuables in a safe place at all times. Be sure to book an official taxi, particularly when traveling from Zvartnots International Airport, as scammers have been known to approach naive tourists and offer their services, only to demand triple the fare or more at the end of the ride.
Please be aware that Armenia and Azerbaijan have an unresolved territorial dispute. If you travel to the region of Nagorno-Karabakh while in Armenia, you will be banned from entering Azerbaijan.
Armenia Travel Seasons
Situated at the crossroads of Europe and Asia, Armenia boasts four distinct seasons. In terms of weather, spring and autumn are the most desirable travel times but winter and summer also have their perks, and the country can be considered a worthy travel destination year-round.
Winter is the perfect travel time for ski enthusiasts who would like to hit the slopes of local resorts such as Tsakhadzor. Even if winter sports is not your thing, the joyful festivities of New Year and Christmas are well worth the hassle of winter travel. Plus, since fewer tourists arrive in winter, you can expect cheaper accommodations and reduced travel costs.
Autumn: The harvest season brings gentle weather and vivid colors. Bazaars burst with pomegranates and grapes, while locals are busy making young wine and brandy. This season marked by festivals brings a second wave of tourists to this marvelous land.
Spring: The gorgeous spring season brings pleasant weather, green pastures and flowers in full bloom. Although you may get some rain, most days are sunny and warm, making April and May ideal for shorter hikes and outdoor excursions.
Summers in Armenia are hot and long, but they do promise juicy fruits and vegetables of every variety. Locals and foreigners alike escape the city walls this time of year to explore high mountain valleys or to bathe in the refreshing waters of Lake Sevan.
Choose Your Transport
Landlocked Armenia is surprisingly accessible. Direct flights connect Yerevan with Paris, Berlin, Moscow, Rome, Warsaw, Tbilisi and many other large cities. Low-cost airlines such as Ryanair or Wizz Air offer both permanent and seasonal summer connections. Railway links Yerevan with Tbilisi, and while the train has soviet-style carriages, it is very affordable and allows you to travel at night, leaving more time for sightseeing.
Thanks to Armenia's relaxed visa policy, crossing the border is usually fast and effortless. If you're feeling adventurous, once you reach Yerevan you can try to explore the country with domestic trains and a shared taxi service called marshrutka. But if you prefer more individual arrangements or wish to avoid extra hassle, a drive in a private car will allow you to enjoy Armenia's charms in comfort and with minimal effort.
Armenia Travel Map
Use the Armenia Map to locate the country's prominent landmarks and learn what they have to offer.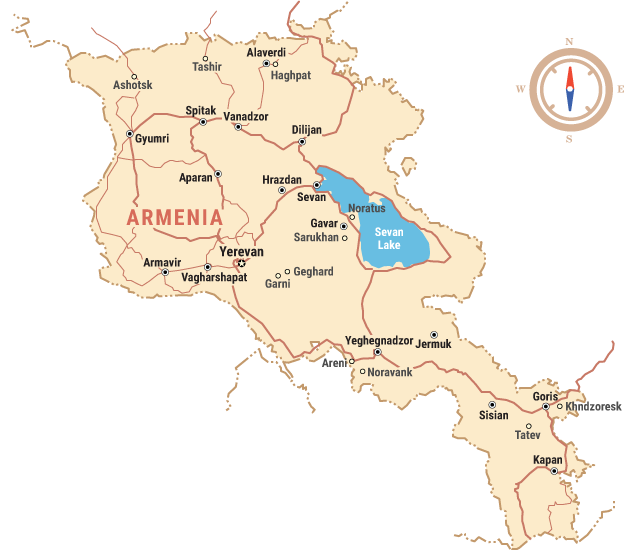 How Many Days Do You Need in Armenia?
Each trip to Armenia is a unique experience shaped by the dreams, interests and schedules of individual travelers. You may already have your ideal itinerary in mind, but if you are looking for more ideas, the guidelines below can be a good starting point for your Armenia travel plans:
At Your Service
Whether you'd like to join a group tour, arrange a short day trip or get some extra help with in-country travel arrangements, we would love to help make your trip as smooth and memorable as possible. Our Armenia travel services include:
Armenia Holidays and Festivals
Visiting Armenia during one of their major festivals is a fantastic opportunity to immerse yourself in its rich and historical culture. Come lose yourself in graceful music, irresistible scents of home-cooked delights and the kindhearted embrace of hospitable Armenians.
New Year (31st December - 4th January) – Armenians mark the New Year with lavish holiday decorations and joyful social and cultural events. It is a fascinating mix of religious and secular activities that bring people together through a series of mutual visits. New Year is followed by Armenian Christmas (5th - 6th January), making January a fun-filled month of festivities.
Best place to celebrate: Yerevan
Yerevan Wine Days (May) – The celebration of wine unites leading local wineries and restaurants, with each day offering a unique program at which you can taste Armenian delicacies. Live music and street performances accompany most feasts.
Best place to celebrate: Yerevan
Dolma Festival (20th May) – Every year, the small village of Hnaberd celebrates the Armenian national dish called dolma. The delicious meal is comprised of minced meat wrapped in cabbage or vine leaves or stuffed into a vegetable such as a tomato or pepper. The festival in Hnaberd allows you to sample every variety and become a dolma expert!
Best place to celebrate: Hnaberd, Aragatsnotn Province
Day of the First Republic (28th May) – This relatively new festival was established in the early 1990s to commemorate the 1918 proclamation of the independent Republic of Armenia. Expect cultural events, military parades and streets decorated with national flags. There is also a splendid fireworks show held in the evening on Republic Square in Yerevan.
Best place to celebrate: Yerevan
Mulberry Festival (7th July) – Every summer, Armenians gather to celebrate and sample national and local delicacies made from mulberries. Participants can try everything from mulberry vodka to mulberry molasses and jams, and even enjoy mulberry master classes.
Best place to celebrate: Karahunj village (4 km from Goris, Syunik Province)
Taraz Festival (August) – At this festival, perfect for those interested in traditional Armenian costumes, or taraz, some of the best Armenian designers come together to present their tradition-inspired collections. You also get to enjoy traditional music and dance performances.
Best place to celebrate: Yerevan
If you would like to learn more about Armenian festivities, check out our list of national holidays and festivals.
Dos and Don'ts in Armenia
Our personal Armenia travel advice:
DO:
Dress appropriately when entering a church: Be sure to wear long trousers or a skirt and to cover your arms and head with a scarf if you are a woman.
Learn several basic expressions in Armenian and always greet people with "Barev Dzes".
Show respect for the elderly by letting them take your seat on a bus or allowing them in front of you in the queue.
Bring a small gift such as flowers or chocolates if you are invited to someone's home.
Leave Yerevan and explore the countryside.
Try Armenian brandy.
Bargain when purchasing goods at a local market.
DON'T:
Behave loudly around the church or enter religious institutions in revealing clothing.
Discuss politics, particularly Azerbaijan, Nagorno-Karabakh or Turkey.
Smoke unless you are sure you are in a place where it is permitted.
Forget to carry some cash (Armenian currency) on you. Outside of Yerevan, it may not be easy to find ATMs.
Forget to tip when dining in a restaurant, as some Armenian waitstaff is compensated only with tips.
Hesitate to ask for help or interact with local people. Armenians are very friendly and almost always happy to chat

with

you!
What to Eat While in Armenia
Here is our list of top dishes to try during your Armenia travels:
Khorovats – Armenian barbeque made of grilled pork, lamb or beef. The meal comes with minimal seasoning, as Armenians believe spices should not detract from the meat's natural flavor.
Kyufta – Minced, lightly spiced meatballs cooked in broth. The local twist comes with a hint of pomegranate molasses, with brown sugar occasionally added to the dish.
Dolma – This popular Caucasian dish consists of minced meat, onion, rice and spices wrapped up in a vine or cabbage leaf. Armenians like to have fun with ingredients, so expect to taste lentils, tomatoes, eggplant, mint or onions.
Ishkhan – A delectable fish dish consisting of a special species of trout from Lake Sevan. Armenians cook ishkhan in several different ways, but the most famous involves cooking the fish in wine, stuffing it with hazelnuts or apricots and seasoning it with basil, tarragon, chives and pepper.
Spas – A delectable yoghurt-based soup that is eaten both hot and cold. It's served with hulled wheat or rice, with an egg or yolk added to the mix to prevent curdling. Greens or herbs are occasionally used as garnish.
Ghapama – This delicacy is made of scooped-out pumpkin filled with rice and dried fruits such as apples, prunes or apricots. The dish is then baked and cut into pieces before serving.
Harrisa – A thick porridge made by slowly simmering dried or roasted cracked wheat (korkot) and chunks of lamb or chicken. Harissa is traditionally served during Easter, accompanied by pickled vegetables and lavash flatbread.
Khash – A dish for thrill-seekers, khash is a winter soup made of boiled cow limbs and stomach. The meal is served hot, sometimes with pickles or lavash. Popular as a local hangover treatment.
Gata – This traditional sweet pastry has many local variations. Gata is baked in the oven and stuffed with a variety of fillings, most often nuts, and is frequently eaten over a cup of surj, a strong local coffee.
Sujukh – A delightfully healthy snack made from grape paste, nuts and flour. Almonds, walnuts, or hazelnuts are threaded onto a string, dipped into a thickened grape juice and left to dry into the shape of a sausage. Occasionally chocolate or raisins are also added to the mix.
Check out our Armenia Travel Guidebook for Food for an in-depth look at Armenian National Dishes.
Armenian Brandy
Although the Armenian tradition of distilling brandy is possibly one of the oldest in the world, only in recent times has it become well-known outside the country. In the late 19th century, Armenians took advantage of French cognac's popularity and began to export their brandy to Russia. They labeled it as "Konyak", the Russian spelling for cognac.
In 1900, Armenian brandy producer Nikolay Shustov won first place in a blind judging context at the Universal Expo of Paris. The jury awarded him the legal right to call his product "cognac", a privilege which was unfortunately revoked after World War II.
Over time, Shustov's business evolved into the country's largest brandy producer. The Soviets nationalized the company, and in the 1940s the venture changed its name to Yerevan Ararat Wine - Brandy Factory. It was then divided into the Yerevan Ararat Brandy Company and the Yerevan Brandy Factory.
In 1999, the Armenian government sold the Yerevan Brandy Company to a French distiller, Pernod Ricard. Today, the business is commonly known as "Ararat" after its most famous brand. Meanwhile, Yerevan Ararat Brandy Factory went on to become the property of Multi Group Concern. It currently produces another famous Armenian variety of brandy, Noy, under the official name of Yerevan Ararat-Brandy-Wine-Vodka Factory.
An undocumented anecdote claims that Winston Churchill drank Armenian brandy with delight after Joseph Stalin offered it to him at the Yalta Conference. The Soviet leader reportedly then arranged to have 400 bottles of the brandy shipped to Churchill annually. Ararat has also been said to be the drink of choice of Agatha Christie and Frank Sinatra.
Ararat has also been said to be the drink of choice of Agatha Christie and Frank Sinatra.
Today, Ararat is the 4th-largest export product of Armenia. If you would like to learn more about Armenian brandy, we invite you to read our guide to Yerevan Ararat Brandy Factory.
Speak the Language
Knowing a few basic phrases in the local language is the best way to make local friends and connections during your travels in Armenia.
Here are some phrases that may come in handy:
| | |
| --- | --- |
| Phrase | Armenian |
| Hello | Barev dzes |
| How are you? | Inchpes ek? |
| Goodbye | Tstesutyun |
| Thank You! | Shnorhakalutyun or Mersi (on French manner) |
| You are welcome | Khndrem |
| Yes/No | Ayo / Voch |
| Where is the... (airport)? | Vortegh e odanavakayany |
| How much is it? | Inch arzhe? |
| My name is… | Anun's... e |
| I don't understand | Chem haskanum |
| Excuse me | Neroghutyun |
| Please | Khntrem |
| Nice to meet you | Shat hacheli e |
| Cheers! | Kenaced |
Virtual Armenia Travel Guide: Further Reading
Did You Know That...
Armenia may be terra incognita to many, but the country's historical and cultural influence spreads far and wide:
In 2011, archaeologists discovered the world's oldest winery in a cave near the village of Areni.
The world's oldest shoe comes from the same excavation.
Armenia was the first country to adopt Christianity as the state religion in 301 AD.
Armenia is the ancestral homeland of Cher, Andre Agassi, Serj Tankian, Charles Aznavour and the Kardashians.
Yerevan is one of the world's oldest continuously inhabited cities. It came to life in 782 BC, 29 years before Rome.
In 1969, Armenian director Sergei Parajanov made an art film titled "The Color of Pomegranates". The movie is a poetic tale of the life of 18th-century Armenian poet and troubadour Sayat-Nova. In September 2020, Lady Gaga released her new 911 music video inspired by the movie.