Azerbaijan Travel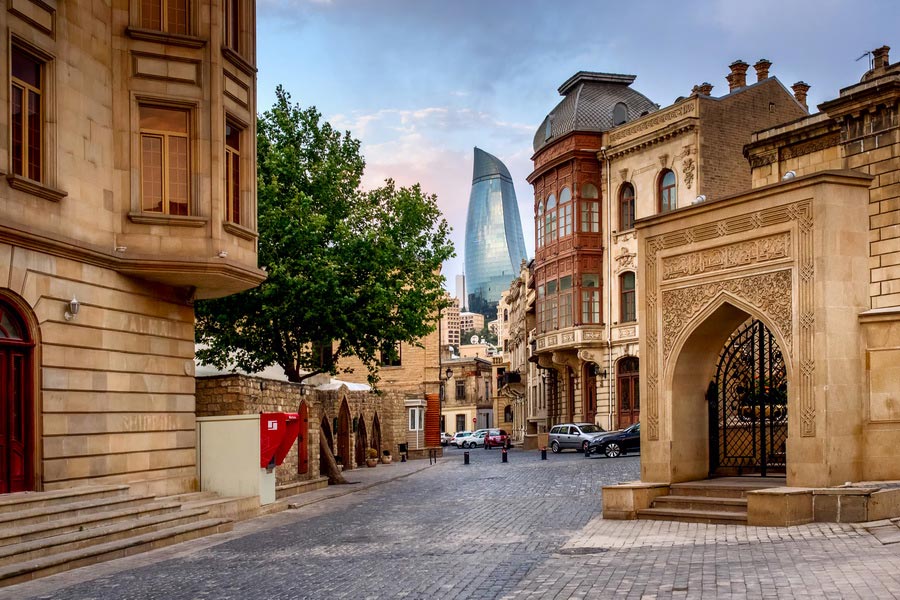 Azerbaijan travel invites you on a journey across the Caucasian leg of the Silk Road, where history and modernity collide across dreamy semi-desert landscapes. Retrace the path of ancient Zoroastrian pilgrims, walk the cobbled streets of artisan villages and examine ancient petroglyphs up close. From ultra-modern skyscrapers to bubbling mud volcanoes and medieval caravanserais, Azerbaijan surprises travelers at every step.
If Azerbaijan has already captured your imagination and you are looking for practical details on how to prepare for your upcoming trip, we invite you to check out our Azerbaijan Travel Tips.
Your Guide to Azerbaijan by a Local Travel Expert
Is Azerbaijan Worth Visiting?
Azerbaijan is full of contrasts, with nine climate zones stretching across the country. Snow-capped Caucasian Mountains border hot, dry deserts while sun-soaked meadows merge with Caspian Sea coasts. But Azerbaijan's contrasts go beyond nature: cutting-edge architecture straddles caravanserais laden with secrets, while Soviet designs blend with Islamic architecture in a land that never ceases to amaze.
Azerbaijan is the Land of Fire a nickname it has known since antiquity. It is home to some of the world's most enviable gas and oil fields, nearly half of the world's mud volcanoes, Ateshgah Zoroastrian Fire Temple and the natural, eternally burning flames of Yanar Dag (Burning Mountain).
Azerbaijan is affordable, a land where thrifty travelers can find feasible options for extensive exploration. With delectable yet cheap food and cozy budget hotels and guesthouses, Azerbaijan offers options galore for the economical tourist.
Azerbaijan blends the best of East and West as it sits at the juxtaposition of numerous civilizations. The old Silk Road atmosphere is still palpable among the merchants who proffer oriental spices in local bazaars, at the cozy tea houses hidden in the shade of glass office buildings and in the medieval Icheri Sheher (Inner City) guarded by forlorn Soviet

structures

.
Your Dream Vacation
Taste the arid winds of the Caucasian semi-desert, pray in the ancient temple of fire, stroll the corridor of oriental palaces and rest in the shadow of enduring caravanserais. Let Azerbaijan bewitch you with its delicious pilaf, tea served in delicate pear-shaped glasses and bustling bazaars. Craft your tour around the land's fine-tuned artistic traditions, intricate petroglyphs or bubbling mud volcanoes.
Our Azerbaijan travel packages are as diverse as the clients we serve. Whether you are into history, outdoor adventures or cultural pursuits, chances are we have a tour that perfectly suits your interests. Options include everything from day trips to Azerbaijan's major sites and attractions to extensive, multi-country expeditions. We are also happy to design a personalized Azerbaijan travel itinerary tailored to your specific needs and passions. Just drop us a message and get one step closer to your dream vacation!
Top Historical Experiences:
Top Cultural Experiences:
Top Outdoor Experiences:
Visa Matters
In recent years, Azerbaijan's visa policies have gradually become more relaxed. Currently, citizens of over 90 countries including Australia, EU members, Great Britain, Canada, New Zealand, UAE and the U.S. can apply for an e-visa which is issued within 3 days. Passport holders of another 12 countries, including China, Japan, Israel, and South Korea, can get a visa upon arrival, while citizens of 10 countries, including Russia, can enter Azerbaijan visa-free. Azerbaijan is open for tourism, and getting there has never been easier.
Is Azerbaijan Safe for Travel?
Overall, Azerbaijan is a very safe country to explore. Azerbaijanis are a kind, hospitable people who will go the extra mile to accommodate travelers. However, as in any country, crime does occur. Stay vigilant to avoid pickpockets and avoid flashing your belongings at bus terminals, train stations, on public transport and in other crowded areas. Negotiate prices with taxi drivers and street vendors in advance to avoid being overcharged.
If you decide to drive around the country on your own, drive during the daytime. Some roads, particularly in the mountains, are marked by potholes and uneven pavement, so driving after dark can be dangerous. Pay extra attention when crossing the street, as Azerbaijani drivers are not always mindful of pedestrians.
Choose Your Transport
A number of direct international flights connect Baku, the capital of Azerbaijan, with global travel hubs such as Beijing, Dubai, Frankfurt, Istanbul, London, Moscow, New York, Paris, Tbilisi and Tel Aviv. Other routes connect Baku with the major Central Asian cities of Almaty, Ashgabat, Nursultan, Tashkent and Tbilisi, and a convenient railway connection links Azerbaijan with Georgia, Russia and Ukraine.
Once in Azerbaijan, you can explore the country in a private vehicle or utilize domestic flights for longer routes between Baku and Ganja, Nakhichavan and other cities.
Please note that Azerbaijan travel restrictions do not permit direct travel between Armenia and Azerbaijan.
Best Time to Visit Azerbaijan
With nine climate zones stretching across the country, Azerbaijan is a worthy travel destination year-round. Spring and autumn draw the most crowds with their pleasant temps and vibrant landscapes, but summer and winter also have plenty to offer:
Winter: Winter transforms the high peaks of Azerbaijan into a snowy white paradise. Ski resorts at Shahdag and Tufandag are filled with frenzied fun, while many see wintertime as a chance to slow down and relax over hearty Azerbaijani food. Since Azerbaijan's winter is usually quite mild, many local attractions are still accessible to travelers. With fewer tourists around, you can count on a much more individualized experience and unbeatable off-season discounts.
Spring: The season starts with the Persian New Year, the country's most important holiday celebrated at the end of March. If you want to shape your tour around cultural immersion activities, spring is a great time to come! The weather noticeably warms up by late spring, when flowers and green foliage start to dominate the landscape. Not surprisingly, nature lovers find spring the best period to enjoy Azerbaijan's great outdoors.
Autumn: As September approaches, the summer heat decreases while fruits and vegetables ripen in gardens and farms. Travelers flock to admire the autumn forests surrounding Lake Goygol in Ganja or to observe bird migrations in local national parks.
Autumn: As September approaches, the summer heat decreases while fruits and vegetables ripen in gardens and farms. Travelers flock to admire the autumn forests surrounding Lake Goygol in Ganja or to observe bird migrations in local national parks.
Summer: Summers in Azerbaijan are hot, with temperatures in Baku occasionally reaching 40°C (104°F). It's the perfect time to explore the Caspian Sea beaches or, if you wish to escape the coastal heat, to hike in the Caucasus Mountains.
Azerbaijan Travel Map
Use the Azerbaijan Map to locate the country's main cities and find out what each one has to offer: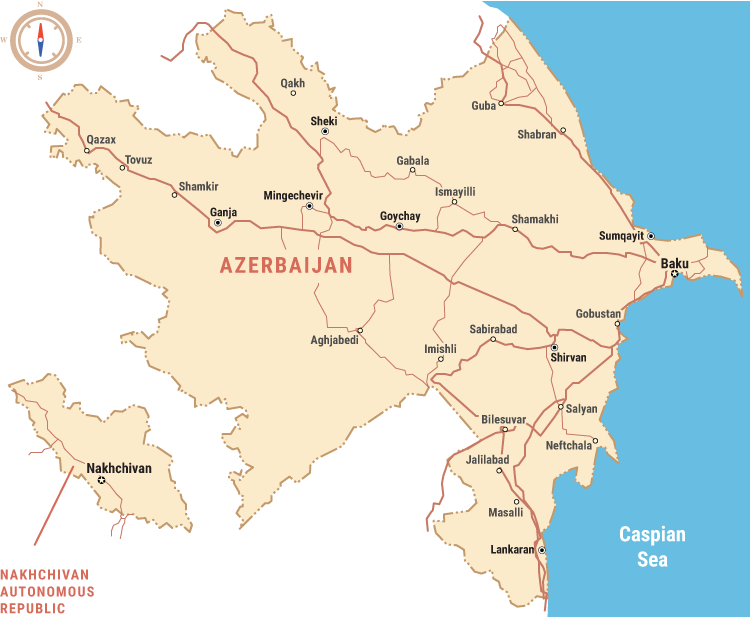 How Many Days Do You Need in Azerbaijan?
Our local tourism specialists have offered their personal Azerbaijan travel advice for must-see sites and itineraries:
Baku – Metropolitan capital of Azerbaijan where trendy skyscrapers mix with historical sites galore, it's also the perfect gateway for exploration of Absheron Peninsula and nearby Gobustan.
How long should I stay? 1-2 days
Major Sites: Icheri Sheher, Heydar Aliyev Center, Baku Boulevard, Nizami Street, Azerbaijan Carpet Museum
How to get off the beaten path: Explore the bustling alleys of Green Market (Yashil Bazaar) or visit the Modern Art Museum.

Greater Baku – This large area surrounding the capital encompasses almost the entire Absheron Peninsula as well as a number of islands. Befitting its size, Greater Baku spoils with a variety of attractions, from natural phenomena to manmade architectural and historical wonders.
How long should I stay? 1-2 days
Major Sites: Ateshgah Temple, Gobustan Rock Art Cultural Landscape, Gobustan Mud Volcanoes, Yanar Dag
How to get off the beaten path: Visit Gala State Historical Ethnographic Reserve to explore the history of Absheron Peninsula.

Sheki – This fascinating city is the cultural and architectural gem of Azerbaijan. Sheki is rich in Islamic architecture, delectable regional food and fascinating Silk Road history.
How long should I stay? 1-2 days
Major Sites: Sheki Khan's Palace, Juma Mosque, Sheki Caravanserai, 19th-century hammam
How to get off the beaten path: Dedicate some time to explore Gelersen-Gerersen Fortress, or visit Christian Church in Kish.

Ganja – One of the oldest cities in the Caucasus, Ganja boasts a plethora of historical and cultural monuments. The town prides itself as the birthplace of the famous Persian poet Nizami, and his tomb is a popular site for visitors.
How long should I stay? 1-2 days
Major Sites: Imam-zade Mausoleum, Old Ganja Fortress, Nizami Ganjavi Mausoleum, Sheikh Bahauddin Complex, the bottle house
How to get off the beaten path: Slow down to enjoy the beauty of Goygol National Park with its alpine landscape, crystal clear lakes and pristine forests.

Quba – Set on the northeastern slopes of Shahdag Mountain, Quba spoils summer vacationers with a cool climate and spectacular mountain scenery, not to mention the best apples in Azerbaijan.
How long should I stay? 1-2 days
Major Sites: Chirag-Kala Fortress, Gilgilchay Fortress, Juma Mosque, Sakina-Khanum Mosque
How to get off the beaten path: Experience the unique culture of Khinalug, the oldest village in Azerbaijan, or visit the elusive Jewish community at Red Town (Red Sloboda).

Shamakhi – Home to a sizeable astrophysical observatory, Shamakhi was the former capital of the Shirvan Empire and one of the largest trade centers along the Caucasian Silk Road. Today the city is famous for silk production, carpet weaving and an impressive number of historical monuments. It is also one of the best places to try Azerbaijani wine.
How long should I stay? 1-2 days
Major Sites: Juma Mosque, Yeddi Gumbez Mausoleum, Village of Lahij, Diri-Baba Mausoleum-Mosque, Gulistan Fortress
How to get off the beaten path: Explore local wineries to sample young local wine.

Nakhichevan (Nakhchivan) – Azerbaijan's oldest city is also the capital of the Nakhchivan Autonomous Republic. Local tradition claims that Noah founded the city after the Flood and subsequently died and was buried here. To reach Nakhchivan, you must catch a domestic flight from Baku.
How long should I stay? 2-3 days
Major Sites: Gulistan Mausoleum, Momine Khatun Mausoleum
How to get off the beaten path: Leave the city behind and step into the ruins of the magnificent Alinja Fortress, visit the spectacular Karabaglar Mausoleum or explore the ancient Gemigaia Petroglyphs.

Gabala – An ancient city with a history dating back to the 4th century BC. With its many ruins and relics, Gabala is a perfect destination for history buffs.
How long should I stay? 1 day
Major Sites: ruins and excavations of Old Gabala, ancient capital of Caucasian Albania
How to get off the beaten path: Visit Udin Temple, a unique architectural monument of Caucasian Albania, or drive to Hazra village to see 15th-16th century domed tombs.

Lankaran – A subtropical paradise in southeast Azerbaijan near the border with Iran. The city's landscape harmoniously combines high mountain tops, fertile lowlands and pebbly coasts.
How long should I stay? 1 day
Major Sites: Lankaran Fortress, Pir Hussein Mosque and Mausoleum
How to get off the beaten path: Immerse yourself in Khanega, a sophisticated complex of mausoleums and mosques on the banks of Pirsagat river.

Naftalan – This small city in the foothills of the Lesser Caucasus attests to the importance of oil to Azerbaijan's economy and culture. In Naftalan, local oil is believed to have therapeutic effects and is used as a natural treatment in unique oil spas.
How long should I stay? As long as you want to stay at a spa resort, usually at least a week
Major Sites: Naftalan oil spa resort and treatments
How to get off the beaten path: Enjoy a visit to the quirky Museum of Crutches, where you can admire a collection of crutches left behind by patients said to be successfully treated in Naftalan.

Nabran – This popular Caspian Sea resort delights with subtropical forestland and a long, lovely beach.
How long should I stay? 1-2 days
Major Sites: Nabran beach and affiliated resort facilities
How to get off the beaten path: Leave the beach behind and hike in the Nabran forests, rich with unique trees particular to

this

area.
At Your Service
Whether you would like to join a group tour, arrange a day trip or simply get a little help with domestic transport, we would love to make your trip smooth and memorable. Our Azerbaijan Travel services include:
Azerbaijan Holidays and Festivals
Azerbaijan is the only Muslim country in the South Caucasus, and as such the country's culture and customs vary widely from their predominantly Christian neighbors. This difference is apparent when it comes to national holidays: As Muslims, Azerbaijanis observe Ramadan Bayrami (Eid al-Fitr) and Gurban Bayrami (Eid al-Adha) but not Christmas or Easter. Persian New Year, or Navruz, is also widely celebrated in the country.
Most parties in Azerbaijan are loud, colorful and full of laughter. This hospitable nation is always happy to welcome guests during festivities, so take advantage of the opportunity by arranging your Azerbaijan travels around one of these celebrations:
New Year (1st-2nd January) – New Year is one of the most popular holidays in the country, a joyful time spent with relatives and friends. It begins on the evening of 31st December with a splendid feast. Once the clock strikes midnight, spectacular fireworks shows erupt all across the country. The best ones take place in Baku, particularly at Baku Boulevard.
Best place to celebrate: Baku
Novruz (20th-25th March) – Navruz is the celebration of the Lunar New Year, which according to Persian tradition begins with the arrival of spring. The festival is celebrated with song, dance, games and copious amounts of food.
Best place to celebrate: Baku, Sheki
Republic Day (28th May) – Republic Day commemorates the Azerbaijan Democratic Republic, established on 28th May, 1918. The Republic was the first secular democratic country in the Islamic world, a fact which brings great pride to Azerbaijanis. Each year on this day, top officials lay a wreath at the Republic Monument in Baku, and concerts and parades celebrating Azerbaijan's history and culture are held across the country.
Best place to celebrate: Baku
Gabala Music Festival (July-August) – Gabala Festival starts at the end of July and lasts for a week. This open-air festival combines classical piano concerts with jazz improvisations and an evening of traditional mugham music.
Best place to celebrate: Gabala (Qabala)
Baku International Jazz Festival (October) – This fantastic musical event, which has been taking place in Baku since 2005, brings together jazz musicians and jazz lovers from all around the globe. Rather than a one-day event, it's a series of concerts stretched over several days.
Best place to celebrate: Baku
Goychay Pomegranate Festival (November) – The Pomegranate Festival is an annual cultural celebration featuring a carnival and an exhibition dedicated to different varieties of pomegranates and pomegranate products. Visitors can also enjoy concerts of traditional Azerbaijani music, performances of various folklore groups and friendly competitions.
Best place to celebrate: Goychay
Check out our list of Azerbaijan holidays to learn more about other events you can incorporate into your Azerbaijan travel plans.
Curious about Azerbaijani Cuisine?
Our list of top dishes to taste while in Azerbaijan:
Dolma: Delicious dish of minced meat, rice, spices and herbs which are wrapped in vine or cabbage leaves or stuffed inside a vegetable before being cooked. In 2017, the Azerbaijani tradition of making dolma was inscribed on the UNESCO List of the Intangible Cultural Heritage of Humanity.
Kebab: Pieces of seasoned meat, usually mutton, placed on skewers and fried over a coal barbecue called a mangal (manqal). The dish is frequently served with vegetables and a thin, unleavened flatbread called lavash.
Ovdukh: A yogurt-based soup served cold. Yogurt is mixed with water and poured over sliced boiled meat, hard-boiled eggs, sliced cucumber and herbs.
Qovurma: A simple yet delicious dish featuring mutton spiced with saffron and stewed with onions and tomatoes. Qovurma can also include chicken and fruit.
Kufta (kofta): Delectable meatballs made of mutton or beef in tomato sauce. The meal is flavored with onions, salt, pepper, sugar and vinegar.
Lavangi: – The complete opposite of kufta, it features a whole baked fish, chicken or duck filled with walnuts, onions and spices before being baked. Lavangi is most popular in the coastal regions.
Piti: A highly popular soup made of tail fat and vegetables cooked in an aromatic mutton bone broth.
Plov: This sumptuously seasoned rice-based meal comes in over forty varieties that differ in ingredients and cooking techniques. Traditionally, Azerbaijani plov features warm rice and fried pieces of beef or chicken mixed with onions, nuts, dried fruits and spices. In some areas, wheat is used in place of rice.
Qutab: A thinly rolled dough folded into a cylindrical shape and fried, qutab is usually filled with meat, green vegetables or pumpkin. The finished product is cut into smaller triangular pieces and served with a glass of yogurt.
Baklava (Pakhlava): Azerbaijan's most renowned dessert, it's comprised of layers of thinly rolled wheat or rice dough mixed with honey and nuts. Baklava has many regional variations, but especially popular is the classic Baku pakhlava, with a nut on top of each piece.
Check out our Azerbaijan Travel Guidebook for Food for an in-depth look at
Dos and Don'ts in Azerbaijan
Azerbaijanis are a gracious people, quick to forgive any mistakes committed by foreigners unfamiliar with local customs. Still, knowing a bit about the host culture is seen as a sign of respect and helps a lot in forging friendships as you travel.
DO:
Take off your shoes before walking into a mosque or home.
Show respect for the elderly by giving them the best seats on buses and at dinner tables.
Bring a gift if you will be joining a local family for a meal or an overnight stay.
Confirm prices with taxi drivers before getting into the car to avoid being overcharged.
Be prepared to answer personal questions. People in Azerbaijan will be interested in your personal life and will not hesitate to ask about your age, marital status, children, etc. This curiosity is simply a sign of interest and concern.
DON'T:
Throw bread in the rubbish bin or leave it on the ground, as this is offensive to Azerbaijanis
Discuss politics.
Accept gifts straightaway - if someone offers you a present, it is polite to refuse it twice before accepting on the third time.
Make the OK sign, an offensive gesture in Azerbaijani culture.
Blow your nose in public, which is rude

to

Azerbaijanis.
Speak the Language
Knowing a few basic phrases in the local language is the best way to make local friends and connections during your Azerbaijan travels.
Here are some phrases that may come in handy:
Phrase
Azerbaijani
Hello
Salam (Sah-lahm)
How are you? / I am fine, thank you.
Necesən? Sağolun yaxşıyam. (Ne-je-san / Sah-o-lun yak-shi-yam)
Goodbye
Hələlik (Ha-la-lich)
Thank You!
Sağol (Sah-ol)
You are welcome
Dəyməz (Dai-maz)
Yes/No
Bəli / Xeyr (Ba-li / Keyr)
Where is the... (airport)?
(Hava limanı)... haradadır? (Ha-va li-ma-no…ha-ra-da-dor)
How much is it?
Bu neçəyədir? (Bu na-cha-ya-dir)
My name is…
Mənim adım... (Ma-nim a-dom)
I don't understand
Başa düşmədim (Ba-sha dyu-shma-dim)
Excuse me
Bağışlayın (Bah-o-shla-yon)
Nice to meet you
Məmnun oldum (Ma-mnun ol-dum)
Cheers!

Sizin

sağlığınıza! (Si-zin sah-loh-no-za)
Virtual Azerbaijan Travel Guide: Further Reading
Did You Know That...
Azerbaijan may be unfamiliar to many, but the country harbors many fascinating stories and facts:
Ever heard of the Nobel Peace Prize? Well, Azerbaijan was where the Nobel family made its fortune by discovering and exporting oil to Europe. You can visit the house-museum of the Nobel Brothers in Baku.
Azerbaijan was where crude oil excavations began. The first well was drilled there in 1848, a decade before drilling started in the United States.
In other Azerbaijan news, the first oil pipeline in the world was built in 1906 to transfer the "black gold" from Baku to Batumi seaport (519 miles).
About 45% of the world's mud volcanoes are in Azerbaijan.
Neft Daşları is a settlement built entirely on stilts. It started as an oil rig and developed into an entire town situated on elevated walkways in the Caspian Sea.
Baku is the birthplace of Garry Kasparov, a former World Chess Champion.