Kyrgyzstan Travel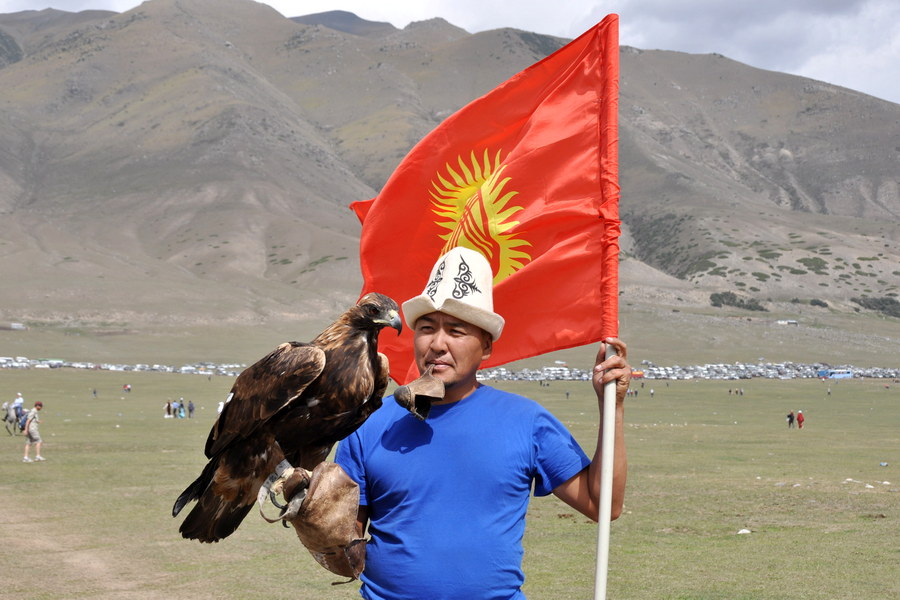 Falconry in Kyrgyzstan
Kyrgyzstan travel transports you to the Swiss Alps of Central Asia, an astonishingly gorgeous land which remains unspoiled by overcrowded cities or excessive tourism. Kyrgyzstan is the real deal – delightfully simple and laid-back, its people are adaptable and hard-working, its nature pristine and inspiring, its opportunities for adventure numerous and diverse.
Nomads follow the footsteps of their ancestors into alpine pasturelands, where visitors can join them for an authentic taste of their itinerant life. History is engraved in every fortress, tower and petroglyph dotting the landscape, which serve as silent reminders of the land's dramatic past. Horses, donkey carts, well-worn buses and sleek new vehicles vie for country roads, while friendly Kyrgyz display their unique culture through a tapestry of soulful songs, colorful felts and time-honored traditions.
If your curiosity is piqued, use this Kyrgyzstan Travel Guide to become acquainted with this tiny nation and to answer your questions regarding Kyrgyzstan tourism.
Your Guide to Kyrgyzstan by a Local Travel Expert
Is Kyrgyzstan Worth Visiting?
Although Kyrgyzstan remains an enigma to much of the world, it has long been the #1 destination in Central Asia for backpackers and has seen a gradual influx of tourists of every kind over the past few years. And just what draws travelers to this tiny landlocked nation?
Kyrgyzstan is stunning, its silhouette defined by some of the most glorious peaks of the majestic Tian-Shan Range, not to mention alpine lakes, extensive forests, lush pastures, foaming rivers and red-rock canyons.
Kyrgyzstan is welcoming, a nation whose super relaxed visa rules are an apt reflection of the friendly, laid-back people you're bound to meet all along your journeys. The country has long been considered one of the most tourist-friendly destinations in Central Asia, a reputation it has no desire to relinquish any time soon.
Kyrgyzstan is adventurous, for where else can you live with a nomadic family in an authentic yurt, travel on horseback through mountains, whitewater raft through remote canyons and explore ancient and Soviet history all within the span of a week?
Your Dream Vacation
Ascend the snowy heights of glacier-covered peaks on horseback, hike the enchanted valleys of Fairy Tale Canyon and enjoy simultaneous swimming, sunbathing and mountain views at Lake Issyk-Kul. Local history spans time and space, from petroglyphs in Cholpon-Ata to castle remains at Tash Rabat and the giant Lenin statue waiting to greet you in Osh. Equally versatile is Kyrgyz cuisine, offering a whole buffet of new and delicious foods.
Permeating each experience is the delightfully authentic, traditionally nomadic culture of the Kyrgyz, expressed through rambunctious sports, colorful national dress, finely woven handicrafts and long-held traditions forged over centuries in this beautiful, rugged land.
While nearly impossible to embrace it all, consider which of these highlights you wish to include in your Kyrgyzstan travel itinerary:
Top Outdoor Experiences:
Top Historical Experiences:
Top Cultural Experiences:
Visa Matters
One of Kyrgyzstan's many redeeming qualities is that it is the easiest country in the region to visit, thanks to its 60-day visa-free entry policy which extends to citizens of more than 50 countries, plus unrestricted access granted to a dozen nations, including Japan and Russia. Most tourists who do require a visa need only submit an electronic application, with very few nationalities requiring the dreaded Letter of Invitation.
Learn all about Kyrgyzstan visa requirements and support here.
Is Kyrgyzstan Safe for Travel?
Any locale ending in 'stan' tends to get a bad rap these days, a reputation wholly undeserved by as welcoming a nation as Kyrgyzstan. As of mid-2020, the nation maintained its Level 1 Category in the US Department of State's travel advisory system, i.e. among the safest nations in the world to visit. Tourists who have gone before you can likewise testify to the hospitable, kind-hearted nature of Kyrgyzstan's people, most of whom are eager to assure you leave with a glowing impression of their country and culture.
Our top travel safety tips for Kyrgyzstan would be to exercise normal safety precautions with your valuables, remain vigilant when traveling alone or at night, be aware of natural hazards such as altitude sickness and sudden changes in weather, and avoid unwarranted travel in the border areas near Tajikistan and Uzbekistan. With these guidelines in mind, come prepared to feel welcomed and well-cared for by the Kyrgyz people.
Choose Your Transport
Convenient access to Kyrgyzstan via flights from Russia, Turkey, the UAE and other locales allows you to save your energy for in-country experiences versus trying to track down a route into the nation. Additionally, a dozen land border crossings provide access into Kyrgyzstan from Kazakhstan, Tajikistan, Uzbekistan and China, many of which may be crossed with a private car or motorbike as well as on foot.
In-country transport includes a conglomerate of buses, trains, minibuses and private cars, the latter of which can double as a taxi at a moment's notice. While the whole system may appear chaotic to the untrained eye, it actually works quite efficiently and ensures that there is often more than one option for reaching your destination.
Kyrgyzstan Travel Seasons
Unlike the rest of Central Asia, Kyrgyzstan welcomes its most beautiful and tourist-friendly season in summer, not spring. Yet the country is so filled with natural splendor that each time of year offers its own incentives in turn:
Winter: Ski and snowboard season stretches from mid-November through March, and with drastically fewer travelers, most accommodations and tour operators offer discounted prices. Unpredictable weather can impact travel plans, so come with an adventurous spirit.
Autumn: The weather may grow a little moody, yet autumn in Kyrgyzstan equates with fewer tourists, bazaars filled with home-grown produce and travel opportunities ranging from horseback riding and rafting to city and historical tours.
Spring: Frequent rainfalls that puncture the early weeks of Kyrgyzstan's shortest season give way to fields of flowers and lush mountain scenery by May.
Summer: With little rainfall, pleasant mountain temps and festivals galore, summer is the ideal season for hiking, mountain exploration, yurt camp stays and lounging near Lake Issyk-Kul.
Kyrgyzstan Travel Map
Use the Kyrgyzstan map to locate the country's major destinations and find out what each one has to offer: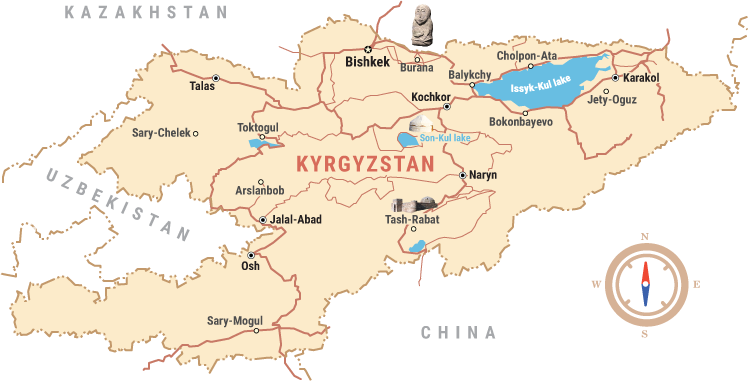 How Many Days Do You Need in Kyrgyzstan?
The simple answer to this question is 'As many as you can manage', for Kyrgyzstan is so full of outdoor opportunities that it's simply impossible to cram it all into a few days. Plus, its mountainous terrain and laid-back culture make it difficult to travel efficiently from one destination to the next. That being said, the following may be helpful as you plan your Kyrgyzstan travel itinerary:
At Your Service
Kyrgyzstan is a wonderfully flexible nation for tourists: it offers a plethora of accommodations, multiple options for in-country travel and space among its mountain pastures for everyone from independent backpackers to tourist groups and families with children. For those who could use a little help navigating all the options, explore our info pages below or send us an email with further inquiries.
Services provided by Advantour include:
Kyrgyzstan Holidays and Festivals
Kyrgyz holidays honor the past and perpetuate beloved traditions through unparalleled festivities. Be it the country's distant nomadic history or its hard-earned victories over recent world conquerors, the nation knows how to celebrate in style. Consider incorporating one of these celebrations into your Kyrgyzstan travel itinerary:
Nooruz (21st March) – The traditional New Year of Central Asia and the Persian world is celebrated in full pomp in Kyrgyzstan, where song and dance, games, traditional foods and a myriad of outdoor activities welcome the arrival of spring.
Best place to celebrate: Lake Issyk-Kul or Bishkek, although every city and village will have special events
Victory Day (9th May) – Spawned in Soviet times, Victory Day commemorates the triumph over Nazi Germany with grand parades, speeches, concerts and ceremonies honoring WWII veterans.
Best place to celebrate: Bishkek
Independence Day (31st August) – Kyrgyzstan's second 20th-century victory is commemorated with military marches and a speech from the president, as well as more lighthearted activities including national sports, dances, ethnic foods and fireworks.
Best place to celebrate: Bishkek
National Horse Games Festival (July, date varies) – Equestrian activities, long central to the Kyrgyz nomadic lifestyle, are given free reign at this unforgettable event defined by traditional horse races and lively competitions, national dress, local foods and displays of Kyrgyz craftsmanship.
Best place to celebrate: Kyzyl-Oi village on Son-Kul Lake
Birds of Prey Festival (early August) – A delightful carnival centered around demonstrations of Kyrgyz hunting birds, the festival also includes such diverse activities as felt making, horse races, traditional dance shows and a presentation on how to construct a yurt.
Best place to celebrate: Issyk-Kul Lake
Curious about Kyrgyz Cuisine?
Kyrgyzstan offers the standard Central Asian fare of fresh breads, savory samsa pastries and manty and chuchvara dumplings. For those eager to try localized favorites, be sure to sample the following:
Beshbarmak – classic nomadic dish of homemade noodles, potatoes, and beef or horse meat
Kuurdak, a one-plate wonder of meat, potatoes, onions and spices
Ashlam-fu – Dungan cold soup packed with noodles, meat and veggies
Boorsok – puffy fried dough balls sure to test your willpower
Dried fish – salted and delivered from the waters of Issyk-Kul to a roadside stand near you
Oromo – swirls of delicate, homemade noodles stuffed with meat or potatoes
Dimlama – a mouth-watering combo of steamed beef and fresh vegetables
Kurut – sour, salty milk balls offered in flavors ranging from basil to hot pepper
Maksim and Bozo – grain-based sour drinks unique to Kyrgyzstan, a must-try cultural experience
Read on for a more in-depth look into Kyrgyzstan cuisine.
Dos and Don'ts in Kyrgyzstan
Kyrgyzstan is one of the most relaxed destinations in Central Asia, both in terms of official laws and the population's reception of foreigners. While far from comprehensive, we hope this Kyrgyzstan travel advice can point you in the right direction as you gear up for your upcoming adventure:
DO:
Consider the elements when planning your trip, remembering that mountain roads can become dangerous or impassible in winter and that high-altitude yurt camps can be surprisingly chilly even in summer.
Be flexible, allowing for extra time in your itinerary due to weather conditions, last-minute scheduling changes and unplanned opportunities that may arise.
Practice responsible tourism by investing your money at homestays, small cafes, family-run souvenir shops and Kyrgyzstan tour programs which support local startups.
Be prepared to practice local customs when in someone's home, including removing your shoes at the door, using outhouses and sitting on the ground for meals.
Come prepared to embrace the new, be it a novel experience, new-to-you sport or unusual food. You won't regret it!
DON'T:
Wait until the last minute to withdraw cash, as hunting down a working ATM can be a challenge once you've left Bishkek.
Hitchhike or accept a homestay offer without paying the driver or owner for their kindness and services, which is standard protocol in Kyrgyzstan.
Expect most Kyrgyz people to speak English, particularly in rural areas.
Overlook the rich culture found in Kyrgyzstan's cities and small towns, which can be just as compelling as its nature.
Set out alone in the mountains unless you are an experienced

trekker

.
Speak the Language
Kyrgyz and Russian are the official languages of the nation, with the former dominating in rural areas and the latter in the capital. Kyrgyz is a historically Turkic language closely linked with Kazakh, while the prevalence of Russian in the country spread during 20th-century Soviet rule.
Phrase
Kyrgyz
Russian
Hello
Informal: Салам (Salam)
Formal: Саламатсызбы (Salamatsyzby)
Привет (Privyet)
How are you?
Kандайсыз? (Kandaysyz?)
Как дела? (Kak dela?)
Good-Bye
Көрүшкөнчө (Korushkoncho)
До свидания (Do svidaniya)
Thank You!
Рахмат (Rahmat)
Спасибо (Spasibo)
Yes/No
Oоба (Ooba)/Жок (Jok)
Да/Нет (Da/Nyet)
Where is the... (airport)?
Аэропорт кайда (Aeroport kayda)
Где... (аэропорт)? (Gde... (aeroport?))
How much is it?
Бул канча турат? (Bul kancha turat?)
Сколько это стоит (Skol'ko eto stoit?)
My name is…
Менин атым... (Menin atim...)
Меня зовут... (Menya zovut...)
I don't understand
Түшүнгөн жокмун (Tushungen jokmin)
Я не понимаю (Ya ne ponimayu)
Excuse me
Кечириңиз (Kechiringiz)
Извините (Izvinite)
Nice to meet you
Таанышканыма кубанычтамын! (Taanyshkanyma kubanychtamyn!)

Очень приятно

познакомиться (Ochen priyatno poznakomit'sya)
Virtual Travel Guide to Kyrgyzstan: Further Reading
Did You Know That...
Over 90% of Kyrgyzstan's land is mountainous.
It is highly rural, with nearly two-thirds of Kyrgyzstan's people residing outside the cities.
There are more glaciers in the mountains of Kyrgyzstan than in the Caucasus and Alps combined.
Kyrgyzstan's Issyk-Kul Lake is the second largest alpine lake in the world.
The world's largest walnut forest is found in Arslanbob, Kyrgyzstan.
Manas, a Kyrgyz poem central to the nation's history, is one of the longest epic poems in the world.