Russia Travel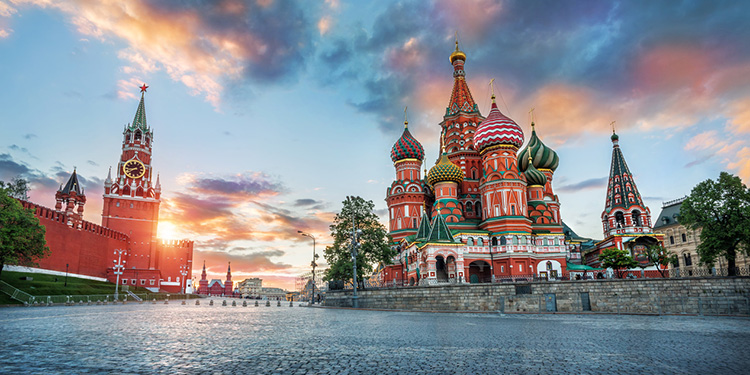 Red Square, Moscow
"Russia is a riddle wrapped in a mystery inside an enigma."
Winston Churchill's observation is as pertinent today as it was in the mid-20th-century. Russia is as intriguing as it ever was. Stubbornly standing its ground as a country which will bow down to no conventions-refusing to be classified as either European or Asian-Russia is still Russia.
While the country has modernised in leaps and bounds since the fall of the USSR, the culture remains ever defiant in its distinctness to western norms. Stirring ballets and operas, not soppy musicals, fill the playbills and sincerity, which is often mistaken for seriousness, i s valued over shows of pleasantries.
Apart from the allure of the enigmatic Russian soul, there are countless other reasons to visit the world's largest country. Its pristine forests are ripe territory for explorers thirsty for adventure and eye-opening vistas. Villages and cities alike are treasure-troves for history-fanatics. And, since the collapse of the Soviet Union, both art and religion have blossomed — reviving the rich legacy left by the Russian Empire.
Should you already have your heart set on Russia and simply need guidance on the practicalities of visiting this magnificent country, please see our Russia travel tips page.
Your Guide to Russia by a Local Travel Expert
What is Russia Famous for?
Royal residences: The Romanov family possessed one of the greatest fortunes in their times, most of which they used in building the most extraordinary palaces and parks.
Orthodox religion: The golden cupolas of Orthodox Churches have brightened up Russia's villages and cities for almost half a millennial. Submerge yourself in the history and traditions of this ancient religion.
Soviet history: In all of Russia's cities, the Red forces left their indelible mark. Though the gargantuan concrete structures may seem oppressing even today, they are a must-see for anyone hoping to understand Russia's history.
Scenery: Being the largest country on earth, Russia has no shortage of sights to take your breath away. Any enthusiast of the great-outdoors should see Lake Baikal, Mt. Elbrus and the Siberian Taiga.
Izbas: Far away from civilisation, deep in the depths of Russia's forests, villages made up of traditional izbas (log houses) seem to come out of a distinctly Russified version of Handsel and Gretel.
Yuletide: Russia is special in any season. But for those who brave the cold and come in December, something more than just special awaits.
Art: Ballet, poetry, architecture, landscape: Russians have mastered the language of the heart better than any other nation. Experience the crème-de-la-crème of Russian art from the glittering balconies of the Mariinsky and Bolshoi and delve into its history down the marble corridors of the Hermitage and the Tretyakov Gallery.
Is Russia Safe to Visit?
Despite the political jostling between the West and Russia, Russia is as safe for tourists as any other European destination. Since the wild '90s, a lot has changed. Russian cities now have lower crime rates than some of their counterparts in America and corruption in the police force is no longer the norm. Though only a third of Russians speak English, foreigners are met with enthusiasm (and rounds of vodka) in almost all regions of Russia. There are less savoury locations in the south of Russia, but these regions are far from the tourist trails. The only danger that could pose an actual threat to visitors is Russians' infamously reckless driving. Only taking licensed taxis and crossing roads with care easily solves that issue.
Top destinations
Recommended Stay: from 5 days

Discover the real Russia — feel the force of history on the Red Square and be dazzled by the best of Russian culture at the Bolshoi — while having all the comforts and conveniences of big city life at your fingertips. Centuries-old royal estates like Tsaritsyno, haunts of the soviet-era — such as Lenin's Mausoleum and the Seven Sisters — along with the high-rises of Moscow City and high-tech of Star City paint a vivid picture of Russia's history; from its beginnings as a princedom to the capital of a world superpower. There's no better place to start your journey into Russia than the sprawling, roaring, yet always welcoming capital that is Moscow: Europe's biggest city.

Recommended Stay: from 4 days

See Russia from the vantage point of one of the world's most cultured cities: Saint Petersburg. Far away from the buzz of Moscow, time seems to stand still. Reflections of baroque palaces glitter in canals and the golden domes of neo-classical cathedrals dominate the skyline unblighted by high-rises. The Hermitage, Peterhof and the Mariinsky — bastions of prestige — are complemented by hidden gems such as the Alexander Nevsky Monastery and Pavlovsk Palace. In Russia's Imperial capital, culture, history and architecture intertwine to form a city so romantic that it would make a poet's heart sing.

Recommended Stay: 4-9 days

Dive deep into Slavic culture in the land of the taiga, Ural Mountains and Lake Baikal in Russia's largest region: Siberia. See how generations of Siberians have braved the extreme climate in historic towns like Tobolsk and marvel at the forces of nature in the boundless wilderness of Siberia's forests.
Off the beaten-track destinations
Recommended Stay: 3-5 days

On the banks of the Volga, east meets west in the capital of the Republic of Tatarstan: Kazan. Having been founded more than a millennial ago by the Mongols, the city still retains the pompous aura befitting for a key city of the Golden Horde. Elements of Orthodoxy and Imperialism, however, diluted the Oriental influences during the five hundred year Russian rule. See Russia's lesser-known side, uncover its ties to both Arabia and Asia and meet Russians of many faiths and faces: like a matryoshka doll, Kazan is full of surprises.

Recommended Stay: 1-3 days

As the largest closed city in the Soviet Union, this historic hub of industry still remains unknown to most tourists. Yet, according to UNESCO, its collection of medieval cathedrals merits it a place in the top 100 cities of the world. Sail the 300 mile journey from Moscow up the Volga or catch the overnight train to have ancient Rus' treasures almost all to yourself.

Recommended Stay: 1-3 days

In the northerly Vologda region, in forests deep and dark, a land of mythical creatures beckons those who are young at heart. Ded Moroz (Father Frost — the Russian Santa Claus) welcomes thousands of guests to his official residence on the outskirts of this small town. Within his whimsically carved wooden palace, Russia's oldest fairytales are brought to life with the help of the ghastly Baba Yaga and gorgeous Snegurochka. Veliky Ustyug itself is delightfully quaint — being one of the few towns in Russia with almost all its pre-revolution architecture intact. In tsarist times, it was famed for its craftsmen who produced religious iconography — examples of which can be admired in the town's Museum of Iconography.
Top Experiences
Top Historical Experiences: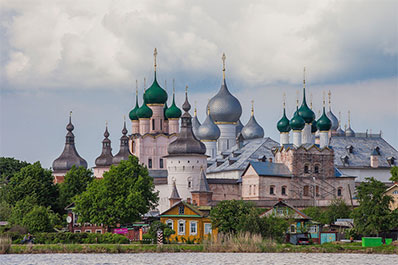 The Golden Ring:
Follow the pilgrim route encompassing ancient Rus' first cities to uncover picturesque villages of yore and Orthodoxy's earliest churches. Every single one of the eight cities that comprise this heritage trail has at least one cathedral with golden cupolas and all the cities are conveniently located in a circle round Moscow; hence its name Golden Ring.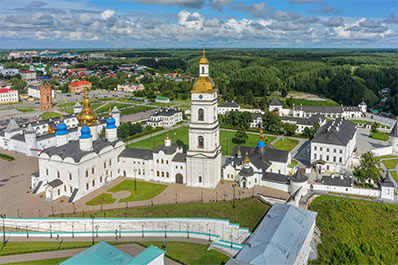 Tobolsk:
Far from the reaches of even the all-encompassing Trans-Siberian, what was once the capital of Siberia has remained frozen in a time long gone. Hedged in by forested hills on all sides and towered over by a stark-white medieval fortress, the town's remoteness which made it the ideal centre for exile is still strikingly apparent. Thousands of Swedish soldiers were deported here during the Great Northern War, as were the Romanovs who famously lived here in banishment for almost a year.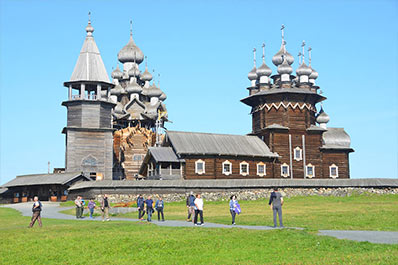 Kizhi Island:
Sail up the Volga Baltic Canal to the pristine lakes of Karelia to see the fabled Kizhi settlement with one of the largest and most historic concentrations of Russian izbas (log buildings).
Top Cultural Experiences: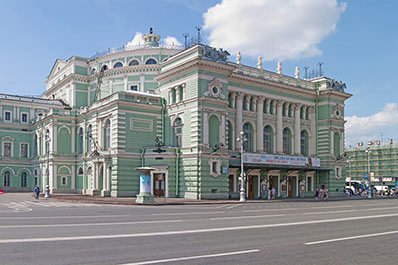 The Mariinsky:
Luxuriate in the splendour of the surroundings and the stunning performances of the world's premier ballet and opera theatre: Saint Petersburg's two-hundred-year-old Mariinsky Theatre.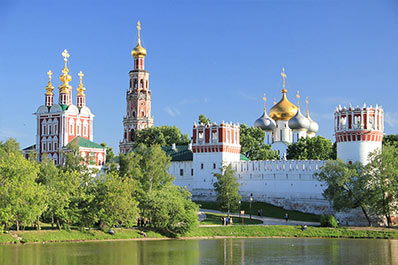 Novodevichy Convent:
Trace the anguished footsteps of many a royal lady kept imprisoned within the monumental walls of the 16th-century, UNESCO-heritage convent near Moscow.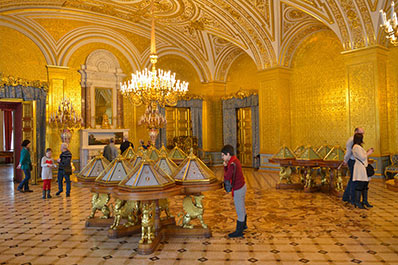 The Hermitage:
Probe into the enthralling lives of the Romanov family and marvel at their astounding treasures in the Winter Palace: the world's second-largest art museum.
Top Adventure Experiences: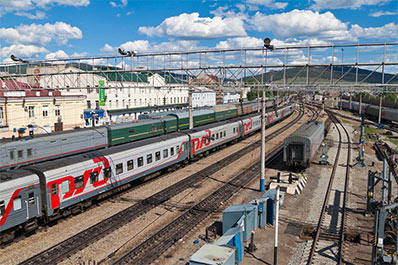 Trans-Siberian:
Traverse the breadth of Russia, cut through the East-West divide and see Russia for what it really is on the journey of a lifetime: the epic Trans-Siberian Express. Whether you bunk up in platzkart (3rd class) or treat yourself to a SV cabin fit for a tsar in first, by the end of the seven or so days of endless chugging your fellow passengers and the babushkas hawking on platforms will ensure that you're well-versed in the intricacies and absurdities of Russian culture and history.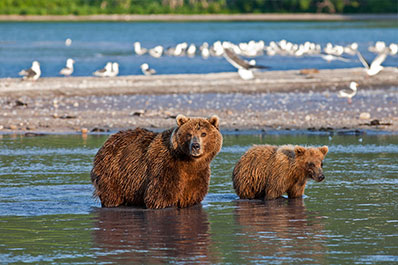 Wildlife-watching:
Track down a polar bear in the Arctic Circle, fish for blood-red salmon in Kamchatka's bountiful rivers and hike through the Great Baikal Trail with forests alive with bird song.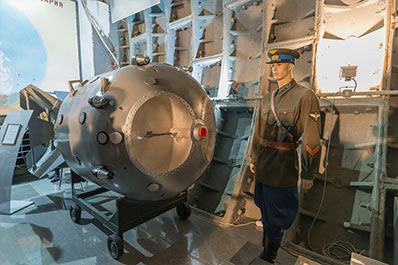 City Escapades:
Clamber up marble stairwells onto the rooftops of Saint Petersburg to take in the dreamy vistas of courtyards, palaces and cathedrals. In Moscow, head underground to Soviet bunkers which sheltered the nucleus of power
during
the Cold War on an adrenalin-inducing adventure in the heart of the city.
Visa Matters
Tourist visas for visits of 30 days or less can be obtained through Russian consulates, official visa centres or via tour operators like us. The requirements are literally as easy as 1-2-3 to meet. A visa application form, passport and letter of invitation are all that is needed. But, while in theory it may be smooth sailing, the practicalities of applying for a visa in a Russian consulate can make the process rather daunting. Worldwide, dreadful queues and waiting lists served with the typical lack of courtesy characterise Russian consulates. The fees official visa centres or tour operators charge are almost always more palatable than the ordeal that is an appointment at a Russian consulate. While US citizens must apply for a visa via one of the ways listed above, some nationalities can avoid the queues and fees entirely. Lucky nationals of Israel, South Africa, Qatar and the UAE among a few others can visit Russia for up to 90 days without any visa. While citizens of other countries like the EU, China, Norway, Switzerland, India, Mexico, Saudi Arabia and Turkey can also skip consulate queues by applying for a free, 8-day e-visa when going to designated tourist areas like Saint Petersburg.
For further information or assistance please visit our page dedicated to visa applications.
Best Time to Visit Russia
It is difficult to generalise when speaking about a country as vast as Russia. With regards to weather, this is especially true. While certain parts of Russia are indeed formidably freezing, down south the flocks of Russian holidaymakers on picture-perfect beaches gleefully disprove the stereotype that Russia is miserably cold. That being said, the majority of foreigners only visit north-western cities like Saint Petersburg and Moscow and hence the climate most tourists need to prepare for can be characterised as moderately cold European weather. To read about the climate of other Russian regions click here or take look at our travel map below.
When to visit the North-West of Russia:
Spring: Winds of change, fresh and vibrant, fill the air with excitement as crowds bustle in the streets to celebrate the end of winter with an endless stream of public holidays. Defender of the Fatherland Day, Women's Day, Maslenitsa (blini week), May Day and Victory Day all make for perfect excuses to visit Russia in spring, as do the bargain prices. But though Russians may mark the beginning of spring with much ado in March, snow, ice and knuckle-freezing temperatures are all possible till mid-May.
Summer: Russia isn't known for its warm summers but, in fact, the period from mid-May to August is almost always pleasant, if not a little too pleasant (temperatures can shoot to 30c and over in cities like Moscow). Prices rise with the temperature as tourists stream in to marvel at the sprawling royal estates in full bloom and the enchanting White Nights in Saint Petersburg. While the main ballet troupes embark on international tours during the summer down season, outdoor festivals like Scarlet Sails take centre stage and enthral crowds till the wee hours of the morning.
Autumn: Affectionately known as Babye Leto (Indian summer), the first few weeks of Russian autumn are often just as golden as the leaves on the parkland trees. As the 20c temperatures plunge towards the end of September, locals replace their weekend strolls with days in the near-empty museums and warm up during the crisp evenings in cozy jazz bars or lavishly-decorated theatres for the start of the ballet season.
Winter: There is no view more quintessentially Russian than that of a church's onion domes bulging out under a quilt of snow. Nor is there a season that reflects the character of the Russian people better. For those prepared to wrap up warm, a whole month of merriment and heart-warming sincerity during the New Year celebrations awaits as do a multiplicity of traditional and daredevil winter sports.
Russia Travel Map
Use the Russia Map to locate the country's main cities and find out what each one has to offer:
Holidays and Festivals
Organise your travels to Russia around one of these celebrations:
New Year Season (December to January 8th) – Undoubtedly the nation's best-loved holiday, Russia's legendary New Year's celebrations officially last a whole week. Unofficially, Russians usually pop open the champagne and start turning the music up by the middle of December when New Year's bazaars, outdoor ice-rinks and ice festivals are in full swing. Uniquely in Russia, one can see in the New Year twice. The splendour of the fireworks, feasts, family-gatherings and fun in the snow are repeated yet again on January 14th — New Year according to Russia's pre-revolutionary, Julian calendar.
Best place to celebrate: Moscow or Saint Petersburg
International Woman's Day (8th March) – "International Woman's Day" is a bit of a misnomer. While the day is most certainly feminine (chocolates and flowers are the symbols of this holiday), only ex-Soviet states and their allies actually celebrate Women's Day in a meaningful way. Along with appreciating mothers, grandmothers, sisters and aunties, this holiday also doubles as a Russian alternative to Valentines Day. This combination of feminism, family and romance may be unorthodox, but somehow it all merges together to form something really special.
Best place to celebrate: Moscow
Maslenitsa (Late February-Early March) – This holiday is the perfect excuse to indulge in all the delights of the Russian cuisine. While often translated as "Shrovetide", Maslenitsa differs starkly from Pancake Day. For starters, the pancake flipping lasts an entire week and the resulting mountains of buttery golden, paper-thin discs are quite unlike western pancakes. In Russia, pancakes or blinis are a meal in themselves. Caviar, fried mince, potatoes, condensed milk and sour cream are just some of the delights stuffed within blinis.
Best place to celebrate: Moscow and the Golden Ring
Victory Day (9th May) – Russia may well be an enigma, but it can become that bit more comprehensible if one learns some of its history. Each spring, on the anniversary of the surrender of Nazi Germany, Russia's sorrowful history is relived with great passion and pride. The grand parades, solemn ceremonies and nation-wide exhibitions provide the perfect opportunity for foreigners to peer into the Russian national psyche. Arrive a few days earlier on May 1st to see the equally grand May Day celebrations which hark back to the communist parades, with their red banners and mega-floats, banging the drum for workers' rights.
Best place to celebrate: Moscow or Saint Petersburg
White Nights Festival (June) – From May 26th to July 16th, Saint Petersburg becomes the only city in the world with a population of over 1 million to be plunged into the endless days of the polar summer. Strolling under a frothy-pink sky at midnight is a mesmerising experience in itself but, in typical Saint Petersburg fashion, even the seemingly perfect is improved upon and taken to new heights. With the bright-sky as a backdrop, Saint Petersburg's renowned performing arts troupes take to the streets and wow audiences with pirouettes, arias and rock concerts. The festivities peak at the height of June with the other-worldly high-school graduation celebration, Scarlet Sails; a recreation of a romantic Russian fairytale with a nautical twist.
Best place to celebrate: This festival is only held in Saint Petersburg
Spasskaya Tower International Military Music Festival (Late August – Early September) – Fighting for the love and admiration of the audience with the clamouring beat of drums and bellow of trombones, the annual military tattoo in Moscow is a 'battle of the bands' in the truest sense of the word. Army bands from the world over come to the Red Square for the chance to march past the monumental walls of the Kremlin in an annual show of musical and military prowess. The harmonious combination of military, classical, folk and pop music, parades and light shows makes this festival one of the brightest and most memorable events of the year.
Best place to celebrate: This festival is only held in Moscow
Curious about Russian Cuisine?
The Top Best Dishes to taste while in Russia:
Refined Tastes of Saint Petersburg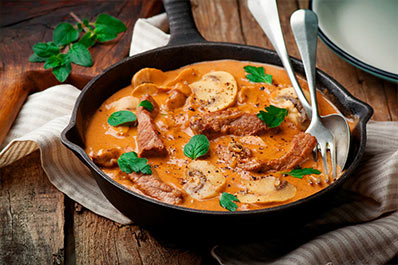 Beef Stroganoff
Finely sliced beef sautéed in sour cream and forest mushrooms served on a bed of either rice or pasta. This immensely popular dish was dreamed up in the 19th century by French chefs for the ageing Count Stroganov who couldn't chew tough meat.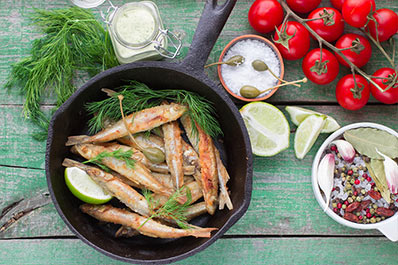 Fried Smelt
As soon as the ice on the Neva melts, quaint fishermen's boats sail through the centre of Saint Petersburg to catch bucket-loads of silvery smelt. On corner cafes and streets stands, dozens of these finger-sized fish are battered and fried to a crisp. Locals sometimes call these fish "cucumbers" because of their peculiarly fresh, cucumber smell.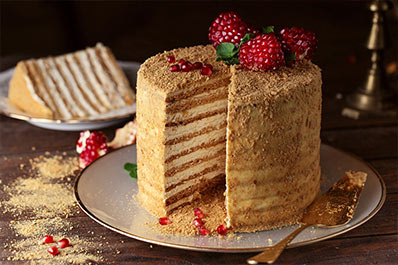 Medovik (Honey Cake)
Many of Russia's most elaborate dishes can be traced to the royal scullery of the Hermitage. Comprising of dozens of crisp, caramelised layers of honey biscuit slathered in whipped crème-fraiche, even Empress Elizabeth — who detested honey — was wowed over by the floral notes and luscious creaminess of this cake. Medovik is one of many delectable desserts created by the confectioners of the Romanov court that are still enjoyed by Russians.
Hearty Slavic Foods in Moscow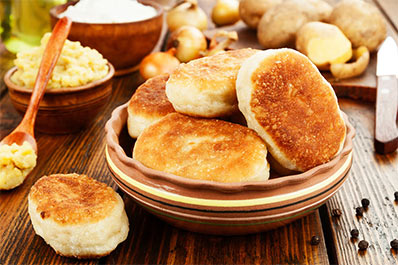 Piroshki (Pies)
Piping-hot, puffy and bite-sized, Russian piroshki are worlds-apart from flat american-pies or flaky cornish-pasties. They are an integral part of the Russian diet — the original Slavic fast food — and are especially popular in Moscow. Fillings range from savoury to sweet and change with the seasons: berries or fresh cottage cheese for summer and wild mushrooms, potatoes or baked pumpkin for winter.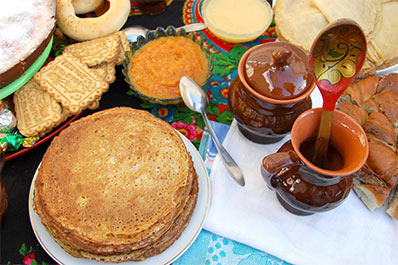 Blini
The humble blini rules supreme as the ultimate culinary achievement of Russia. The difference between a pancake and a blin may just be a pinch of yeast, a teaspoon of caviar and a dollop of cream, but these small alterations make all the difference. In Moscow's ritzy restaurants, one can savour the most sumptuous renditions of this classic Slavic dish.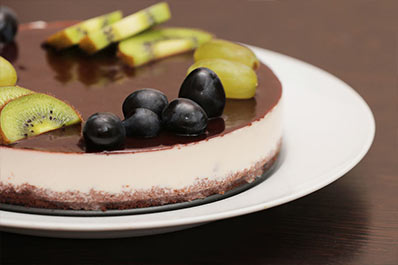 Birds' Milk Cake
Invented in 1978 by a confectioner in Moscow's Praga restaurant, the unique combination of the cake's airy vanilla mousse, entrapped in a thin layer of crisp chocolate and cushioned by a fragrant sponge is simply beyond belief. Hence, the cake's unusual name. It's so delicious it seems too good to be true — a little like mythical birds' milk.
Rib-Sticking, Fiery Siberian Dishes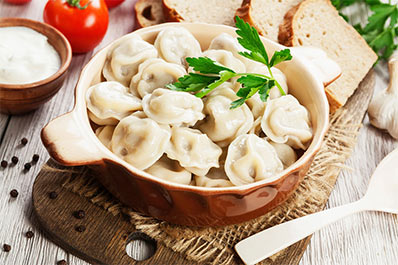 Pelmeni
Stuffed with satiating fillings and served simmering hot with a spoon of sour cream and a sprinkle of fresh herbs, Siberian pelmeni were made for firing up bellies in the harshest of winters. Throughout the ex-USSR, renditions of these petite dumplings abound. The Ukrainians have varenyiki, the Poles pierogi, but none come close to rivalling the original, meaty, umami-spiced pelmeni of the Siberian hunters.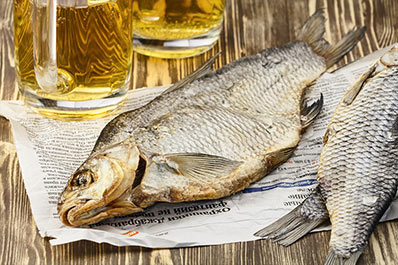 Dried fish
From the seemingly boundless waters of the Baikal, fishermen haul in copious stocks of fish. The most prodigious species of fish in Baikal, the Omul, is preserved through an age-old curing process. Long lines of these semi-desiccated fish can be seen drying in between windows, trees, market stalls and even bus stops throughout Siberia. These salted fish are then shipped throughout Russia where they are considered a delicacy.
Check out our Russia Travel Guidebook for Food for an in-depth look at:
Dos and Don'ts in Russia
DO:
Carry your passport and visa with you at all times. The police sometimes ask foreigners, especially men, to present their IDs.
Dress modestly, take off your hat and cover your hair with a scarf (if female) when visiting religious sites.
Be prepared for very cold weather in winter and sweltering days in summer.
Contact your bank in advance to notify them of your travels to Russia so as to ensure your card payments aren't subject to undue security restrictions in Russia.
Carry at least 2000 roubles in cash — card readers aren't universal. Also, American Express and Discover customers should bear in mind that these sort of cards aren't usually accepted as a means of payment.
Use taxi hailing apps or licensed cab companies to get around: it's easy and

avoids

the risks that could come with flagging down a ride.
Look twice when crossing the road, even when crossing on green.
DON'T:
Drink alcohol outside on the streets or anywhere that isn't a bar or a restaurant — it could be against the law.
Buy alcohol or cigarettes from unlicensed buyers.
Drink unfiltered tap water.
Purchase antiques of value without procuring an export certificate from the seller.
Be scared to ask for help. Most Russians understand English, even if they're too embarrassed to speak it.
Accept free drinks (foreigners are often targets for drink spiking) or invites to clubs or even museums by strangers on the street.
Speak the Language
Knowing a few basic phrases in the local language will endear you to people and open up doors for friendship and connection during your travels in Russia. Some words and sayings that may come in handy:
Phrase
Russian
Hello
Привет (Privyet)
How are you?
Как дела? (Kak dela?)
Good-Bye
До свидания (Do svidaniya)
Thank You!
Спасибо (Spasibo)
Yes/No
Да/Нет (Da/Nyet)
Where is the... (airport)?
Где... (аэропорт)? (Gde... (aeroport?))
How much is it?
Сколько это стоит (Skol'ko eto stoit?)
My name is…
Меня зовут... (Menya zovut...)
I don't understand
Я не понимаю (Ya ne ponimayu)
Excuse me
Извините (Izvinite)
Nice to meet you
Было

приятно

познакомиться с вами (Bylo priyatno poznakomitsya s vami)
Virtual Russia Travel Guide: Further Reading
At Your Service
Whether you're visiting Russia for the first or hundredth time, a little help and expertise from our passionate team in Moscow will go the way to making sure your trip to Russia is perfect from touch-down to take-off.
Our Russia travel services include: