Tajikistan Travel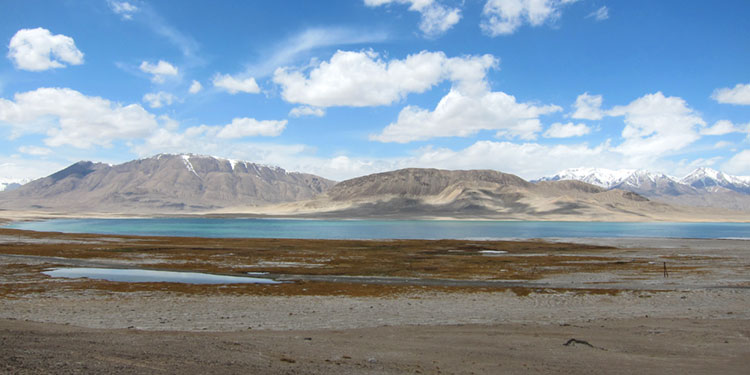 Sasiqkul Lake, Pamir Highway
Tajikistan Travel is an ascent to the Roof of the World in the Pamirs, counted among the world's tallest and most grandiose mountain chains. Yet this age-old land also has roots as deep and as ancient as time itself. Hints of antiquity are sensed among temple ruins, heard in the obscure tongue of secluded communities and seen in rich cultural overtones preserved among a persevering people who take pride in their land.
And rightfully so, for while Tajikistan may be small, it sets some lofty records in Soviet Union territory. Somoni Peak in the Pamir Mountains is the tallest summit in the entire region, while the town of Murghab is the highest city in the former USSR. Bulunkul Lake sees the coldest temps in this huge swath of land, and the 13-meter-high Buddha statue discovered near Kurgan Tube (Qurgonteppa) is Central Asia's tallest Buddha by far. Beautiful Nurek Dam is one of the largest of its kind in the world, while traces of the region's oldest language can still be heard in the Yagnob Valley. Welcome to Tajikistan, land of record-breaking discoveries!
Your Guide to Tajikistan by a Local Travel Expert
Is Tajikistan Worth Visiting?
Despite having all but flung its doors wide open to the outside world in recent years, many travelers remain unaware that the joys of Tajikistan are not limited to tenacious backpackers alone. Amateur anthropologists and history buffs, nature lovers and curious globetrotters alike will appreciate the land's finer qualities:
Tajikistan is authentic, free by and large from manufactured tourism and still deeply rooted to its intrinsic culture. Anyone desiring to see the world from a different angle will find new perspective on the roof of the world as they come ready to learn from an ancient society.
Tajikistan is rustic, offering lakes, mountain ranges, waterfalls, remote villages, lush valleys and winding backways to anyone longing to step away from the hectic pace of life and rediscover true beauty.
Tajikistan is exciting, and while this may sound trite, there really is an air of anticipating the unknown in this land. Come prepared to expect the

unexpected

and soak up every minute of your journey!
Your Dream Vacation
Hike in the footsteps of Alexander the Great. 4WD your way along one of the highest mountain arteries on earth. Bring the pages of history to life among city ruins dating back thousands of years. Trace the spread of Zoroastrian, Buddhist and Islamic thought through forgotten byways and valleys. Learn from village families as you share a local meal under the starry sky.
The country abounds in opportunities too numerous to list, but we've done out best by highlighting some of our favorites to consider as you plan your Tajikistan itinerary:
Top Outdoor Experiences:
Top Historical Experiences:
Top Cultural Experiences:
Visa Matters
Easy-to-obtain Tajikistan visas are just one more reason to add this nation's stamp to your passport. Citizens of over 20 Asian and East European nations can receive 30-90 day visa-free entry, while passport holders of most other countries are eligible to obtain a visa upon arrival or a simple electronic visa, valid for up to 45 days. Tourists who do require a Letter of Invitation may receive visa support through Advantour or other locally-based travel agencies.
Is Tajikistan Safe for Travel?
Tajikistan's government places a high priority on the safety of its tourists, a sentiment shared by the majority of its population. Most people you meet during your travels will be eager to welcome you to their homeland or provide you with needed assistance. In fact, many tourists count the Tajiks' warmth among the highlights of their travels. Violent crime involving foreigners remains low, and an awareness of high-altitude weather conditions, local customs and basic safety measures will go a long way in enhancing your travel experience.
Choose Your Transport
Tajikistan's accessibility has grown exponentially in the past decade, and today direct flights link capital city Dushanbe with some of the world's busiest hubs, including Frankfurt, Istanbul, Moscow, Dubai and Saint Petersburg. National carrier Tajik Air is by far the foremost provider, although well-known companies including Turkish Airlines, FlyDubai and Kazakhstan-based Air Astana also offer regular routes.
Thanks to its high-altitude terrain and developing transportation system, Tajikistan's land border crossings and in-country transport via taxi or bus will doubtless provide an element of adventure to your travels. For those less keen on developing their aptitude for patience and flexibility, pre-arranging private transport is the most advisable, and comfortable, option.
Tajikistan Travel Seasons
If you wish to tour Central Asia but have an aversion to deserts, Tajikistan is a good fit for you! The wettest country in the region, it joins neighboring Kyrgyzstan in claiming summer, not spring, as peak tourist season. Yet each time of year holds unique charm in Tajikistan:
Winter: Clearly the ideal time of year for skiing and outdoor sports, winter transforms Tajikistan's mountains into a frosty wonderland, beautiful without a doubt yet potentially dangerous for all but the most experienced mountaineers.
Autumn: Sporadic rains and chilly evenings chase many visitors away during October and November, yet this is a great season to visit if you wish to stick to Dushanbe and other lower-altitude destinations, where golden autumns hues can take Tajikistan's beauty to a whole new level.
Spring: Early spring rains lead to truly gorgeous landscapes by May, when regular mountain travel again becomes possible. Spring in Tajikistan is filled with holidays and is ideal for a mountain-city combo tour, as neither will be insufferably hot or cold.
Summer: Sunny but not as sweltering as Uzbekistan, it is the perfect season for cross-country travel, including Pamir tours, and for swimming, camping, hiking and other outdoor excursions.
Tajikistan Travel Map
Use the Tajikistan map to locate the country's major destinations and find out what each one has to offer: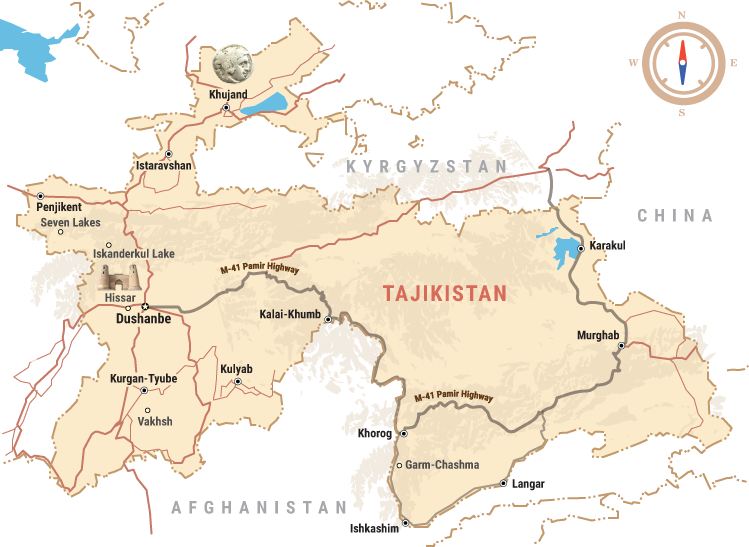 How Many Days Do You Need in Tajikistan?
While Tajikistan can be appreciated even on a quick jaunt from neighboring Uzbekistan or Kyrgyzstan, the country is best experienced at a local pace – unhurried and relaxed. Use our Tajikistan itinerary as a rough guide which can be adapted according to your personal preferences and interests.
At Your Service
Tajikistan can be a tricky land to navigate, as a well-coordinated system of in-country travel is not yet established in the Pamirs and other rural areas. We at Advantour are happy to assist you in any way needed, from answering initial visa inquiries and pre-booking train and airline tickets to providing airport pickup and full-length tours.
Our Tajikistan travel services include:
Tajikistan Holidays and Festivals
Tajikistan's community-centered, ever-hospitable culture reaches its full display of grandeur during the nation's most beloved holidays. Joining all of Central Asia in extravagant celebrations of Persian New Year (Navroz) and independence from the Soviet Union, Tajikistan also hosts some truly unique festivals which could just become the highlight of your stay:
Navroz (March 21) – Horse races, kite-flying, splendid performances, lighthearted games and special holiday foods are celebrated by joyful crowds in national dress.
Best place to celebrate: Dushanbe, Hissar or Khujand
Sayri Guli Lola Tulip Festival (late April, date varies) – The full-on arrival of mountain tulips is celebrated with two days of dancing, parades, traditional wrestling contests and feasts of plov and homegrown produce.
Best place to celebrate: towns and villages across northern Tajikistan
Roof of the World Festival (July, date varies) – Pamiri culture and customs are brought to the spotlight through a huge festival of song, dance, crafts, poems and food, while musical guests from around the world strum international tunes in shows of solidarity.
Best place to celebrate: Khorog
At-Chabysh Festival (early August) – Also known as the Buzkashi-Kozladrani Festival, this spinoff of Roof of the World Festival celebrates Pamiri Kyrgyz culture with national horse races, arts and crafts, Kyrgyz yurt displays and culinary treats.
Best place to celebrate: Murghab
Independence Day (September 9) – Tajikistan remembers its hard-earned independence through traditional and pop concerts, fireworks and street carnivals designed to entertain young and old alike.
Best place to celebrate: Dushanbe
Curious about Tajik Cuisine?
Tajik culture has absorbed elements of Persian, Turkic and Russian culture over the centuries, and local cookery is no exception. From fast foods to filling home-cooked specialties, be sure to taste-test these local favorites:
Qurutob – Salty yogurt is poured over bread and topped with onions and veggies in this national dish
Osh – Perfectly seasoned rice and beef simmered with yellow carrots, raisins, chickpeas and garlic
Mastoba – Hearty local soup of meat, rice and vegetables topped off with yogurt and herbs
Belyash – Melt-in-your-mouth fried dough patties stuffed with potatoes or various meats
Sambusa – Pockets of flakey dough perfected with flavorful fillings of meat, pumpkin or potato
Halvaitar – Flour and sugar are dissolved and flavored with nuts and vanilla in this irresistible dessert
Kaurmo Shurbo – Satisfying soup filled with tender chunks of meat, boiled potatoes and vegetables
Katlama – This flaky layered dough, fried and served in round loaves, goes great with soup or yogurt
Chaka – Scrumptious sour yogurt sauce poured over dishes and scooped up with warm slices of bread
Read on for a more in-depth look into Tajikistan cuisine.
Dos and Don'ts in Tajikistan
Tajikistan does not have strict laws in terms of dress code or religion, but knowing a bit of cultural etiquette can make your trip more enjoyable, both for you and the Tajiks! Use our friendly Tajikistan travel advice as a starting point, and when in doubt, ask your guide or travel coordinator for further tips along the way:
DO:
Dress conservatively in rural areas out of respect for local customs
Carry toilet paper with you wherever you go, as it runs in short supply almost everywhere
Drink only bottled or filtered water to avoid unpleasantries during your travels
If going as a guest to someone's home, bring a gift and remove your shoes before entering the house
Secure the necessary permits for travel to restricted areas (i.e. Gorno-Badakhshan) before you hop on the plane. While possible to obtain in country, it will require extra time
DON'T:
Step on or over the tablecloth, traditionally spread across the floor, as this is considered rude
Eat or drink all the food and tea served to you in someone's home unless you wish for seconds
Be offended by personal questions regarding your salary, marital status, etc., as such questions are normal
Plan to travel to the Pamir Mountains without a pre-arranged guide or vehicle
Forgot the opportunity to

experience

Tajikistan's diversity through travel to different cities and regions
Speak the Language
Tajik, a Persian language most closely related to Dari and Farsi, is the only official language of Tajikistan. Russian, although spoken by fewer Tajiks now than in the 20th century, can still prove useful in the capital and among the older population.
Phrase
Tajik
Russian
Hello
Informal: Салом (Salom)
Formal: Aссалому алейкум (Assalomy alaykum)
Привет (Privyet)
How are you?
Шумо чи xeл? (Shumo chi hel?)
Как дела? (Kak dela?)
Good-Bye
Хайр (Hayr)
До свидания (Do svidaniya)
Thank You!
Рахмат (Rahmat)
Спасибо (Spasibo)
Yes/No
Ҳa/Не (Ha/Ne)
Да/Нет (Da/Nyet)
Where is the... (airport)?
Аеропорт кани? (Aeroport kani?)
Где... (аэропорт)? (Gde... (aeroport?))
How much is it?
Ин чанд пул аст? (In chand pul ast?)
Сколько это стоит (Skol'ko eto stoit?)
My name is…
Номи ман... (Nomi man...)
Меня зовут... (Menya zovut...)
I don't understand
Нафаҳмидам (Nafahmidam)
Я не понимаю (Ya ne ponimayu)
Excuse me
Мебахшед (Mebahshed)
Извините (Izvinite)
Nice to meet you
Aз вохуриамон шод ҳастам (Az voxuriamon shod ḩastam)
Очень

приятно

познакомиться
(Ochen priyatno poznakomit'sya)
Virtual Travel Guide to Tajikistan: Further Reading
Did You Know That...
Tajikistan is almost completely mountainous, with 93% of its land dominated by peaks.
Tajikistan is the smallest of the Central Asian nations, measuring just over 143 thousand square kilometers.
Tajik is the only language in Central Asia which is Persian and not Turkic-based.
Nurek Dam in western Tajikistan is the second-tallest dam in the world.
Over one-third of the nation's income is derived from the wages of Tajiks who work abroad and send their salary back to locally-based family members.
Traces of Sogdian, the Silk Road lingua franca, can still be heard in the language of the Yagnobi people of the Yagnob Valley.