Turkmenistan Travel Guide

Before Arrival
It is better to plan Turkmenistan travel for March-April or October-November, as summer is uncomfortably hot. If you wish to catch a major festival, book your trip around March 21 to see Navruz holiday. The link below provides list of Turkmenistan holidays; catch or avoid them to make the best of your trip.
Many of our tourists find worth visiting other Central Asia countries in one go. Check out combined, group and individual tours we offer in Turkmenistan.
Turkmenistan has one of the most strict visa policies among Central Asia countries. Almost all foreign citizens should have Turkmen visa to enter the country. Visa application requires Visa Support/Letter of Invitation (LOI) from a travel agency and usually takes 3-4 weeks. Please check out the links below for details of visa procedure and send us request for Turkmenistan visa support.
Temperature & Precipitation
Medications & Vaccination
There is no need to get vaccinated before your travel to Turkmenistan.
Import of medicine and drugs have restrictions that mainly applies to comforting, pain-killers and sleeping pills. In our Turkmenistan travel guide we have compiled a list of restricted medical drugs for importation.

List of restricted medicines.pdf
The best way to reach Turkmenistan is by a flight to Ashgabat. National carrier Turkmen Airlines and several international companies operate flights from/to Ashgabat. It is also possible to arrive in Turkmenistan via land borders from neighboring countries – Uzbekistan, Iran, Kazakhstan and Afghanistan. There is also a ferry connection between Turkmenistan and Azerbaijan across the Caspian Sea, but this would be the hardest way.
Upon arrival in Turkmenistan, foreign citizens should receive an immigration card, where all hotel stays will be noted. Every foreigner arriving in Turkmenistan should get registered at the Department of Tourism and Sports of the Republic of Turkmenistan within three working days, excluding arrival day. Our travel packages already include it, so you do not need to worry about it. Upon arrival and departure you will be requested to fill out customs declaration form in two copies. You can carry in any amount of money, but you carry out not more than you have declared on arrival.
After Arrival
Restrictions is one of the most important sections of our Turkmenistan travel guide. Turkmenistan fights against smoking, thus it is allowed to smoke only in designated areas. There is a fine for smoking in the street and public places. Consequently, it is difficult to purchase tobacco products. Travelers should also be aware that internet access in Turkmenistan is restricted meaning that many messengers and popular social networking websites do not function in the country.
Although Turkmenistan cannot boast with the abundance of hotels, you will find there decent 3 to 5 star accommodation. As usually, the best hotels are located in the capital city, Ashgabat. Other cities also offer good hotels. Check out hotels in the touristic cities of Turkmenistan and book your stay.
Choose your travel style
Group Tours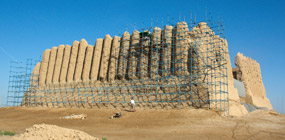 Multicountry Tours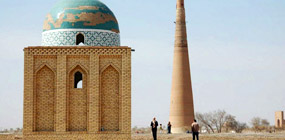 Cultural Tours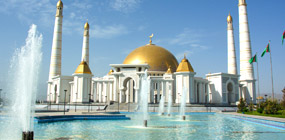 One-day Tours