Turkmenistan Travel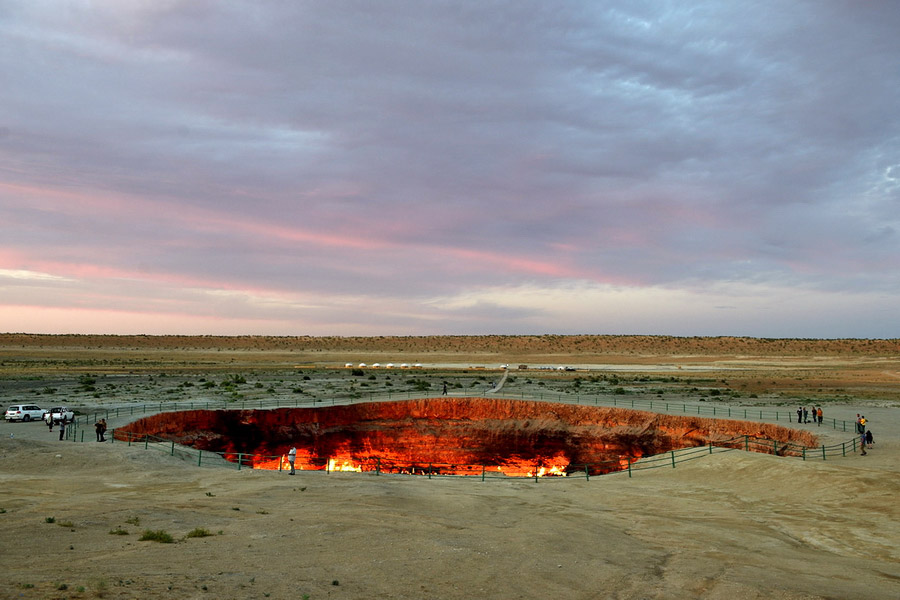 Turkmenistan is like all hidden treasure - hard to access and a little dusty, yet worth every ounce of effort and more. Turkmenistan travel will take you through the mysterious Karakum Desert, replete with Silk Road secrets and half-buried ruins. Just when you think you've left civilization behind, age-old traditions preserved by long-robed desert villagers will leave you stunned and impressed. On the desert's sandy cusp, the Caspian Sea materializes like a long-awaited mirage almost too good to be true.
Capital city Ashgabat is an experience in itself, a trophy of grandeur clad in marble that embodies the definition of extravagant. Meanwhile, the mummified cities of Merv, Kunya-Urgench and Gonur Depe sprawl their sleepy foundations beneath the sun's enduring glint. Akhal-Teke horses, the pride of all Turkmen, are a living link to the nation's warring, nomadic past, a history barely detected in the poised, courteous manner of its citizens today who welcome curious visitors with a reserved yet distinct air of hospitality.
Turkmenistan Guide by Local Travel Expert
Is Turkmenistan Worth Visiting?
Regarded among the least-visited countries on earth and covered in nearly 75 percent desert, the question of what attracts visitors to Turkmenistan is a valid one. Consider some of the top reasons why tourists who have gone before you have fallen in love with this far-flung oddity:
Turkmenistan is exotic in every sense of the word, a country lost in time whose tribal roots and ancestral ties to the Great Silk Road are still palpable everywhere you turn. Its traditional culture and sheer remoteness appeal to travellers who desire authentic, unpredictable experiences in one of the few corners of the planet not yet transformed by globalization.
Turkmenistan is eccentric, a land determined to be unique in any way possible. From strange holidays to distinctive headdresses to Guinness-worthy attractions, this country will not be put in a box. Vacationers who are seeking an out-of-the-ordinary destination sure to defy all your previous travel experiences need look no further.
Turkmenistan is endearing, not only for its uniqueness but for the history that exudes from its dusty ruins, the graceful and dignified people who inhabit its towns and the unmatched beauty of its prize-winning carpets, pure-bred horses and natural attributes. Those who wish to be impacted during their travels on a deeper, heartfelt level should consider Turkmenistan travel.
Your Dream Vacation
We realize that few people have ever placed 'Turkmenistan' and 'dream vacation' in the same sentence, which is a pity considering all that's packed into this destination.
History buffs can spend days roaming archaeological sites and clambering through archaic city remains, while outdoor adventurers camp, trek and off-road their way through Turkmenistan's wild terrain. Animal lovers will be delighted to come face-to-face with more camels than they've seen in a lifetime and meet true horse whisperers caring for Turkmen's finest steeds. Cultural enthusiasts can lose themselves in the museums, bazaars and quirky monuments in the cities before brushing shoulders with desert and mountain dwellers in places you likely won't find on a map. All will return home with stories to recount, memories to last a lifetime and a new land etched on their hearts.
Our Turkmenistan tourism packages vary in length from day trips around major cities to extended cross-country expeditions and tours that spill over into neighboring Uzbekistan and beyond. Each guide and driver is experienced, knowledgeable and up-to-date on all regulations pertaining to foreigners, and every tour has been constructed with your safety and optimal experience in mind.
There is no lack of things to do in Turkmenistan. Go beyond imagination into reality by checking out some of the greatest adventures awaiting you:
Top Historical Experiences:
Top Cultural Experiences:
Top Outdoor Experiences:
Turkmenistan Visa Matters
Turkmenistan's visa process, from which no one is exempt, has duly earned the country the reputation as the most challenging destination to visit in Central Asia. On the plus side, Advantour or your selected travel agency will walk you through the process, and most* of our clients who apply for the tourist visa do indeed receive it. And just remember, the extra hassle is part of the unusual experience that is Turkmenistan and well worth the prize!
Tourist visas will be granted by the Turkmenistan Embassy in your country only to individuals who have pre-booked a guided tour of the country, while transit visas are less commonly issued for up to 5 days to those who can prove their need to pass through the country by land or air during their travels.
Learn all about visa requirements and support here.
Is Turkmenistan Safe for Travel?
What Turkmenistan lacks in accessibility and tourist-friendly visas it makes up for in personal safety, which is all but guaranteed once you have arrived. The country is a very safe destination for travellers, with petty crime extremely uncommon and violent offenses even rarer.
Unless you're passing through on a transit visa, independent travel in Turkmenistan is not permitted. You will be required to travel with a licensed guide and will thus be accompanied at almost all times. Most of these chaperones really do serve as an invaluable bridge into the culture, a handy interpreter and an experienced guide through the endless wilderness, whose heat index, natural wildlife and sheer size are fare more likely to pose a threat to unprepared trekkers than acts of human crime.
When in country, follow the obvious precautions of keeping your valuables in a safe place and abide by local law. In reality, very few tourists encounter safety or legal issues in Turkmenistan, yet be aware that failure to adhere to local guidelines is more likely to cause trouble for your local contacts than it is for you.
Choose Your Transport
Turkmenistan may be isolated from the global community, yet even this hermit enclave is easily accessible by a network of flights that connect it to major cities including Istanbul, Dubai, Moscow, St. Petersburg, Delhi, Bangkok and Almaty. Transcontinental sojourners will be pleased to know that there are also several land borders with Uzbekistan and Iran that are usually open to foreigners.
Most tourists who wind up in Turkmenistan are accompanied by a mandatory guide who will organize all of your in-country travels in advance. Typical modes of transportation include private vehicles in the city, 4WD for desert treks and inexpensive flights for covering longer distances. Train travel, although possible with a guide, is less common than in neighboring Kazakhstan and Uzbekistan.
Turkmenistan Travel Seasons
Turkmenistan's desert temps may have earned it the title of 'Hottest Country in Central Asia', yet there is far more to its climate and terrain than just sand and heat. When booking your Turkmenistan tour, consider the unique qualities of each season:
Winter: Turkmenistan's winters can be surprisingly cold in the mountains and the northern regions which brush Uzbekistan's border. The country also welcomes most of its precipitation during this season, so come prepared to weather the snowfall, especially in the desert.
Summer: July and August in the Karakum Desert are not for the faint of heart, yet for those willing to brave the heat, Turkmenistan's summers are the ideal time to relax at Awaza's Caspian Sea coast, camp in the Kopet Dag Mountains and have wide city boulevards all to yourself.
Spring: Central Asia is most glorious in spring, and Turkmenistan is no exception. Mild weather, festive holidays, budding landscapes and fresh produce paint the nation in an irresistible array of colors from March – June.
Autumn: A short-lived but pleasant season squeezed in between the scorch of summer and chilly precipitation of winter, autumns are filled with delicious fruits and temperate weather in Turkmenistan. Hiking and other outdoor activities are at their best in autumn and spring.
Turkmenistan Travel Map
Use the Turkmenistan map to locate the country's major sites and find out what each one has to offer: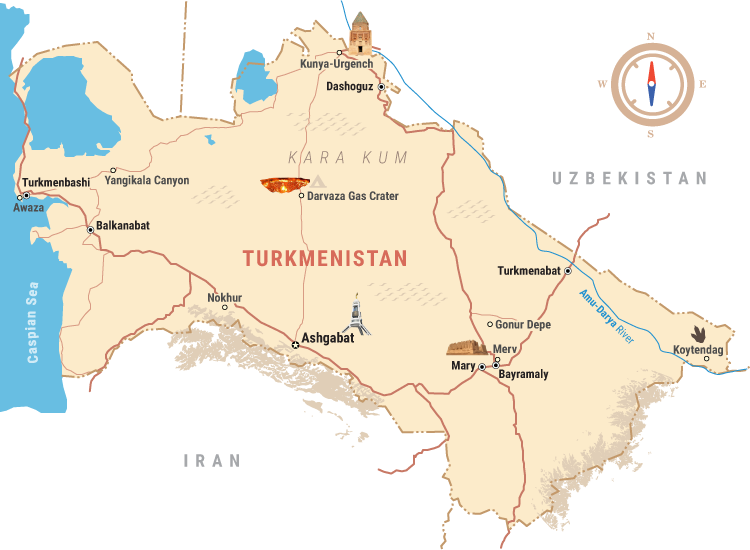 How Many Days Do You Need in Turkmenistan?
Every trip to Turkmenistan will be uniquely patterned after the interests, dreams and schedules of each individual traveler. If you're looking for a general blueprint to follow, however, these guidelines are based on the experiences of numerous tourists before you and can be a helpful starting point for planning your Turkmenistan Travels:
At Your Service
Turkmenistan can be a challenging country to navigate even for the most experienced of travelers. Advantour stands ready to provide every level of assistance for your trip, from basic advice, hotel reservations and airline bookings to visa support and organized group or private tours.
Our Turkmenistan travel services at a glance:
Turkmenistan Holidays and Festivals
Although popular regional holidays such as New Year, Women's Day (8th March), Persian New Year (21st March) and Independence Day (27th September) are celebrated in Turkmenistan, if you wish to align your visit with a less conventional holiday , we recommend you aim for one of the country's more unusual observances:
A Drop of Water is a Grain of Gold Day (1st Sunday in April) –The scarce and precious commodity of water, and those who preserve it in this desert land, are given special focus with outdoor festivals, feasting, sports competitions and an unveiling of the latest hydraulic equipment.
Best place to celebrate: parks in Ashgabat
Turkmen Horse Day (last Sunday in April) – Turkmenistan's national Akhal-Teke horse is commemorated with equestrian games, an International Fair, plenty of song and dance and a beauty contest for the horses.
Best place to celebrate: Equestrian Sports Complex near Ashgabat
Turkmen Carpet Day (last Sunday in May) – Since 1992, the country's prized carpets have received special recognition on this day through exhibitions, conferences, craft fairs and awards ceremonies for the nation's most outstanding carpet weavers
Best place to celebrate: Turkmen Carpet Museum in Ashgabat
Day of the Turkmen Melon (2nd Sunday in August) – A melon with its own holiday should not be taken lightly. The day is commemorated with concerts, competitions and, of course, plenty of melon-tasting.
Best place to celebrate: Ashgabat, where the largest celebrations are held
Neutrality Day (12th December) – Turkmenistan's international status as a nation of permanent neutrality is recalled on this day with solemn ceremonies, parades and concerts.
Best place to celebrate: Ashgabat
Curious about Turkmen Cuisine?
Local cuisine blends regional favorites with uniquely Turkmen creations. Our list of Top 10 meals to sample while traveling in Turkmenistan:
Ichlekli (Shilekli)
Juicy oven-baked shepherd's pie traditionally cooked by burying in hot sand and embers.
Shashlyk
Grilled and marinated meat or vegetables, best when cooked with firewood from the saxaul desert tree.
Dograma
Small chunks of stewed mutton or beef mixed with raw onion, breadcrumbs and bouillon.
Dograma chorba
The original dograma was so good it earned this soupy spinoff.
Plov
Fried rice dish of carrots, onions and chicken, sturgeon, beef or mutton flavored with garlic, cloves or dried fruits.
Chekdirme
Lamb rib stew eaten with chorek, a local flatbread baked in a clay oven.
Melons
If you think fruit doesn't belong on a list of meals, you've never tasted Turkmenistan's irresistible melons.
Gutap
Triangular deep-fried flat pies stuffed with savory fillings, including vegetarian.
Gazanlama
Our meat-heavy lineup ends with this ancient shepherd's dish of aromatic lamb, garlic and paprika.
Read our Culinary Turkmenistan Travel Guidebook for a more in-depth look at the country's national dishes.
Dos and Don'ts in Turkmenistan
If you're planning a trip to Turkmenistan, chances are good that you already know a bit about the nation's customs and eccentricities. Nevertheless, these pointers, reflective of common-sense courtesy and country-specific constraints, are good to bear in mind.
In Turkmenistan, DO:
Come prepared for potential extreme heat in summer (it is the desert, after all) and surprisingly cold temps during winter, particularly at night
Recognize that many historical and religious sites are considered sacred by the Turkmen, so avoid speaking loudly, goofing off or interfering with rituals which may be very important to those performing them
Observe Turkmenistan rules and customs, even if you do not agree with them
Respect gender boundaries, when possible directing your questions or friendly interactions to someone of the same sex
Come with a willingness to learn,

observe and ask appropriate

questions along the way
In Turkmenistan, DON'T:
Expect a strong internet connection or access to many social and news sites; just take it in stride and enjoy your present surroundings!
Voice your opinion on political matters or speak negatively of the leadership
Take photos of people or government buildings without first asking permission
Expect to find many international products, be it food, clothing or medicines. It's best to bring whatever you think you may need along with you
Smoke in public, as this is strictly prohibited
Speak the Language
The Turkmen language is closely related to Turkish. It distinguishes itself in Central Asia with a Latin-based script which is similar to the Turkish alphabet while nevertheless boasting of letters all its own. Russian may prove less useful in rural areas, but is nevertheless the second most widely spoken language in the country.
Phrase
Turkmen
Russian
Hello
Salam (Sa-laam)
Привет (Privyet)
How are you?
Nähili, gowumy? (Naaili, goymih?)
Как дела? (Kak dela?)
What is your name?
Adyňyz näme? (aadingiz nameh?)
Как вас зовут (kak vas zavut?)
My name is…
Men düşünmedim (Men dooshinmedim)
Меня зовут... (menya zavut...)
Good-Bye
Hoş, sag bol /(Hosh, saghboal)
До свидания (do svidaniya)
Thank You!
Köp sag bol (Koap saghboal)
Спасибо (Spasibo)
Yes/No
Hawa/Ýok (Hawwo/Yoak)
Да/Нет (Da/Nyet)
Where is the... (airport)?
(Aeroport)… nirede? (Aeroport nirde?)
Где... (аэропорт)? (Gde... (aeroport?))
How much is it?
Näçeden? (Naçhehden?)
Сколько это стоит (Skol'ko eto stoit?)
I don't understand
Men düşünmedim (Men dooshinmedim)
Я не понимаю (Ya ne ponimayu)
Excuse me
Bagyşlaň (Bagishlaang)
Извините (Izvinite)
Nice to meet you
Tanşanymyza örän şat (Tanshnymyza oerƏn shat)
Было приятно познакомиться с вами (Bylo priyatno

poznakomitsya

s vami)
Virtual Turkmenistan Travel Guide: Further Reading
Did You Know That…
The flag of Turkmenistan has the most intricate design of any national flag in the world, thanks to the detailed carpet emblem imprinted on it.
Turkmenistan boasts of its own Jurassic Park, the Dinosaur Plateau in the Koytendag Mountains, containing 2500 footprints of ancient creatures.
Turkmenistan is the only country in Central Asia where it is illegal to eat horse meat.
What Turkmenistan lacks in water and fertile soil, it makes up for as the world's 4th largest producer of natural gas.
Consequentially, gas, water, salt and electricity are provided to citizens for free.
Capital city Ashgabat boasts of the highest density of white marble buildings in the world.