Azerbaijani Pilaus
Variety of pilaffs in Azerbaijani cuisine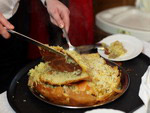 Azerbaijani cuisine boasts a vide variety of pilaus. The basic ingredients are rice and oil, but meat sometimes is replaced with vegetables, greens, eggs and even fruit.
"Parcha-Doshamya" Pilau
Big chunks of mutton are fried. Browned onion, fruits, chestnuts, caraway seeds are added and stewed until ready. Rice, fruits, chestnuts are added separately. Seasoned with oil and cinnamon.
Shyuiud Pilau
Pilau is cooked in traditional way, mixed with chopped dill. Omelet is made of eggs and milk and cut into diamond-shaped pieces. Omelet pieces are put on pilau with dill. Seasoned with oil.
Toyug Pilau
Chicken pilau with fruits, caraway seeds, and other spices.
Chykhyrtma Pilau
Chicken pilau with lemons, saffron and whipped eggs.
Shashandaz Pilau
Pilau with fried eggs, and cinnamon.
Gyimya - Pilau
Minced mutton is fried in oil. Cornel and seedless grapes, boiled and cleaned chestnuts are added. The resulting mixture ( gyimya) is cooked until ready . Rice is served separately to garnish gyimya. Seasoned with oil and cinnamon.
Khamdoshama PIlau
Pilau with dried fruits.
Lobia-Chilov Pilau
Pilau from beans and seedless grapes
Fisinjan-Pilau
Pilau with, walnuts, pomegranate, cinnamon.
Shirin-pilau
Fruits are stewed with sugar. Rice is used for making pilau. Fruits are mixed with pilau and steamed until ready. When served first rice is put on a plate mound-like, fruits are put on its top.