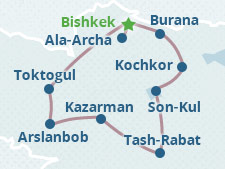 13-day tour in Kyrgyzstan is one of the best ways to learn the country of snowy mountains, crystal clean lakes and hospitable nomad people. This extended tour will allow you to see almost all richness of Kyrgyzstan: architectural monuments, fruitful valleys, harsh high-mountain passes and many others. Kyrgyzstan trip will not leave you indifferent.
Tour itinerary:
Day 1: Bishkek – Ala-Archa
Arrival in Bishkek early in the morning. Meeting at the airport and transfer to the hotel. Rest. Sightseeing Tour: visit to the Ala-Too and Victory Squares, Duboviy Park (Oak Park), Museum of Fine Arts and Osh Bazaar. After lunch transfer to the Ala-Archa National Park (40 km). In an hour you will be in the alpine gorge through which the fast flowing Ala-Archa River runs, flanked by tall, snow-covered peaks, steep-sided, fir - forested mountain slopes and alpine meadows cowered with flowers. Hiking from the Alpine camp (2200 m) to Ak-Say waterfall (35 m, on the altitude of 2700 m). Transfer to Bishkek. Overnight at the hotel.
Meals: Breakfast

Day 2: Bishkek – Toktogul
Transfer to Toktogul. On the way you will be passing one of the most beautiful reservoirs in Kyrgyzstan. Family run accommodation.
Meals: Breakfast / Dinner

Day 3: Toktogul - Arslanbob
After breakfast transfer to Arslanbob. There is the largest fruit-walnut forest in the world which covers 600 000 hectares. Arslanbob itself lies at 1700 m. a. s. l. Dinner and overnight at the homestay.
Meals: Breakfast / Dinner
Day 4: Arslanbob - Kazarman village
After breakfast transfer to Kazarman. Today you cross Pamir Alai Mountains and drive to the heart of Tien Shan Mountain range. The beauty of nature will captivate you. Dinner and overnight at the homestay.
Meals: Breakfast / Dinner
Day 5: Kazarman - Tash Rabat Caravanserai
After breakfast transfer to the Tash Rabat, towards Chinese border. From XI century, the Tash Rabat- Caravanserai was used as a fortress by travelers on the Great Silk Road. Nowadays, this medieval fortress is one of the biggest and complicated stone buildings. It does not have any analogs from Goby desert to Kaspian Sea. Overnight in the yurt (nomadic dwelling).
Meals: Breakfast / Dinner
Day 6: Tash Rabat - Son Kul Lake
In the morning transfer to the unique lake «Son-Kul» (3016 m above sea level). In this astonishing place, you can see hundreds of flocks and many different yurts, where you will be invited to taste national drink 'Kumys», made of mare's milk, and also bread and many other dairy products, and jam. Dinner and overnight are in yurt.
Meals: Breakfast / Dinner
Day 7: Son Kul Lake - Kochkor village
After breakfast transfer to Kochkor village (120 km). On arrival at Kochkor you will visit a felt carpet workshop where you can watch a process of making Kyrgyz national felt carpets. Dinner with a Kyrgyz family and overnight at the home stay.
Meals: Breakfast / Dinner
Day 8: Kochkor village - Burana Tower - Bishkek
After breakfast transfer to Bishkek city. On the way visit to the Burana Tower, which is located on the territory of Karahanid's capital - Balasagun. On arrival in Bishkek, you will have free time till evening. Farwell dinner. Overnight at the hotel.
Meals: Breakfast / Dinner
Day 9: Bishkek - Airport
Transfer to the airport (30 km). End of the tour.
Meals: Breakfast
Accommodation:
City

Deluxe Option

Budget Option

Bishkek

Hotel (****)

Guest House (**+)

Chon-Kemin

Ashu guest house 2*

Son Kul

Yurts (5-6 people in 1 yurt)

Naryn

Hotel 2*

Home stay (B&B)

Tash-Rabat

Yurts (5-6 people in 1 yurt)

Kochkor

Home stay (B&B), family run accommodation

Tamga

Tamga guest house 2*

Karakol

Green Yard Hotel 3* or similar

Home stay (B&B)

Issyk-Kul

Raduga Hotel (***) or similar
Prices for 2016:
Number of travellers

Tour price per person

Deluxe option, USD

Tour price per person

Budget option, USD

1*

2725

2480

2

1595

1460

3

1285

1145

4

1105

965

5-6
1080
945

7-8

960

820

9-10

890

750

Single supplement

200

100

Full board for a group 1-4 pax

85

Horse per day

20

Horseman per day

25
*The price for 1 pax already includes single supplement
**Single accommodation is possible in all places except for Son Kul and Tash-Rabat.
Price includes:
Twin room accommodation, including early check in on day 1;
Meals – groups of 1-4 people - as stated in the program; groups of 5-10 people – full board;
Transportation throughout the whole trip;
English speaking guide (except for the day 13 – transfer to the airport);
Sightseeing tour program in all cities according to the program, including entrance fees to sights, museums. Camera/video fees are not included and paid separately;
Mineral water;
Felt carpet workshop in Kochkor.
Price does not include:
Hotel charges for additional services;
Single supplement;
Consular fees paid upon collection of the entrance visa to Kyrgyzstan;
Visa support;
Registration in Kyrgyzstan;
Payment for early check in (except for the Day 1) and late check out (check in time is at 13-14.00, check out time is at 12.00);
International airfares;
Horse riding;
Personal insurance and items not mentioned above.