Azerbaijani Fish Dishes
Cooking the fish dishes in Azerbaijani cuisine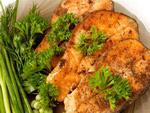 Sazan in Tendyr
A whole fish is gilled, cleaned, washed, peppered, salted and baked in tandyr . Served with sliced onion and lemon, chopped parsley.
Stuffed Fish
The whole fish is gilled, cleaned and washed. Onion is fried on a pan, crushed nuts wetted and chopped cornel, washed seedless grapes are added and mixed. Fish is salted, filled with the mixture and baked in oven.
Fried Salmon
Salmon is gilled, cut in slices, peppered, salted, floured, fried from both sides on a frying pan and put in oven for a few minutes until ready. Served on a plate garnished with onions, greens.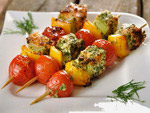 Sturgeon Shish Kebab
Sturgeon is prepared and cut into pieces, salted, peppered, coated with sour cream and roasted in a chargrill. Served with fresh tomatoes and onions.
Fish Cakes
Sturgeon fillet is minced with onion. Salt, ground pepper and hard white bread soaked in milk are added, mixed. The mixture is used for making cakes which further are crumbed and fried in oil. Served with fresh vegetables.
Fish Dolma
Fish fillet, onion and coriander are minced. Grape leaves are scalded in boiled water. The fish mixture is then wrapped in grape leaves and put in a saucepan. Dolma is submerged in fish bones broth and cooked until ready. Served with matsoni.