Azerbaijani Cuisine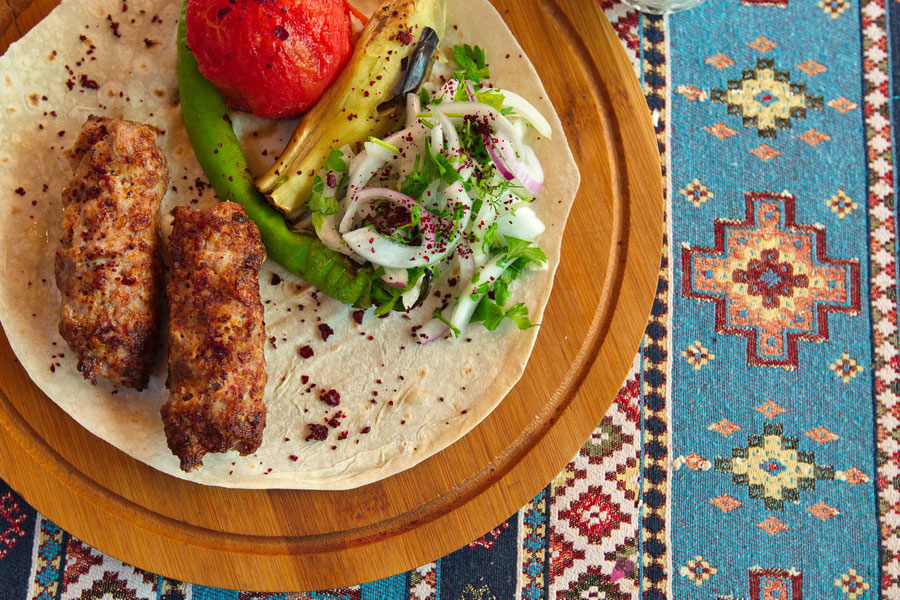 Azerbaijani cuisine is famous for the fact that in Azerbaijan it is impossible to leave the table hungry. Not only tourists but also locals find the diversity of meat dishes, fresh vegetables, and fruits alluring. But did you know that you can also taste Italian, French, American, Mexican, Lebanese, Indian, Russian, Pakistani, and a variety of other cuisines in Azerbaijan? Cuisine in Azerbaijan today may be divided into four subgroups: Azerbaijani, European, Asian, and Caucasian cuisines.
Traditional Azerbaijani Cuisine
Traditional Azerbaijani cuisine is the country's most valuable asset. From children to the elderly, everyone enjoys it. Azerbaijani food is served not only in cafes and restaurants but also in almost every household. The abundance of meat, fish, vegetables, spices, and seasonings makes this cuisine unique.
National cuisine offers a variety of pilafs, juicy shish kebab, yarpag Dolmasi (minced meat wrapped in grape leaves), kutab pies, fish dishes, sweet baklava, shekerbura (sweet pastry filled with nuts and sugar), shor-gogal (round yellow bun, filled with fennel and anise seeds, and seasoned with turmeric, salt, and pepper), and watermelon or olive jams.
Azerbaijanis also enjoy a variety of soups, including kufta bozbash (meatball soup), piti (meat and chestnut soup), sulu khingal (mutton soup), hamrashi (noodle and meatball soup), and toyuk shorbasi (chicken soup), served with sharbat (drink made of fruits, herbs or flower petals) and/or ayran (cold savory yogurt)
International Cuisine in Azerbaijan
European Cuisine
European cuisine includes a mix of American, Mexican, Italian, Russian, German, French, and Brazilian cuisines. Almost every European restaurant offers Italian, American, French, and Russian dishes.
American cuisine in Azerbaijan is represented by several world-famous fast-food chains like McDonald's and Starbucks. Steaks and BBQs are also very popular among Azerbaijanis.
Moreover, locals are familiar with the spiciness of Mexican cuisine. Mexican dishes are available not only in European restaurants but also in several Azerbaijani eateries, providing tacos, nachos, burritos, as well as pouring tequila.
In Azerbaijan, in addition to pizza and pasta, Italian restaurants serve risotto, ravioli, gnocchi, prosciutto, lasagna, pancetta, caponata, carpaccio, polenta, classic gelato, and tiramisu.
There are no separate Russian restaurants in Azerbaijan, but almost all European restaurants serve dumplings, Russian pies, herring with boiled potatoes, cabbage rolls, borscht, and compote.
Asian Cuisine
Asian Cuisine in Azerbaijan includes the full spectrum of Indian, Turkish, Chinese, Japanese, Arabic, Uzbek, Pakistani and Lebanese specialties.
Turkish, Indian, and Lebanese food are especially popular among Azerbaijanis. There are many Turkish restaurants in Azerbaijan serving pide (Turkish flat bread baked with various combination of toppings), lahmacun (thin piece of dough topped with minced meat, minced vegetables, and herbs), kebabs, gozleme (crispy, golden Turkish flatbreads stuffed with all sorts of tasty fillings), ezogelin (soup made with red lentils, rice, bulgur, pepper paste), menemen ( Turkish scrambled eggs), hamsili pilav, simit (bagels encrusted with sesame seeds), doners, piyaz salad (made from beans, onion, parsley and sumac), ayran (cold savory yogurt), and baklava (sweet pastry).
There are a handful of Indian restaurants in Azerbaijan where you will be served thali platters, chapati bread, palak paneer, dahi vada fritters, dhal lentils, and other Indian specialties.
Lebanese cuisine is distinguished by an abundance of vegetables, fruits, fish, and legumes. Even though there are not many Lebanese restaurants in Azerbaijan, you will encounter Lebanese dishes like hummus, kibbe, Fattoush, Samborski, tabouleh, and sweet maamoul on menus of many local restaurants.
In Azerbaijan, there aren't many Uzbek restaurants, but those that do operate will win your heart with excellent pilafs, manti dumplings, juicy barbecue, and samsa pastries.
Caucasian Cuisine
The Caucasian cuisine in Azerbaijan is famous for its abundance of meat. Because Azerbaijani cuisine is also part of the Caucasian cuisine group, various kebabs, khinkali, and fish are loved by all generations here.
Azerbaijan has Georgian restaurants where you will be offered Georgian juicy khinkali dumplings, cheesy khachapuri bread, badrijani (eggplant stuffed with spiced walnut and garlic paste), pkhali salads, kharcho beef soups, ojakhuri (roasted pork and potatoes), chashushuli (stewed beef and tomato), chikhirtma soup, satsivi (poultry in cold walnut sauce), and other specialties.
Visiting Azerbaijan is not only a touristic adventure but also a gastronomic journey. Azerbaijani cuisine is worth a separate tour. Be warned! after you learn what dishes Azerbaijanis enjoy and explore the diversity of cuisines represented in the country, you may find yourself with a few extra kilos on the scale.