Population of China
Multi-national population of China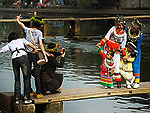 The People's Republic of China is a multi-national state. According to official data, the PRC's territory is inhabited by 56 nationalities, which considerably differ from each other. The title nationality is the Hans, accounting for 55% of the whole Chinese population; the other ethnic groups are considered "national minorities".
Such colorful population pattern resulted from Chinese numerous invasions at the turn of the XVIII-XIX centuries, when the army of the Qing Empire annexed Inner Mongolia and Eastern Turkestan, which further was developed into Xinjiang Uyghur Autonomous Region, to its territories. And upon termination of World War II, China came into possession of Manchuria again. Thus, in spite of the fact, that the national minorities account for a small percent from Chinese total population, they occupy vast territories of the country.
There are some numerically insignificant nationalities among Chinese population. Among them is the Lhoba, numbering only 2965 people. Besides, 2 nationalities number from 10,000 to 100,000 people. They are the Bulan, Tajiks, Pumy, Achang, Nu, Evenkis, Tszin, Tszinot, Dean, Uzbek, Russian, Uyghur, Baoan, Menbay , Oroqen, Dulun, Tatars, Hezhen.
The nationalities with population from 100,000 to 1,000,000 are Sheya, Lisua, Gelaotya, Lahut, Dongxiang, Weitz, Shui, Nasiy, Tsya, Tuy, Sibo, Mulao, Kirgiz, Daur, Tszinpo Salar and Maonan.
Such nationalities as the Zhuang, Manchu, Huiqi, Myao, Uyighurs, Yi Tutsz, Mongols, Tibetans, Buit, Dun, Yaotya, Koreans, Baits, Haniyy, Liyang, Kazakhs and day exceed 1,000,000 point.
The title nation, the Hans, mainly populate the territory of Yangtze, Huang He, Pearl River watershed, and the territory of North-Eastern China.
As far as Chinese different Diasporas concerns, who live almost all over the world, then the largest one is in Canada and the neighboring United States of America.
The state language in China is Chinese spoken by the majority of the country's population, excluding Inner Mongolia and Xinjiang, which is an autonomous region and home for Uyghur. The main communication language there is the Uyghur one.