Bezeklik caves on mountain slopes near Turfan
Cave Monastery Bezeklik - beautiful architectural creations of Buddhism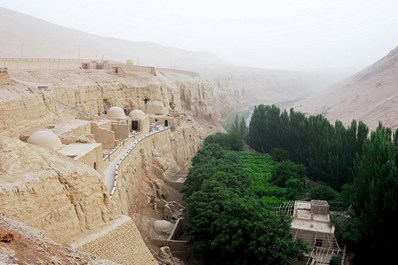 The history of Buddhism in China is closely related to Eastern Turkestan. From the II century BC, when the Great Silk Road began its operation, the Buddhist monks began visiting East Turkestan, preaching their doctrine there. They began to build temples and erect numerous cave monasteries, the best-known of which are the famous Mogao Caves near Dunhuang.
Turpan, as like other cities of East Turkestan, was one of the main centers of Buddhism in China. There, numerous ruins of ancient temples and Buddhist monasteries, particularly in the famous "dead" city of Gaochang have survived. However, the most important Buddhist shrine in Turpan is still the Bezeklik Caves - the famous cave monastery, located in the mountains 45 km from Turpan on the slopes of the Fire Mountains.
Originally, the entire complex consisted of 83 caves, of which nearly 40 almost intact caves with murals and paintings only survived. Many of these paintings are over 1300 years. They were created within several centuries, up to the XIII century, when Islam started supplanting Buddhism from East Turkestan. Many of the well-preserved frescoes withstood the ravages of time. Most of them are an image of Buddha in various forms, in addition, many of the images tell us not only about religion, but also about the history and culture of the region.
Despite the fact that the entire complex is partially destroyed, it is still considered one of the most beautiful places in Turpan. Many places still preserved the traces of the bygone architecture of the complex. All caves are surrounded by large terraces. It greets a magnificent view of the Flaming Mountains and the Mutou valley, nestled at their foot.
The Bezeklik Caves is a vivid evidence of the history of Buddhism in Turpan, and although many of them were devastated at the time, today they are still one of the finest architectural works belonging to the era of the development of Buddhism in China.