Emin Minaret, Turpan
Emin Tower - the highest minaret in Xinjiang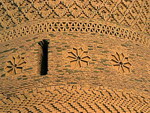 Turpan is one of the most ancient cities which sprang up on the Great Silk Road. It managed to preserve numerous monuments of ancient Uyghur architecture, the most famous of which is the XVIII century Emin minaret, located 2 km from the city.
The minaret was built in 1777 in honor of the well-known Uyghur general and later Turpan governor Emin Khoja, who during the Junggar rebellion fought with Qing China. By way of gratuity the Chinese emperor gave him possession of Turpan, making the post of a ruler inheritable. After the death of Emin Khoja, it was his son Suleiman who began to rule Turpan, and it was his money the minaret was built on.
The Emin Tower is the highest minaret in Xinjiang. Its height is 44 meters with the diameter of 10 meters at its bottom. The Emin Minaret was built in a style traditional for Islamic buildings. It has a conical shape. At the very top of the tower there is a spiral staircase connecting with a small platform. The platform greets an amazing sight of the city and its surroundings. From one side you can see a beautiful green oasis, and from the other - an endless desert, where you can still see the ruins of ancient cities.
The minaret was built of burnt brick. The external decoration of the tower was created thanks to a unique bricklaying. Furthermore, the tower has several ventilation openings, which serve to provide not only air circulation, but also natural lighting.
Before the minaret there are two steles with inscriptions in Uyghur and Chinese. The Uyghur ones are the verses from the Koran, while the Chinese ones praise the Qing government and tell about the construction of the minaret.